Thousands of emerald-clad party-goers took to the streets of Green Park for the annual St Patrick's Day parade and festival in London last week.
Six marching bands, ten sports groups, six dance groups, a giant puppet and a wolfhound accompanied 45 floats adorned with flags from every county.
The colourful procession of Irish marching bands, energetic dance troupes and spectacular pageantry saw cheers from the crowd of all ages decked head to toe in green.
The parade began at Green Park and passed some of the capital's most iconic locations from Piccadilly to Whitehall.
The luck of the Irish and the sunshine helped draw in the crowds with an estimated 100,000 people attending the parade and festival over the course of the day.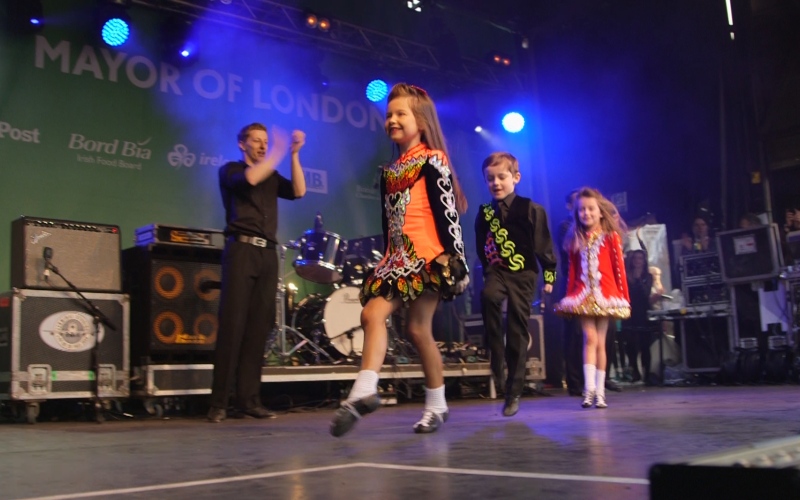 IN THE LIMELIGHT: Maguire O'Shea Academy of Irish Dancers © Rory O'Connor and Mark Ewens
More than 70 community groups joined the fun, including the Wimbledon-based South London Irish Association who were easily spotted along the route driving an old fashioned Bedford 1960s fire engine.
Tom Burke, South London Irish Association secretary, said: "It was an absolutely super day, the club thoroughly enjoyed it and of course the great weather went along with the parade all the way.
"I've never seen crowds like that before, they were in great form and I didn't see one cross face anywhere, it was wonderful."
The club celebrates its 40th anniversary in May and are holding several traditional Irish music sessions over the coming months.
Mr Burke said: "Piccadilly was absolutely jam-packed, it was amazing how many people were there.
"We had four of us on the vehicle itself but saw at least another 30 from the club scattered along the route."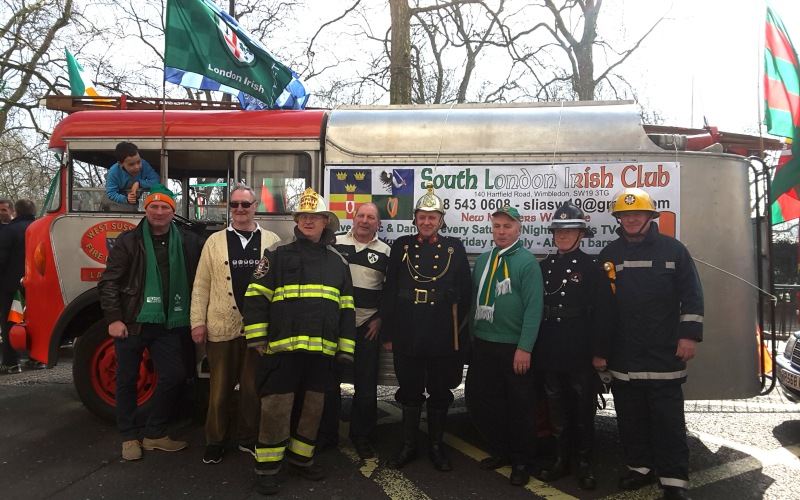 REPRESENTING: South London Irish Association © South London Irish Association
Below ground, Transport for London and the Irish Embassy bought Irish music and poems to the London Underground with several tube stations filled with performers showcasing Irish music, dance, poetry and the country's rich cultural heritage, while celebrating links with London.
Mayor of London, Boris Johnson said: "It's a pleasure to once again be supporting one of the biggest and best St Patrick's Day celebrations anywhere in the world."
With the parade over, the crowds swiftly filtered into Trafalgar Square for lively entertainment from a variety of top Irish performers including traditional Irish bands and country music stars.
"I'm delighted to be here for what a massive festival it is today, I'm delighted to be part of the St Patrick's day parade," said singing sensation Nathan Carter.
"I can't believe the amount of people out there it's unreal.
"It's the first time I've performed in London doing an outdoor gig that's for sure.
"This is the first time doing an outdoor one and what a day it is, there's not a cloud in the sky it's unbelievable.
"I'm just really excited I can't wait to get on stage. Country music seems to be coming back stronger than ever, it has really taken off at the minute."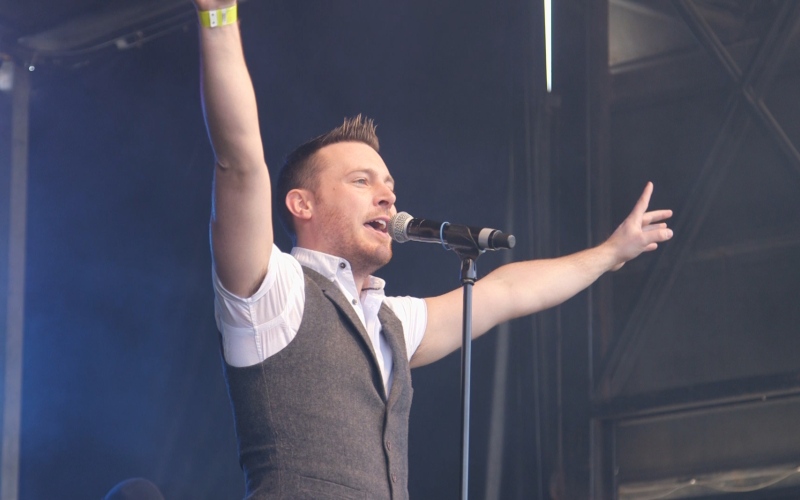 IRISH SINGING SENSATION: Nathan Carter © Rory O'Connor and Mark Ewens
Several Irish clubs and sports teams had stalls in Trafalgar Square.
Jim O'Hara, Hammersmith Irish Cultural Centre chairman, said: "Today we're promoting the Irish Cultural Centre.
"We're telling people what we're doing and the number of events that we run and saying something about our educational classes.
"We run classes in music, Irish language, literature, politics, history, film, we put on drama productions.
"It's to publicise the centre and also to celebrate the whole sense of Irishness which today is about.
"It's amazing that St. Patrick's Day is celebrated all over the world, and not just by Irish people but by people who are interested in Irish History and Irish Culture."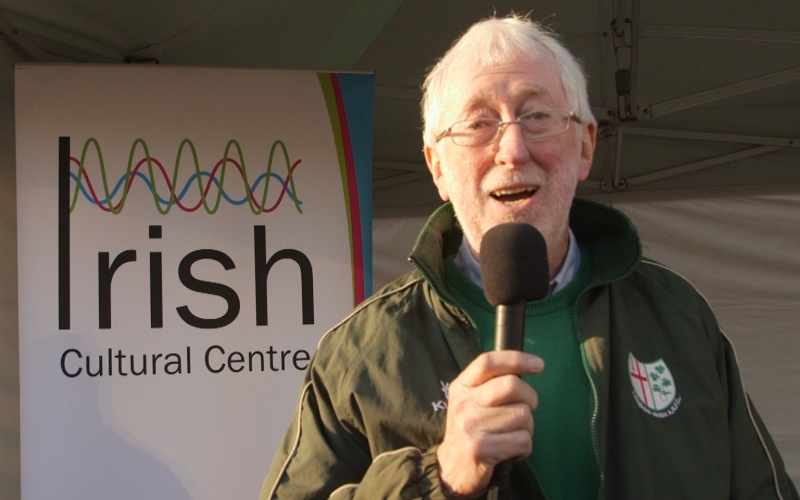 JOLLY: Jim O'Hara © Rory O'Connor and Mark Ewens
Bord Bia and acclaimed chef John Relihan were on hand with the finest flavours of the Emerald Isle having set up a special street food market in Trafalgar Square before thousands of spectators took part in big St Patrick's Céilí dancing to Céili Max.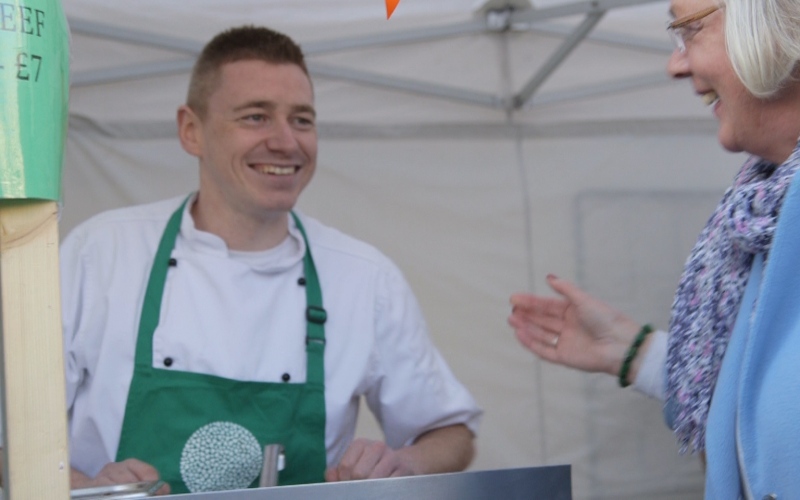 COOKING UP A DELIGHT: John Relihan © Rory O'Connor and Mark Ewens
David Boyce, Tourism Ireland GB deputy director, said: "People everywhere demonstrate a strong affinity with St Patrick's Day, with events taking place in cities across Great Britain to celebrate Ireland's warm and close relationship with our nearest neighbour."
The spectacular day of London events finished with a performance by the Maguire O'Shea Academy of Irish Dancers before being played out by RTE's The Late Late Show house band as the Trafalgar Square lights turned green to join other landmarks around the world lit green for St Patrick's Day.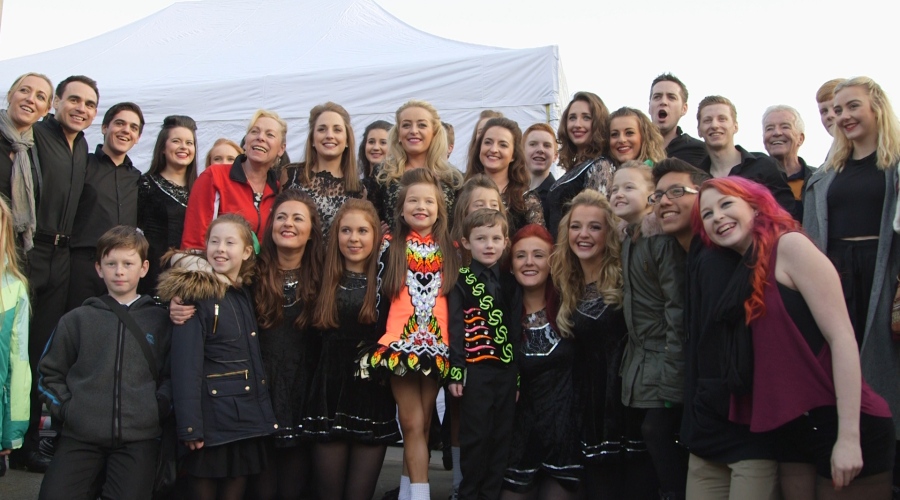 CLOSING THE SHOW: Maguire O'Shea Academy of Irish Dancers © Rory O'Connor and Mark Ewens
The Mayor of London's St Patrick's Day celebrations were organised in partnership with the support of Bord Bia, Tourism Ireland, JB Riney and Modebest.
Featured image courtesy of South London Irish Association, with thanks