A 'Brexitometer' will go to Balham tomorrow, giving a visual representation of how people think Brexit will affect everyday life.
The pro-EU European Movement in Wandsworth and Merton are displaying a Brexit table which asks questions about Brexit and encourages people to have their say about the various impacts they think leaving the European Union will have.
It is displayed as a large table, asking "For the following, would Brexit make things better or worse?"
Various issues are listed including jobs, free movement, you and your family and also asks if people would like a final say on the Brexit deal.
Members of the public are encouraged to put different coloured stickers onto a scale from worse-better.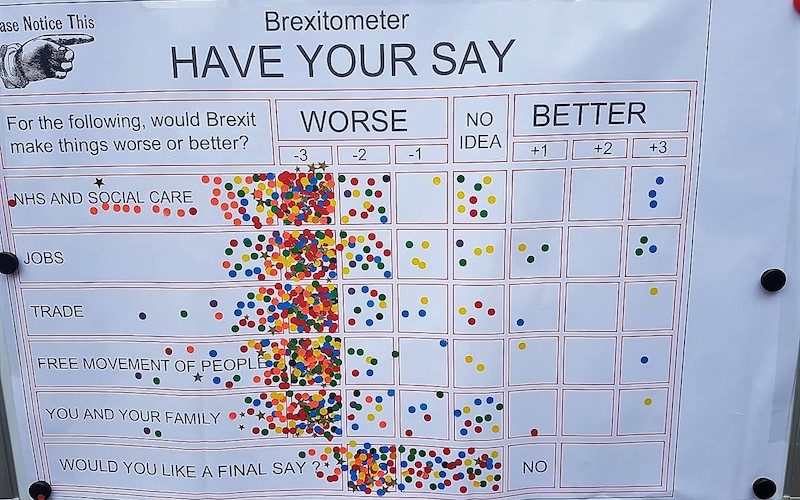 FOR BETTER OR WORSE: The Brexitometer charts public opinions
This acts as a visual representation of the current attitude towards Brexit negotiations, as the stickers form thick clusters of opinions.
The Brexitometer has visited a number of places already, including Battersea and Tooting, where sheets were completely filled in just a matter of hours.
It has also ventured further afield including Shropshire, Birmingham and Worcestershire, organised by the Open Britain, Britain for Europe and European Movement campaign groups.
Helen Rennie-Smith, chair of the European Movement in Wandsworth, said: "The Brexitometer is a fantastic tool to visualise people's views on Brexit and how the negotiations are going.
"It makes people reflect on how Brexit will affect different areas of their everyday life, like the job market, healthcare and freedom to travel."
Speaking about the European movement, she said that their ultimate goal is to stop Brexit.
She said: "Leaving the EU will not solve any of the problems that people were told it would.
"Unfortunately, the result of the referendum in 2016 has caused the government to waste an enormous amount of time and money on negotiations and bureaucracy instead of dealing with urgent matters in this country."
The group is campaigning under the umbrella of People's Vote, a campaign group calling for a public vote on the final Brexit deal.
The Brexitometer can be found on 13 October between 11am-11pm outside TK Maxx on 172-174 Balham High Road.