My mum sat up with me through each night of the Los Angeles Olympics in 1984 and I filled every gold, silver and bronze in the little Ladybird book she'd bought me with pictures of Mary Decker and Daley Thompson on the front.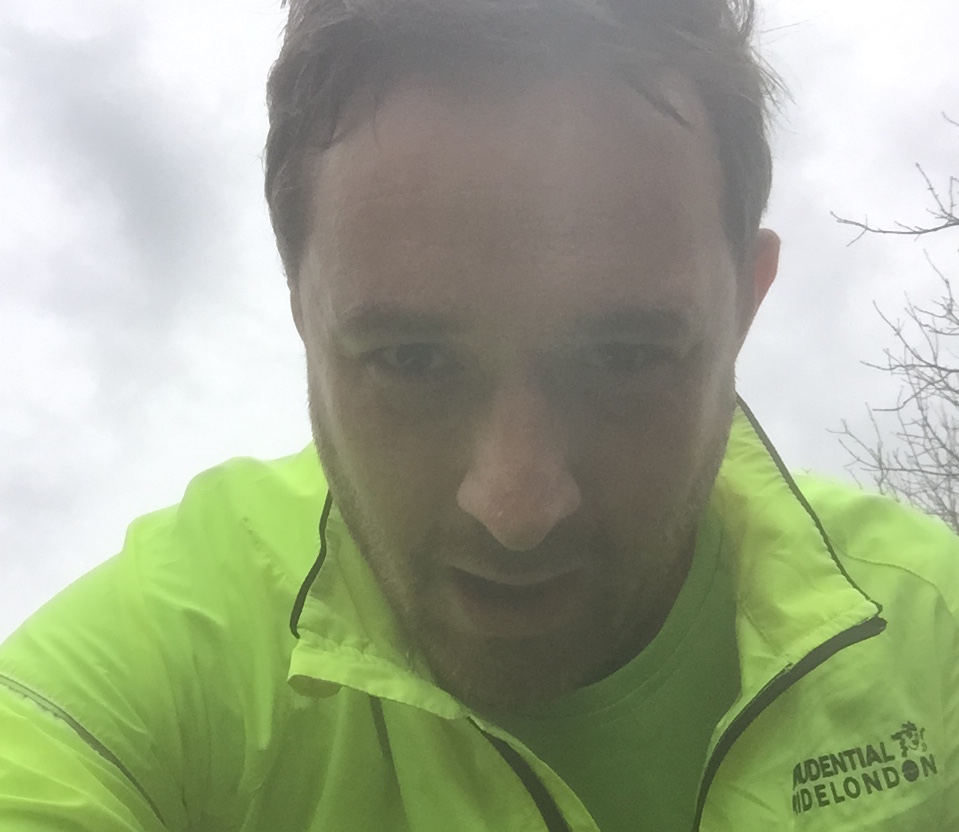 EXHAUSTED: Journalist James Toney is raising money for the Brompton Fountain, running this year's Virgin Money London Marathon
I think I also had my first crush during those two weeks, a 16-year-old in a Stars and Stripes leotard called Mary Lou Retton.
But there are two athletes I remember vividly from those Games, which started with George Gershwin's Rhapsody in Blue on 84 black grand pianos and concluded with Lionel Ritchie's world premiere of All Night Long.
But not the peerless Daley, who won his second decathlon gold, or the rivalry between Seb Coe, Steve Ovett and their upstart team-mate Steve Cram.
The first was named Mitch Gaylord, a vault specialist who became the first American gymnast to score a perfect 10.00 at the Games. I don't know why, I think I just liked the name.
The other was Charlie Spedding.
Charlie is the last Brit to win an Olympic marathon medal, claiming bronze behind Portugal's Carlos Lopes and Ireland's John Treacy.
A few months earlier he'd won the London Marathon, then just four editions old and sponsored by a chocolate bar. I remember being inspired enough by that performance to spend the afternoon running around the back garden in ever decreasing circles, pretending I was doing the same.
My mum even stitched red and blue ribbon on a white school vest to complete the look.
Now, 32 years later, I've finally plucked up the courage to follow in Charlie's footsteps in April's Virgin Money London Marathon.
As the training miles increase and the knees start to really, really hurt, I've thought more and more about the inspiration of Spedding and that summer and how it shaped my life to a point where I've been fortunate enough to cover Olympics between Sydney and Rio and even run with the torch before London 2012.
He once described himself as 'not particularly talented' – a label I could certainly apply to my ponderous running technique, although my target time for London is double his 2:08:33 English record personal best and then some again.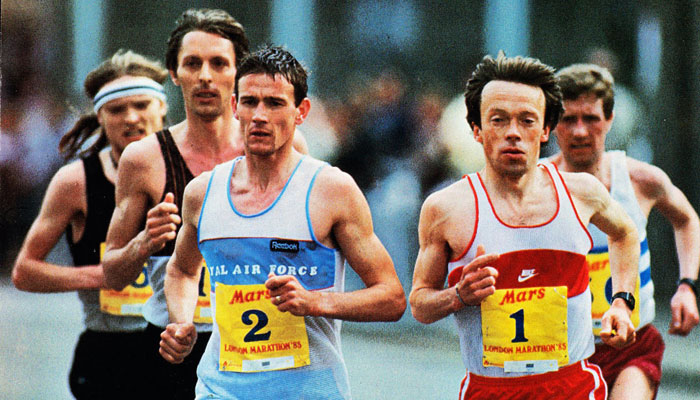 INSPIRATION: Charlie Spedding, right, won the London Marathon in 1984 and Olympic bronze a few months later
Spedding's achievements perhaps don't get the recognition they deserve, overshadowed by Coe, Ovett, Thompson and Tessa and other names during perhaps the most storied and gloried period in British athletics history.
But they are still an inspiration to me in the weeks ahead, as I become one of those marathon bores who now worries more about whether their FitBit is charged than their mobile phone.
His autobiography – Last to First – should be required reading for any first time marathon runner.
Spedding admits to being bad at sport at school and yet turned himself into a world-class athlete by the power of positive thinking and hard work.
"I believe that on occasions you can create the circumstances in which you can perform at a higher level than your talent says you can," he writes.
Considering that I was blowing up after a mile just a few weeks ago and I'm now clocking 25 of them a week, they are words to take to heart.
There are lots of motivational quotes out there about marathons, stuff about temporary pain and permanent pride but Spedding's words are better for his impressive back story and considerable achievements.
So if you're somewhere on that long road to London, it's good to feel like a proper Charlie.
* James Toney is running the Virgin Money London Marathon for the Brompton Fountain, a charity supporting the children's units at Royal Brompton Hospital, the UK's leading specialist heart and lung centre.