One of the biggest challenges a tennis player will face in their career is transitioning from junior competitor to fully-fledged professional.
Every year budding stars win Grand Slam Junior titles and subsequently try their hand at the pro circuit, but for every player that makes it, there's another that struggles.
To explore this phenomenon, the WTA career rankings of every Wimbledon Girls' Singles champion since 2010 can be compared.
The cancellation of the 2020 tournament means there have been 11 different winners across this timeframe, beginning with Czech Republic's Kristýna Plíšková in 2010 and ending with Spain's Ane Mintegi del Olmo in 2021, though the holder's rankings have not been examined as her professional career is still in its infancy.
Five of the ten champions have broken into the WTA top ten, and of them Ashleigh Barty and Iga Świątek have also made it to number one.
But then four others have failed to edge into the top 50, while neither Sofya Zhuk, who reached a career high of 116th in 2018, nor Daria Snigur, who peaked in February 2022 at 131st, have been top 100 players.
So why is it that some adapt to the top level better than others?
Ben Halstead, the head coach of Tenergy Tennis in Fulham, believes that work ethic has a big part to play in this.
He said: "Having a professional attitude, where a player is out to get a PhD in everything required to win, is what counts.
"When a player has that type of vibe, the stars tend to align for them."
That desire to win at all costs stimulates results and helps explain why success at the junior level does not guarantee triumph in the ladies' draw.
Halstead added: "Work ethic, determination and drive create a championship mentality.
"The smartest juniors want to copy the attitudes of the top players and so they surround themselves with the best."
From this stems a strong work ethic, the results of which are evident when the end of season rankings of all ten junior champions, a year after they won at Wimbledon, are collated.
Four of the players broke into the top 100 a year after claiming their junior title.
Eugenie Bouchard was ranked 32nd at the end of 2013, Belinda Bencic was 33rd in 2014, Jeļena Ostapenko edged to 79th in 2015 and Świątek reached 61st in 2019.
Incidentally, all four then went on to break into the WTA top ten and win singles titles.
These feats were not matched by those that ranked outside of the top 100 in the above graphic, except by Barty who seems to be the exception to the rule.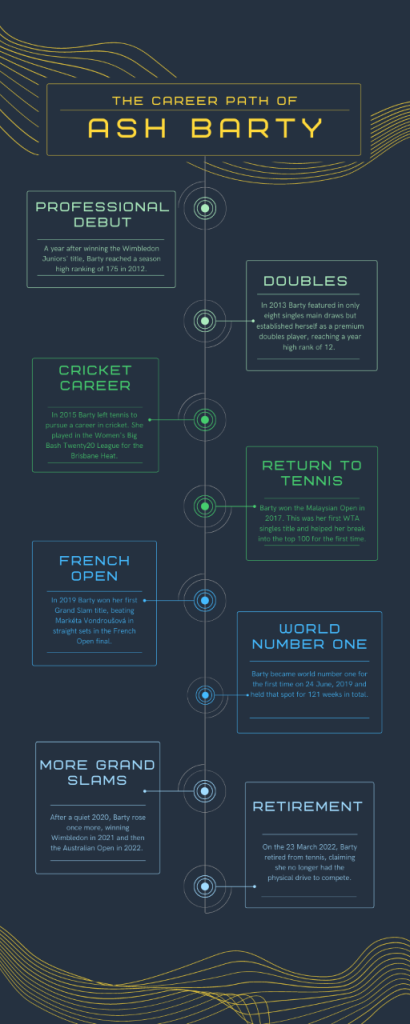 In all other cases, players that break into the top 100 a year on from their junior title enjoy more successful careers.
However, the Australian's rise took time and she only started winning Grand Slams after returning to tennis in 2016, following a short hiatus playing club cricket in the Women's Big Bash Twenty20 League.
Barty went on to win the French and Australian Open and became the first player to attain both the girls' and ladies' titles at Wimbledon since Amélie Mauresmo did so in 1996.
The distribution of singles titles, as represented in the pie chart above, emphasises Barty's dominance in comparison to her fellow junior champions – she has 15 altogether.
Yet it should be noted that Świątek and Ostapenko have also won the French Open, while Bencic won a singles gold medal at the 2020 Tokyo Olympics.
It takes hard work to crack the professional game and the ability to win a junior title, paired with a track record of quickly breaking into the WTA top 100, is a strong indication of future success.
This is not a failsafe methodology, as Barty has demonstrated, but the WTA rankings do indicate that Mintegi del Olmo will likely have to become a top 100 quickly if she is to continue winning in the professional arena.
Featured image credit: Carine06 via Flickr under CC BY-SA 2.0 license