Former British number four Alex Slabinsky hated tennis when he started out.
He would leave sessions at the age of seven in tears, but he persisted with the sport and now runs one of the biggest online tennis coaching platforms in the world.
Slabinsky co-founded Top Tennis Training with fellow coach Simon Konov in 2014, aiming to provide accessible training strategies to a worldwide tennis-playing audience.
As it stands the company has over 150 million online views and 307,000 subscribers to its YouTube channel which offers free specialised tutorials.
"When we started there weren't a lot of companies doing what we do, but now there are hundreds of YouTube coaches, largely because of lockdown," Slabinsky said.
"Even with the competition, we've become the biggest in the world in what we do.
"Two South London players did that."
The attention to detail in Slabinsky's work is palpable and with the appetite for online sports coaching only deepening since the pandemic struck, the coaching videos are reaching millions of viewers.
However, one setback of coaching online is the inability to see people in person, but Top Tennis Training have highly qualified specialists in place to deal with this and the company also provides luxury in-person tennis camps for certain players.
"Once you coach for a while, you see that students tend to struggle with the same thing and you get to know the fundamentals which players consistently get wrong," Slabinsky said.
"We do sell courses on specific techniques like your forehand, but we also provide a lot of free sessions which is what our YouTube is for.
"That variety and accessibility was incredibly important for us."
Slabinsky came from humble beginnings, playing with an old wooden racket his father gave him in the Ukrainian city of Ivano-Frankivsk.
"My dad was a huge influence on me getting into tennis as he always wished he played but never did," Salbinsky said.
"When I started playing, I kept missing every ball and I'd be crying at the end of sessions."
The turning point for Slabinsky came when his coach told him to watch a VHS tape of Andre Agassi doing drills against a wall.
"The coach said the other kids were better because they practiced," Slabinsky said.
"I started hitting balls against a wall like Agassi for three hours a day, then two months afterwards I started to beat other players and by the time I was eight I was playing in my first tournament."
Slabinsky moved to the United Kingdom aged 10 and the determination to practice which had been instilled in him helped fuel his rapid rise to the professional ATP circuit.
While training at Sutton Tennis Academy, Slabinsky agreed to coach at the club for four hours every day to help fund his academy feeds.
His investment eventually paid off as he was invited to train at the National Tennis Association in Roehampton, paving the way for him becoming a professional in 2007.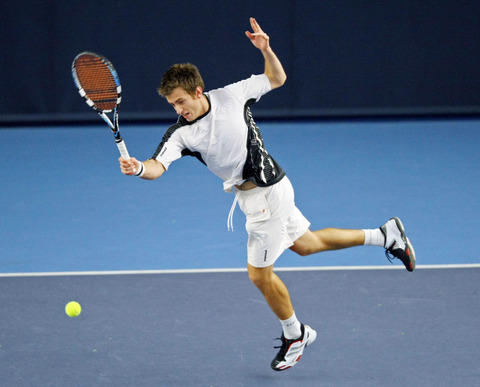 During his career, Slabinsky played at Wimbledon three times in the men's doubles and multiple time in the singles qualifying rounds at Wimbledon, the Australian Open and the US Open, reaching a career high ranking of 266.
Since becoming a coach, Slabinsky has sought to maintain the same level of work ethic which he exercised on the court.
To ensure content is of the highest quality on the Top Tennis Training website, Slabinsky has employed the expertise of seven expert coaches who are all former successful players.
The most formidable of which is David Ferrer, who was once ranked number three in the world and is widely considered to be the best athlete to not win a Grand Slam.
Slabinsky managed to recruit the assistance of Ferrer through a coach they both new of in Spain.
"David liked the idea and got on board and once we had him, we then spoke to fellow Spaniard Robredo," Slabinsky said.
Tommy Robredo Garcés reached a career-high singles ranking of five and has been joined by Taro Daniel, former Australian player Samuel Groth and Wimbledon finalist David Pablo Nalbandian in the coaching core at Top Tennis Training.
The involvement of Ferrer helped snowball the project and as a result, the website now has over 1000 video tutorials and 17 specialised courses.
Maximising technique is explored in many of the videos, in part to limit the risk of serious injury, which Slabinsky sympathises with having underwent two knee surgeries early in his playing career.
"As a tennis player you're getting injured consistently, but learning the correct technique and mechanics, which is what we push, helps limit injuries," Slabinsky said.
"We focus on creating good content, that's the most important thing."
Photo credit: Top Tennis Training