A self-confessed American 'tennis junkie' has flown nearly 4,000 miles to watch the sport's greatest stars play at the French Open and Wimbledon.
Roger Federer fan Robbie Steen, 63, flew from Virginia with his wife Alice to Heathrow on May 20 to embark on the six-week tennis tour.
Alice had to return to the States after the French Open due to work and having waved his wife off back to the States due to work commitments, he decided to buy a bike and cycle hundreds of miles though Belgium and Amsterdam (and catch a Eurostar) to Wimbledon.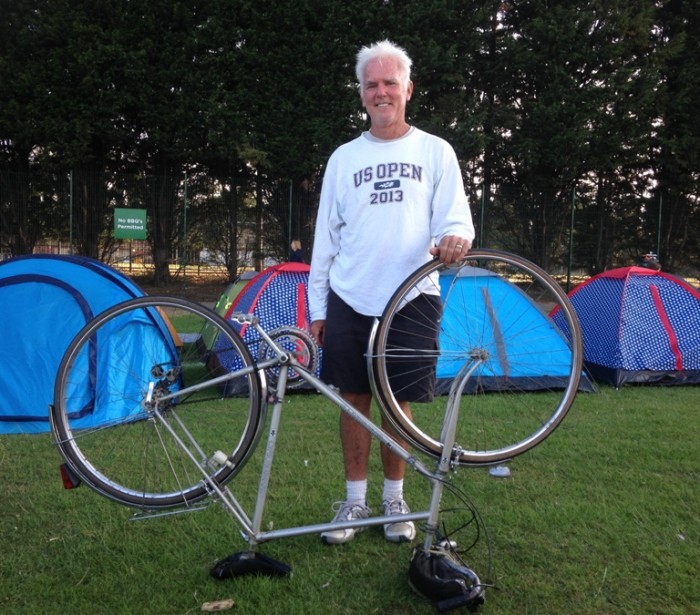 ON YER BIKE! Robbie pedalled hundreds of miles to reach Wimbledon Park
He, along with hundreds of tennis nuts, set up camp in Wimbledon Park to join the infamous queue.
Robbie said: "This is my third time to Wimbledon. I always camp because obviously the biggest expense is accommodation."
He managed to secure ticket number 486 for Wimbledon, but probably won't get to see Federer caress the ball with his unparalleled racket skills this year, instead opting for a ground pass to take in the games on the outer courts.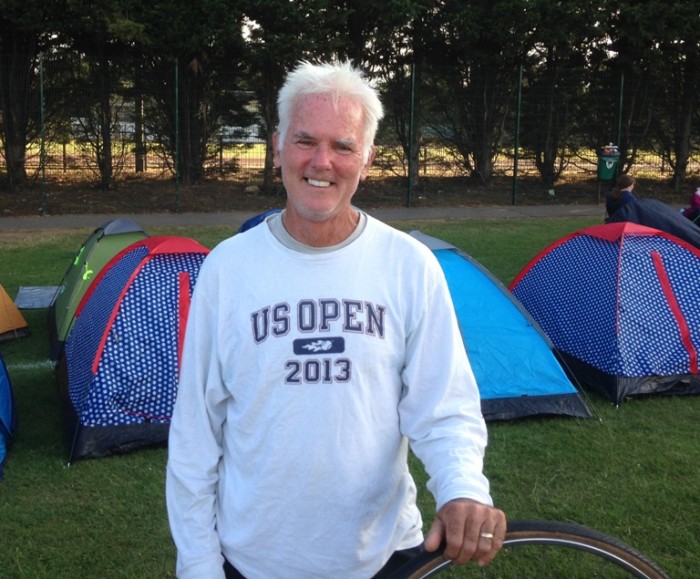 FEDERER FAN: Robbie Steen takes a well-earned break at Wimbledon Park in the queue

"I love Roger – he's half my age but he's old in tennis years," said Robbie. "I have seen him play before and he'll do fine without me!"
Robbie said that if Federer doesn't win this year we may not see him win again, with his second pick being Andy Murray, after Novak Djokovic fell at the final hurdle in Paris.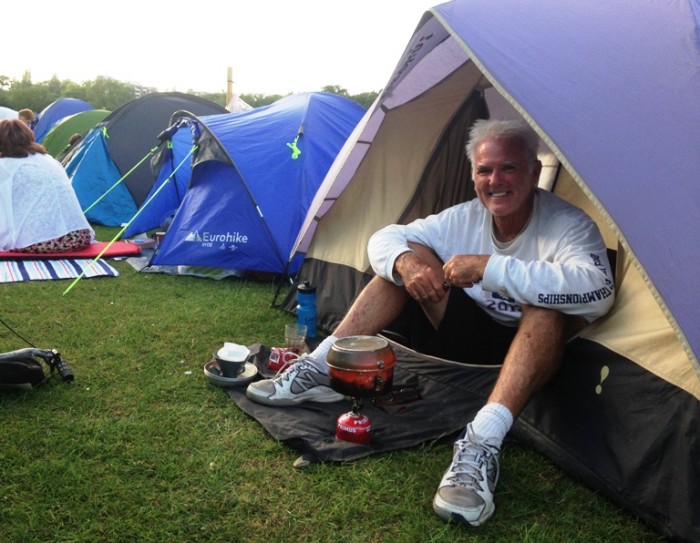 WELL EARNED REST: Robbie takes a break from travelling
Robbie heads back to the U.S.A. on Saturday and hopes to sell his bike in Crystal Palace before he leaves.
He said: "I was going to go to some bike shops – all the bikes are worth £300, and heck I only want £50!"