A disabled Clapham woman facing imminent eviction from her home fears the stress could cause her to have a stroke.  
Trace Newton-Ingham, 56, has lived at Lillieshall Road for 35 years in one of Lambeth Council's last remaining 'short-life' properties.
County bailiffs arriving on Wednesday to evict her were forced away by protestors forming a human chain outside the property.
The Labour, Conservative, Liberal Democrat and Green Party parliamentary candidates for Vauxhall have united to join the protest but with High Court bailiffs due to arrive any time, Mrs Newton-Ingham fears for her future.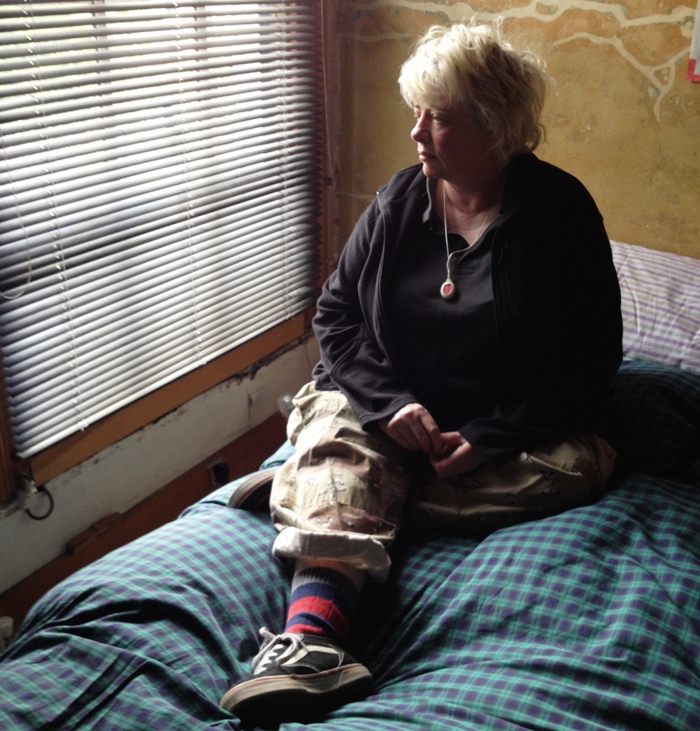 FRIGHTENING: Trace Newton-Ingham is facing imminent eviction from her home
She told South West Londoner: "It's a steamroller that just keeps powering on. Just watching this terrible thing coming towards you and there's no way of getting out of the way.
"I've got problems walking and I've got problems with my back. I've got uncontrolled blood pressure, which is putting me at risk of a stroke or heart attack. It does make this very frightening."
Since the 1970s short-life tenants in co-operatives paid reduced rent for run-down council properties while paying maintenance and upkeep costs.
Ms Newton-Ingham explained that over the years she and other co-op members have spent 'thousands' of pounds on these properties.
Labour parliamentary candidate Kate Hoey has been a long-time supporter of Ms Newton-Ingham's case and attacked the 'neo-Stalinist machinery' of Lambeth Council.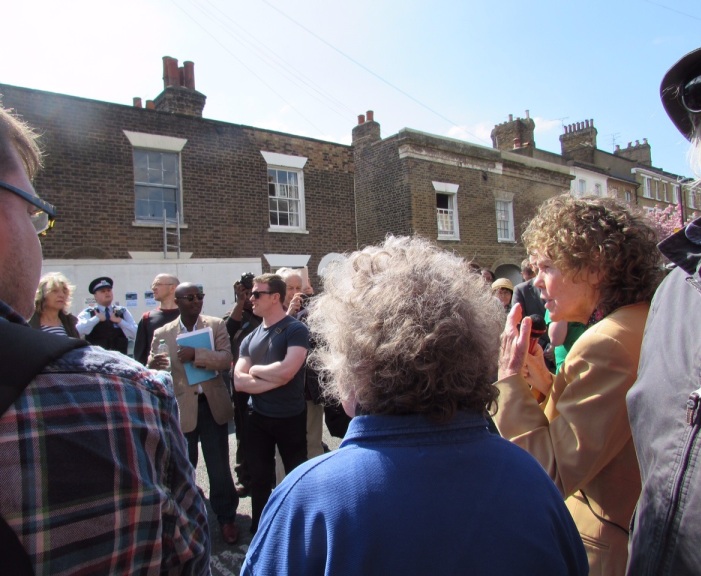 'UNJUSTIFIED': Kate Hoey slams the council's decision to evict Trace © Gerard Keenan
Ms Hoey told South West Londoner: "It's totally unjustified by the council. I feel very angry about it.
"Trace is not a well person and it's incredibly stressful even for the most healthy person. It's breaking up communities in Stockwell and Clapham.
"If you are running the machinery of the council in a neo-Stalinist way that doesn't allow people to speak out publically then you end up with a very sad situation where there is no real feeling that Lambeth needs to listen to anyone.
"If things go on like this, in 10 years' time there will be nobody living in Lambeth unless you are incredibly rich or very, very poor."
Ashamed that Lambeth trying to evict long term co -op tenant Trace. Support from so many of local community today. pic.twitter.com/PZVnl1Vtuw

— Kate Hoey (@KateHoeyMP) April 22, 2015
The council are offering Ms Newton-Ingham a flat in Streatham and say the sale of short-life properties has raised more than £58 million since 2011 which will help build 1,000 council homes in the next four years.
Lambeth Council Cabinet Member for Housing, Cllr Matthew Bennett, said: "The vast majority of short-life properties have so far been handed back amicably and we have rehoused many former occupants.
"Legal action is always a last resort, when our attempts to secure possession amicably have failed.
"Our top priority is delivering new council housing to help the 1,750 Lambeth households in temporary accommodation, the 1,300 severely overcrowded households and the 20,000 people on our housing waiting list.
"In the meantime, the refurbished flat and secure tenancy which were offered to Ms Newton some two years ago remain available to her."
Maggie Hambling gives her support.All Vauxhall candidates back Trace @Juvelad @gulnar73 @jh_bellis @LUHousingCoop pic.twitter.com/1rdHUZaJ8z

— Kate Hoey (@KateHoeyMP) April 22, 2015
But Lambeth United Housing Co-operative member Julian Hall says Freedom of Information (FOI) requests regarding how the council have spent the money generated from the sale of these properties have been turned down.
Mr Hall told South West Londoner: "The council may feel they're strong because there's 59 Labour councillors in that chamber.
"They're a one-party state, essentially. The might be numerically strong but morally they're extremely weak.
"The FOI requests that have been denied to us have been about where this money is going."
Ms Newton-Ingham explained that the location of the proposed Streatham flat would cause her difficulty due to her disability.
She said: "Barcombe Avenue is unsuitable because it is on a hill. But I can't walk up a hill and I can't work down a hill – so effectively I'm marooned.
"We haven't got a date or a time for the eviction. I've put a note on the door: 'Ask them to knock'.
"The residents in the borough are collateral damage. I couldn't believe how dirty and manipulative the council have been."