After a year of lockdowns, social distancing and restrictions, the Covid-19 pandemic has had a huge impact on people's mental health and well-being.
A recent report stated that by July, NHS England's mental health phone lines have responded to an estimated three million calls during the pandemic.
On a local level, charities like Battersea Befriending Network (BBN) have seen a rise in referrals for their mental health support services over the past year.
Tara Osman, a professional adviser for BBN, said there has been a noticeable increase in demand for BBNs befriending scheme since the start of the Covid-19 pandemic.
She said: "Some of the referrals specifically say that due to the isolation imposed by lockdown this person's mental health has got worse."
"I think part of it is because there is generally more awareness of mental health issues and how they affect someone's well-being.
"Over the past few years it seems more noticeable that people feel able to talk about things like loneliness and more able to ask for help – especially younger people – they're much more self aware."
Recent ONS data says around 1 in 5 adults experienced some form of depression from 27 January to 7 March 2021.
This is an increase from November 2020 and more than double observed before the pandemic.
ONS statistics also highlight that on average levels of loneliness have increased since Spring 2020, whilst general well-being has declined.
In Wandsworth 12.1% of people reported feeling "often or always" lonely from 14 October 2020 to 22 February 2021.
In Merton this was 11.2%, some of the highest results in south London.
With the increasing strain on mental health services across the UK, befriending schemes such as this offer a vital form of support to those waiting to access NHS services.
While some assume befriending schemes exist to support older generations, Osman described how referrals span a wide range of demographics.
She said: "We get a fair amount of people in their 40s and 50s but we also get a lot of younger people as well – quite surprisingly, people in their early 20s."
Osman talked about the positive role befriending schemes have on both volunteers and referrals.
She said: "Befriending can do things that other services can't somehow.
"People who have been anxious about going out for years and years will start to go out on their own, or see families they've been estranged from, because they'll get the confidence up to have conversations, and this really can have a profound effect.
"I think partly it's because it's based on a relationship between two people that are equal; it's not one person providing a service and the other is a patient.
"It's much more about sharing friendship and it helps the befriendee feel they can offer something to someone else, when often they've been the person receiving help and feeling a bit powerless sometimes as the patient."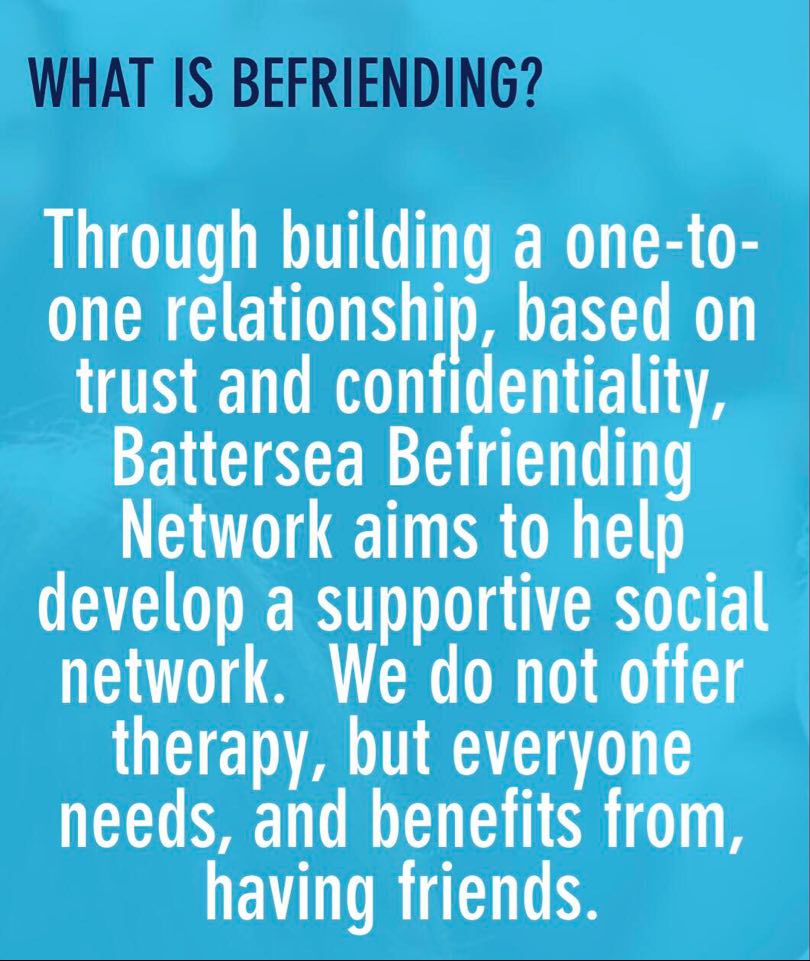 Ed Bulman, a BBN volunteer, echoed this sentiment, talking about how hard isolation can be for people who do not have a stable support network.
"Quite often it's (befriending) not a positive experience in the sense that you're listening to people who have often had quite traumatic lives.
"It can be very difficult, but there are times where you feel like you've had an amazing connection with someone and offered them the opportunity to talk about something they've never talked about."
"As things have opened up again it's become a bit more difficult again, as it has for lots of us.
"We're all sort of wrestling with how we re-establish ourselves within our groups, in life in general and what is it we want to return to – and it's more acute for befriendees as it compounds their sense of disconnection and isolation."
Reflecting on the impact of the pandemic, Osman expressed her hope that people will continue to show this sense of community and support to those who most need it.
She said: "I think lots of volunteers came forward in the pandemic because it was very much in their mind that they wanted to help other people, so I really hope that persists."
If you're interested in volunteering for BBN, have a question about referrals, or want to find out more, you can visit its website here.
Image credit: "cross-stitched mask on Eleanor Rigby statue: provoking people to think about community, loneliness and society" by craftivist collective is licensed with CC BY 2.0.