Brave female boxers will face the ring in a charity match for Breast Cancer Care at the Clapham Grand this evening.
A group of four women and nine men will be taking the hit at the Boxing for Breast Cancer Care adrenaline-fuelled event in the St John's Hill nightclub tonight.
Hoping to raise money and awareness the novice female boxers aged 29-45 will each fight three rounds of two minutes.
"I'm putting the wine down and the gloves on for Breast Cancer Care because it's a cause worth fighting for," said Zara Evans, Marketing Manager at The Football Association, taking part tonight.
"Never having boxed before I'm keeping my fingers crossed for natural ability and that my nose stays straight for the entirety."
All of the budding boxers have undergone an intensive 10-week programme with 12 Rounds Boxing in Clapham to prepare for their match — as only one of them had ever climbed in the ring before.
"I expected the fitness to be difficult and that side of the training to be hard but the mental side of it I wasn't expecting," the 29-year-old said.
"It's quite emotional, especially when you have your first sparring session.
"It's just the shock of it to start with. That was the hardest thing to get my head round. You will get hit."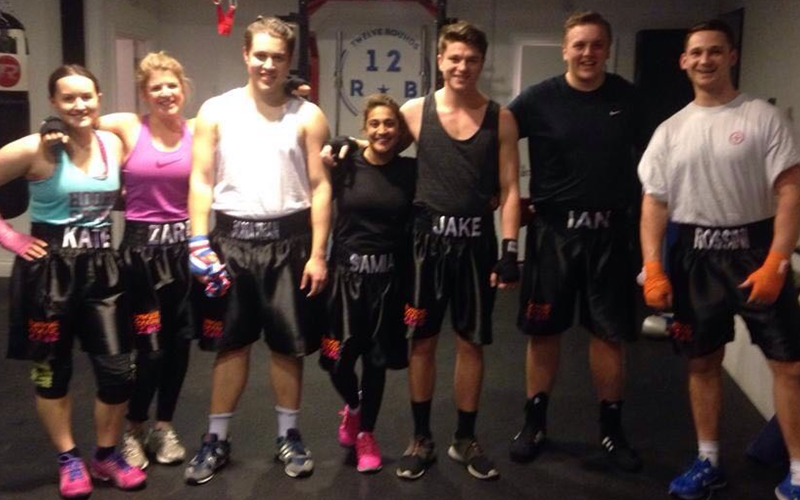 BRAVE BOXERS: All in the name of charity 
With one in eight people now developing breast cancer in their lifetime, the charity are hoping to raise around £42,000 to improve the services they provide.
Zara said: "I'm really nervous but I feel ready. I know the guys at the gym wouldn't let us go in if we weren't ready."
This is the second time Breast Cancer Care has held a fundraising event of this kind and it's set to be bigger and better.
We're getting excited! Good luck to all our amazing #boxforbccare boxers taking part tonight pic.twitter.com/3qeNzMllXY

— Breast Cancer Now (@BreastCancerNow) March 23, 2016
"The people that attend are younger and the majority are male, whereas our audience is probably slightly older, probably 50-plus females, so it's really important for us," a Breast Cancer Care spokesperson said.
"The majority of people know somebody who's been effected by breast cancer."
Ticket information can be found here, and to sponsor Zara click here.
Images courtesy of Zara Evans, with thanks