Thousands of women and men participated in the annual London MoonWalk on Saturday to help raise money for breast cancer causes.
The event was organised by the UK-based breast cancer charity Walk the Walk and has been running since 1998, raising a total of over £133 million since its inception.
Everyone taking part has the option of either walking a marathon ("Full Moon") or a half-marathon ("Half Moon"), all whilst wearing extravagantly decorated bras.
Walkers started setting off in the early evening from Clapham Common and even as the sky started to darken, they remained in good spirits.
"This is my eighth MoonWalk," Michelle Hammond told South West Londoner. "I've got a few friends and colleagues at work that have breast cancer so it means a lot.
"There was supposed to be three of us here today but two of them have since had babies, so I'm on my own tonight but that's fine.
"When you get going, you're not on your own. It's an amazing atmosphere."
Before setting off, all walkers congregated in a large arena complex on the common, dressed in outfits resembling everything from superheroes to Quakers.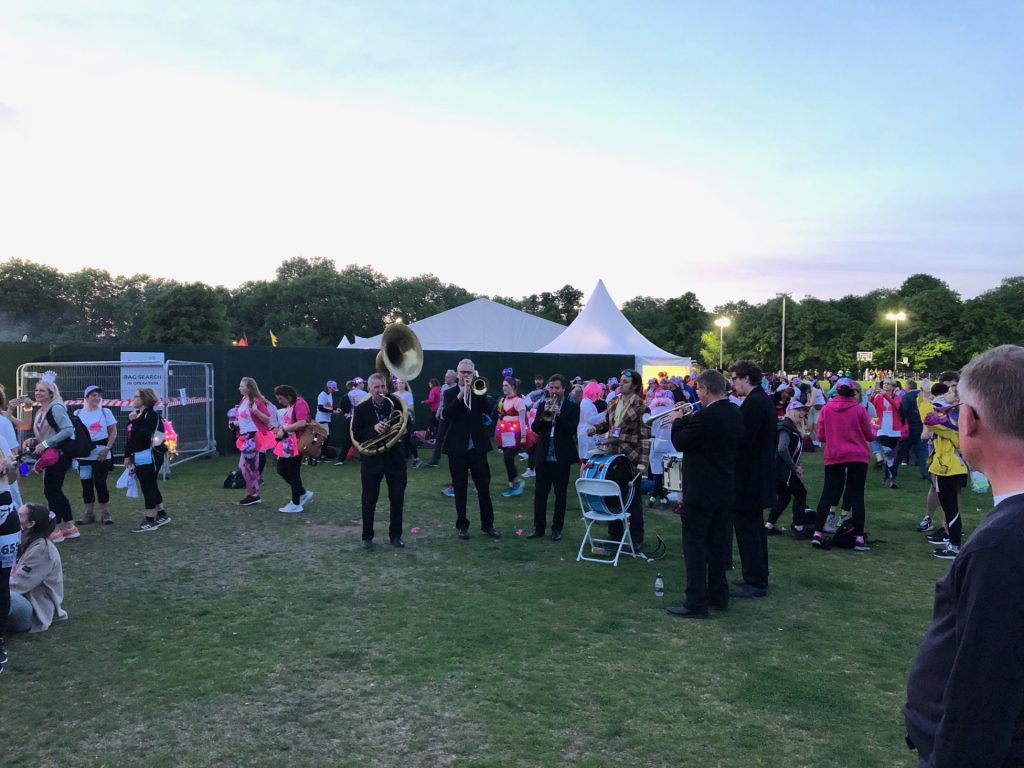 All the while, music blared out of sound systems at the start line while a jazz band performed genially near the entrance of the arena.
"The atmosphere is almost as good as the London Marathon," Michelle added.
"There aren't as many people on the streets clapping but I love it and that's why I keep coming back.
"It's really important to raise as much money as we can so that we can find better treatments and make it easier for people with all types of cancer.
"Both my parents passed away from cancer so it's a cause close to my heart."
First timer Cheryl Marshall-Faulks echoed the importance of the event before embarking on her 26.2 -mile walk.
"I know quite a few people that have gone through breast cancer and I had a scare myself," she said.
"Thankfully it was just a scare, but that was enough to frighten me.
"It's really important for us to spread awareness and fundraise to get money to go into research and finding better medication."
Cheryl was slightly apprehensive about the length of the walk, but trusted that others taking part would spur her on throughout the night.
"I'm usually in bed by now so I'm relying on everyone else to help me get through this tonight," she said.
Motivations for taking part were not limited to knowing someone diagnosed with breast cancer.
Hannah Jarvis saw the Moonwalk as a chance to fundraise for a worthy cause but she also signed up to test her resolve.
"I was looking for a challenge," she said. "I don't really want to run a marathon so I thought I'd try walking one.
"Breast cancer is an illness that affects a lot of people in the UK so I was happy to support it."
Hannah, like many others, did the charity walk remotely last year in her local area and found the experience to be a lonely one.
"It's really nice to come and take part in a proper event with everyone else.
"Me and my mum have been walking every day in preparation."
All the money raised from the MoonWalk will be distributed by Walk the Walk to other charities and organisations in the UK.
Feature photo credit: Stefan Frost