Hundreds of Santas descended upon south London on Saturday to celebrate the capital's most festive event of the year at Santacon 2018.
The event takes place in cities all over the world where Santas gather for the annual tradition described by event organisers as "non-profit, non-political, non-religious and non-sensical."
This year London Santacon were raising money for Christmas for Kids, a charity which creates and performs shows for free at hospices for children with various disabilities which prevent them from going to the theatre at Christmas.
Christmas for Kids director, Claire Sundin, 39, said: "Teaming up with Santacon was just a bit of luck. At Christmas time people want to do more charitable work and Santacon wanted to strengthen their charitable links so they looked us up and contacted us.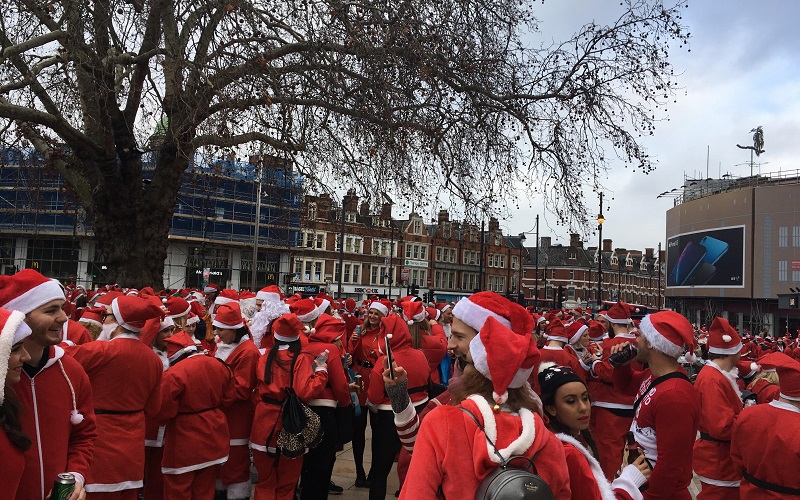 "So far it has managed to raise £15,680 which is amazing, and we really were not expecting it."
The charity was set up in 2009 by Sue Appleby, 40, and Ms Sundin to raise awareness for children with disabilities ranging from autism to learning difficulties by performing sensory shows at schools and hospitals during December.
Ms Sundin said: "We get amazing feedback from the kids and families. It's heart breaking and heart-warming in equal measure but great when you see more withdrawn children start to engage with what is going on around them.
"It's not therapy but it feels like therapy and it's nice to see them happy and smiling. We don't do anything medical, but we can really cheer them up."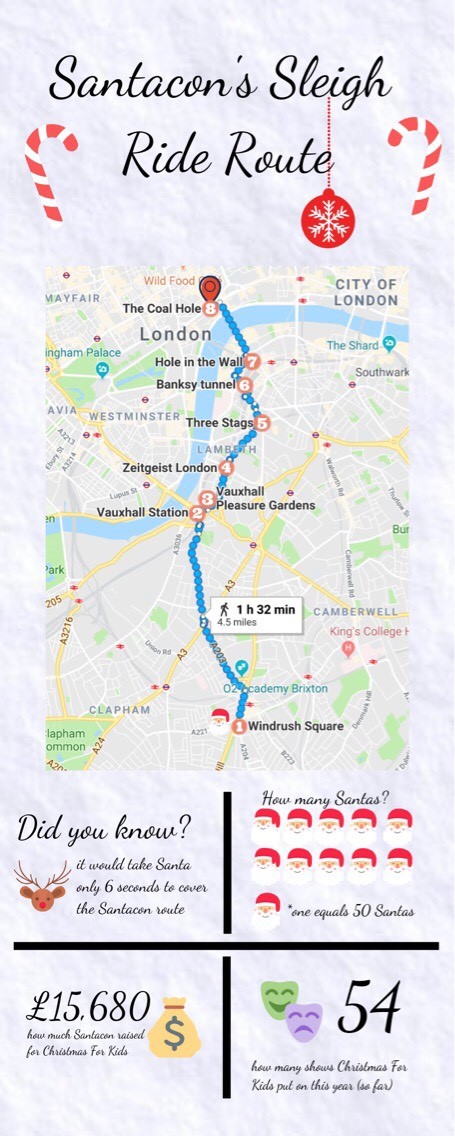 The festive event began with revellers meeting in Windrush Square in Brixton at around 11am and from there the route wound its way through the south of the city passing through locations in Vauxhall, Kennington, Waterloo and finally The Strand.
This year there were two separate routes, one in the north of the city and the other in the south, with the two groups meeting in the middle in central London towards the end of the day.
As well as raising money, many of the Santas handed out presents as they made their way through the capital's streets.
Harriet Green, 22, from Clapham who took part this year, said: "It has been such a fantastic day out. A lot of the time it feels like Londoners aren't that friendly to each other but today everyone has been chatting and really getting into the Christmas spirit.
"It's great to raise awareness and money for such a good cause and the atmosphere has been amazing."