Britain's largest mosque reopened its doors on Saturday after a devasting fire damaged the building in 2015.
The Baitul Futuh Mosque in Morden hosted the 19th National Peace Symposium to mark the eagerly anticipated inauguration event.
Hundreds of visitors, parliamentarians, diplomats, academics and representatives from numerous charities and faith communities attended.

The worldwide Head and Caliph of the Ahmadiyya Community delivered the key note speech and addressed the importance of striving for peaceful settlements to global conflicts.
His Holiness Hazrat Mirza Masroor said: "Peace is the golden key to unlocking societal progress and development."
He condemned Russia's invasion of Ukraine in strong terms but urged the international community not to inflame the conflict by imposing punitive sanctions or seek to exact revenge.
"World powers should be making every possible effort to end the war through peace talks and good faith negotiations.
"Otherwise, I fear it will spread beyond Europe and eastwards towards Asia and who knows where it will end."
He added: "Instead of bestowing a legacy of peace and prosperity to our future generations, our parting gift to them will be nothing except death, destruction and misery."
Prize Winners
Dr Tadatoshi Akiba was the recipient of the 2022 Ahmadiyya Muslim Peace Prize for his advocacy of nuclear disarmament. He was the mayor of Hiroshima from 1999 to 2011.
In his speech, he held a graphic image aloft which showed the devastation caused by a nuclear bomb.
He said: "We should not let this happen again anywhere, anytime, to anyone."
The 2019 prize was belatedly awarded to Barbara Hofmann for providing education and poverty relief to children.
Other guest speakers included leader of the Liberal Democrats Sir Ed Davey, Conservative MP and Minister for London Paul Scully and Labour MP Fleur Anderson.
All three spoke with great warmth about the role the Ahmadiyya community plays in promoting peace and harmony within society.
The 2015 fire burnt down the administrative block and multi-purpose halls which made up almost a third of the complex.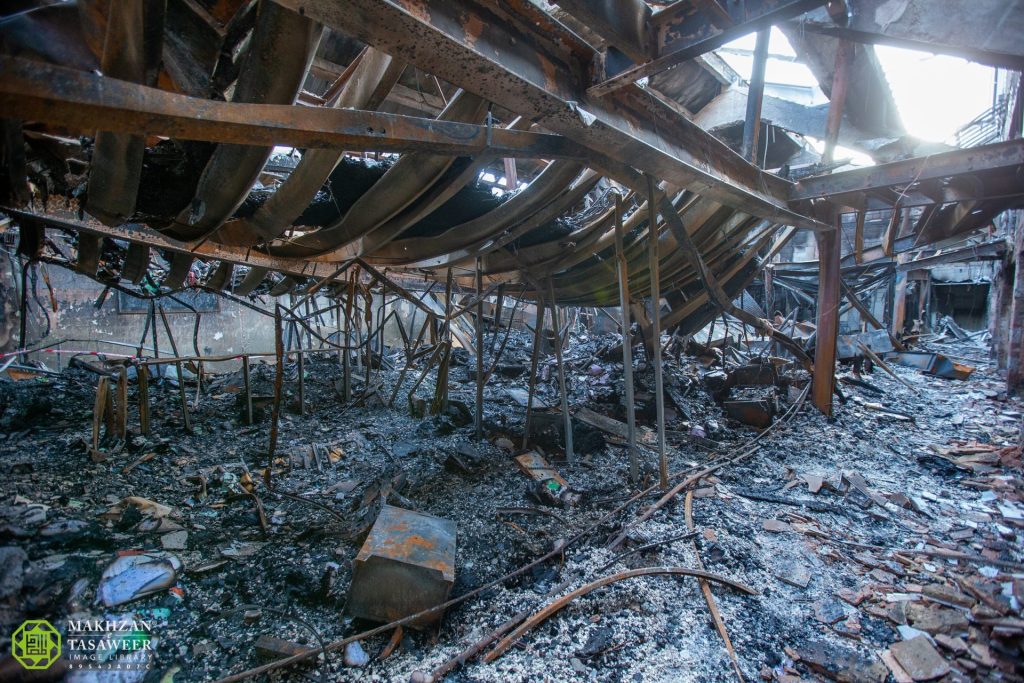 The £20m renovation of the mosque was funded entirely by donations from members of the Ahmadiyya community, whose motto is "Love for all, hatred for none."
The iconic five-storey building hosted Merton's first pop-up vaccination clinic during the pandemic.
It regularly welcomes schools and emergency services to use its facilities as well as providing office space and guest rooms.
In Pakistan, it is illegal for members of the Ahmadiyya community to publicly practise their faith or use Islamic texts when praying.
Featured Image Credit: Ahmadiyya Muslim Association