Commuters at Clapham Common are being told to 'sea life, not sea food' as PETA plastered the station with vegan posters this week.  
There are 75 posters across the station featuring fish, crabs, lobsters and octopuses which are encouraging people to 'See the Individual. Go Vegan'.
Interest in the campaign has been high with staff at the station saying commuters have been taking photos of the posters, and PETA are planning to roll out similar projects in the coming year.
PETA Director Elisa Allen said: "Just like humans, fish, crabs, lobsters, and octopuses feel pain and fear, have unique personalities, and value their own lives.
"PETA's tube takeover asks everyone to spare these sensitive animals the agony of being boiled to death, eaten alive, or crushed in fishing nets simply by choosing vegan meals. See animals, not 'seafood'."
Sea life is often undervalued with more people ready to embrace pescetarianism and reduce meat consumption than give up fish.
We asked commuters what they thought of the tube takeover.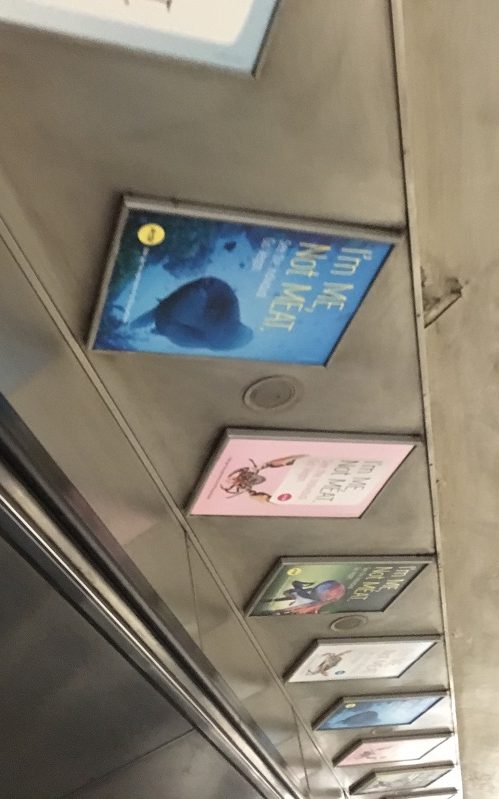 Teddy Critchlow, 63, a senior officer from Streatham Hill said: "I agree with it. I think we should eat a lot more greens, bean sprouts, nuts, vegetables, fruit. We should just be healthier really."
Olivia Ibanez, 25, a bartender from Clapham said: "We have a couple of people working here who are vegan, we also had a manager who was vegan. I think veganism is really popular in this area. I mean I saw cowspiracy, and I didn't realise how bad beef was.
"I think with seafood because they are not on the same level as cows or chickens, like you see those videos of chicks being killed and that's terrible but if it's a crab I couldn't really care. I think with bigger animals like dolphins you have more empathy."
Brittany Lewis, 27, Tooting Broadway, restaurant manager said: "I'm definitely not vegan or vegetarian but I think it's good at least having posters that are in your face telling you to be vegan."
Not everyone was convinced that the campaign would have much effect. Konstantina Vasileiadou, 36, a general manager from Battersea said: "If somebody wants to eat then then they will eat meat, so it doesn't matter if they put posters up."