Royal Trinity Hospice has pledged to survive this year but the coronavirus pandemic may accelerate the demand for hospice services while funding remains precarious.
Trinity, which is based in Clapham Common, provides free end of life care to 2,550 patients in central and south west London, costing £15 million each year.
Before the pandemic, Trinity relied on fundraising activities and its 31 charity shops for the bulk of the charity's funding.
Trinity Chief Executive Dallas Pounds said: "When the pandemic hit, overnight at the end of March we lost 70% of our funding. It was absolutely terrifying."
Following an emergency appeal which raised just over £2 million and a one-off government grant, current forecasts suggest that Trinity could close this financial year with a deficit of around £1 million.
However, Pounds is concerned about Trinity's future for the next financial year, which will be the charity's 130th birthday.
Following a Hospice UK survey which highlighted rising costs and increased demand in the hospice sector, the government announced £25 million extra funding for hospices in August 2019.
Trinity's government funding increased from 25% to 26% its annual budget.
Pounds said: "The conversation about hospices needing to receive more funding from the NHS had already started, but what the pandemic has done is put a burning platform under that and made those talks very, very urgent.
"And yes, the NHS does need to consider giving hospices more funding.
"The demand for our services is increasing. That's partly because we are an ageing population, and with age comes comorbidity, and also increasing levels of dementia and cancer.
"The other thing we've got to consider is how Covid will impact the demand for our services going forward.
"If there are also people at home now who are not going for screening, are not being diagnosed with a life limiting condition or receiving treatment at the moment, then we might actually see a surge in demand for our services.
"It's emerging that if Covid affects you severely you are left with longterm difficulties. So it will be interesting to see if actually the pandemic itself increases the demand for our services in the years to come."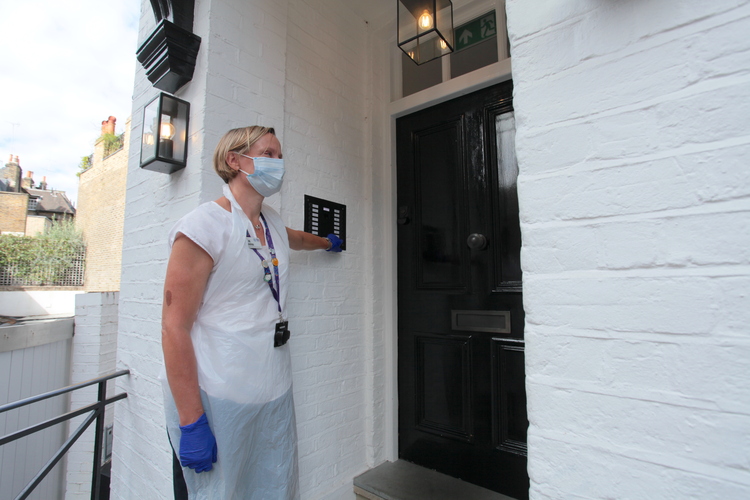 During the pandemic, the hospice has received an increase of calls from other healthcare professionals who have turned to them for advice about how to treat coronavirus symptoms such as breathlessness and anxiety, which are common in end of life care.
Pounds said: "Normally 80% of Trinity's specialist palliative and end of life care takes place wherever people are calling home, whether that's their own homes, a care home, prison, a park bench, or homeless shelters and hostels."
Although Trinity's nurses are still offering home visits, most of their medical, emotional and social care support is now being carried out through phone and video calls and YouTube videos.
Pounds highlighted: "I think it's just made everybody be a bit more creative with the sort of support we can give.
"It never would have occurred to us before to make a YouTube video to show a carer how to give a simple hand massage.
"But actually, how fabulous as a relative to be taught how to do that for a loved one yourself."