Ukrainian nationals have offered to share their experiences of the current war at a set of open gatherings in Twickenham.
The events, which encourage Ukrainians to gather and share their stories with others, are set to take place in Marble Hill Park every Sunday, under what's referred to as the Tree of Peace, marked by Ukrainian flags.
Actress and acting coach Isabel Pollen decided to create the Tree of Peace after seeing the way Ukrainians in her area expressed their sadness and anxiety about their friends and family, who are stuck in Ukraine.
Isabel hopes the gatherings will be a regular event, with two already taking place, but she encouraged members of the public to visit the tree anytime.
The 46-year-old said: "Like everyone else, I felt helpless to know what to do about the atrocities in Ukraine.
"Another mum in my daughter's year one class who is from Estonia, cried for four days.
"That inspired me to instigate some kind of gathering."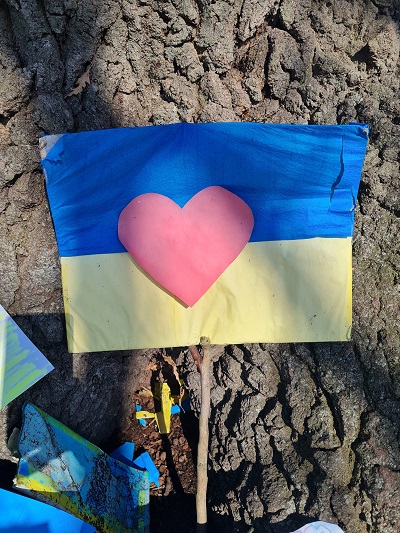 Margarita Goncharenko, 35, who attended the first two gatherings, was asleep when her cousin called around 4:30am to tell her that the war had begun.
Most of her family are doctors so they can't leave Ukraine, and whilst she wanted to rescue her nephew he was 20, so had to join the front line.
Margarita said: "It was a shock. It felt like a dream, when I checked the news and I found that they started in Kyiv.
"My mum looks after my grandma and even if they try to evacuate they can't leave the country.
"My nephew tried to leave Kharkiv by train, which is a three and a half hour journey but he arrived in two days, can you imagine?
"They want to leave but they can't. We are praying for a miracle, for someone who can stop this because too many people, especially in the east of Ukraine, don't have a chance of leaving the area.
"I feel like until the Russian President leaves, this war will continue."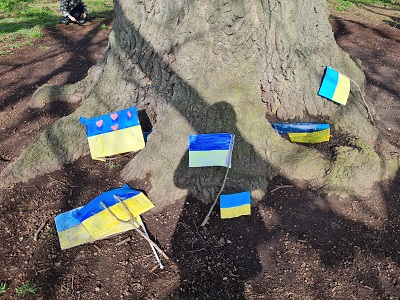 After seeing the positive outcome it had on the Ukrainian people who attended, Isabel hopes more will attend the next one, like Lena, 37 who lives here with her husband Oleksandr, 37.
They moved to the UK with her family a year and a half ago when things were not going in the direction she wished for, in terms of their country's development.
Lena supports her family in Ukraine with finances, information, logistics and routes to help move around Ukraine, because she explained that it is getting harder to navigate every day.
One example Lena gave was about the father of her friend who has stage four cancer and struggles to find painkillers.
She said: "I happen to know oncologists and was able to help get them connections because they could not get drugs with money or anything because they do not have the medicine in stores.
"We love the people back in Ukraine. They are already so strong, they are stronger than we could ever imagine but we do hope that they will hold on, all of them.
"We still remain optimists because while there is still life, there is always still hope.
"While you are alive you can still always change things."