The Duchess of Cornwall visited Battersea Dogs & Cats Home to open their new state-of-the-art facilities today.
Her Royal Highness visited the iconic animal shelter to officially open their new veterinary hospital and centre of excellence on Wednesday, September 7.
The Duchess of Cornwall has two Battersea dogs of her own, both Jack Russell Terriers — Bluebell who she rehomed in 2011 and Beth in 2012.
On her visit to the home Her Royal Highness met some of the homeless dogs and cats who are currently being treated by Battersea's veterinary team.
These included Nancy, a one-year-old Yorkshire Terrier cross and Mickey, a three-year-old German Pointer.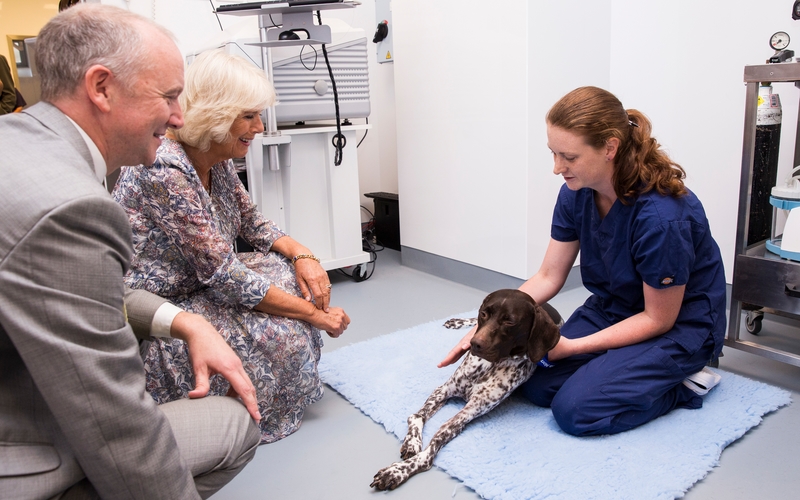 ROYAL GREETING: Camilla got to meet some of Battersea's cutest residents
Prior to the new veterinary hospital opening, Battersea's 32 veterinary staff were performing around 70 operations a week in just two operating theatres, as well as performing an average of 150 dental procedures per month.
The state-of-the-art clinical facilities will play a pivotal role in Battersea's aim to never turn away an animal in need of help.
Claire Horton, chief executive of Battersea, said: "For 156 years Battersea has been on the front line of animal welfare, caring for the many thousands of abandoned and neglected dogs and cats who come through our gates who so desperately need our help.
"Our new veterinary hospital and centre of excellence will help us realise our ambition to help more dogs and cats and not just those within our centres, as this world-leading facility will enable us to welcome and train staff from rescue and rehoming organisations all over the world.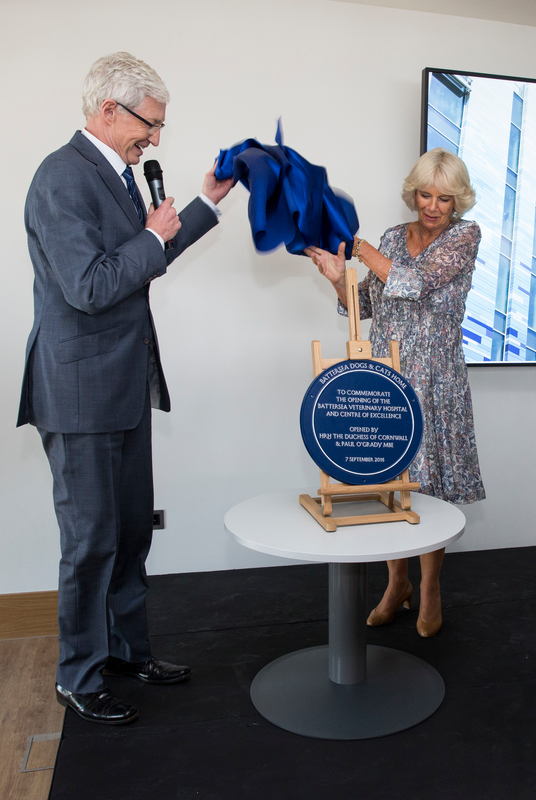 TA-DA: Paul O'Grady helped with the grand unveiling
"The new veterinary hospital is a place of transformation and hope where even the most neglected and abused dogs and cats can be put back on four paws by our dedicated staff before they are found a new loving home.
"We look forward to an exciting future working to transform the wellbeing of dogs and cats across the UK and beyond."
The new veterinary hospital has three top-spec operating theatres, enabling staff to perform more than 100 operations per week.
For the first time ever, Battersea will have a dedicated dental suite to care for the 80% of animals who arrive at the home with problem teeth.
Brand new intensive care areas and sound-proofed recovery wards with separate space for dogs and cats will allow for a peaceful and calm recovery.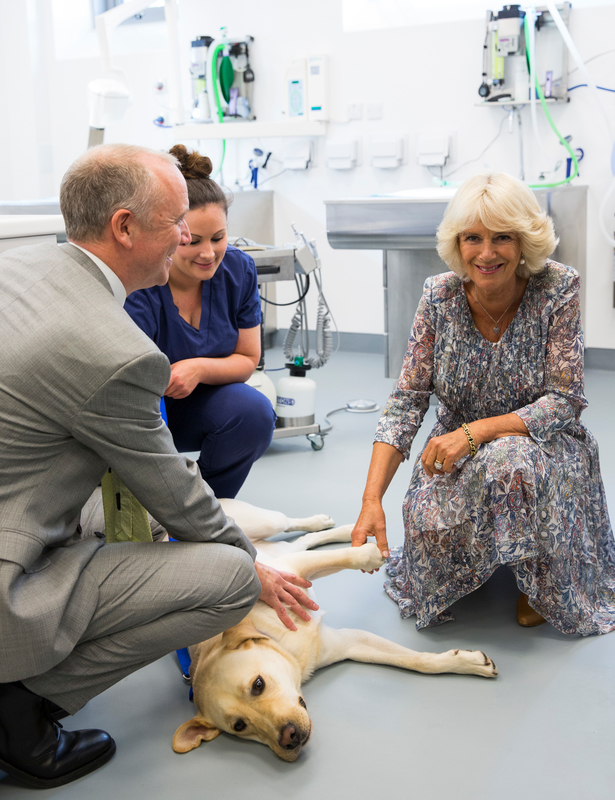 ROYAL HANDSHAKE: Camilla enjoyed meeting Battersea's pooches 
Shaun Opperman, Battersea's veterinary director for the last 24 years, said: "Working at Battersea as a vet is very different to working in general practice as so many animals come to us as strays, without any medical history.
"We are perhaps more reliant on diagnostic procedures such as radiography, ultrasound or laboratory work in the first instance, to fill in the missing pieces of the jigsaw, to be able to diagnose any problems before being able to return them to full health.
"Our previous clinic was struggling to cope with the 8,000 dogs and cats coming through our doors, many the innocent victims of neglect, over-breeding or puppy farming.
"Every aspect of our new veterinary hospital and centre of excellence is designed to help us treat greater numbers of animals with more complicated surgical needs.
"Our new facilities will speed up treatment and recovery to give each and every rescue dog and cat a chance of a new life as quickly as possible."
Images courtesy of Battersea Dogs & Cats Home, with thanks