£3,000,000 might seem like rather a lot for a chess set, but that's how much this Tooting trader is asking for his, which he claims is a Modernist masterpiece.
That might sound like a rather hefty price tag, but Ernest Nelson feels it's a modest estimate for the set, which he is adamant was sculpted by top 20th century artists Henry Moore, Kenneth Armitage and Lynn Chadwick.
Ernest and his fascinating chess set have already received considerable exposure after appearing on BBC One's Del Boys and Dealers in 2014.
Now the 60-year-old is waiting a while before he approaches a dealer or auction house again, though the set is still very much up for sale, including to any Ebay bidder with a few million pounds to spare.
"I'm just sitting on it waiting for everything to quieten down after the TV show," he explained.
In fact, Ernest seems to regret his involvement in the programme somewhat, feeling that the bronze sculpture pieces were done a disservice during their appearance on the small screen.
For instance, modern sculpture expert Keith Chapman is shown on the programme saying: "From what I can see they're just miniature copies of the artists' work."
But Ernest insists that while Mr Chapman was the least convinced of the experts consulted, he did agree off-camera that it was entirely possible the pieces were sculpted by students of the famous artists in question.
Apart from anything else, the Gambian-born purveyor of antiques and oddities hinted that the tiring experience of filming wasn't quite worth the effort.
He said: "They told me I'd have have queues of people outside my shop, but they never came.
"I did get a few people in but that was it."
Asked why he seems a little shy about his brush with fame, he replied: "Of course I'm shy, it's my first time on TV, man!"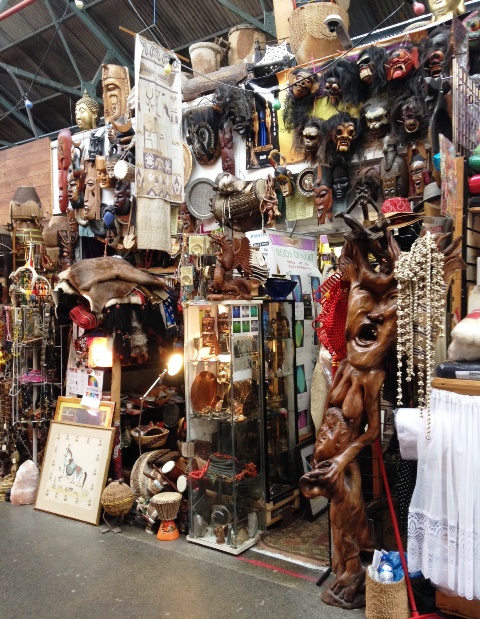 TREASURE TROVE: Ernest's Tooting Market shop
Ernest has carried out extensive research into the chess set, but so far has not been able to confirm that it is indeed a collaboration between Moore, Armitage and Chadwick, since no signatures appear anywhere on the pieces.
However, as their proud owner is quick to point out, that is not necessarily unusual for work by these artists.
His quest for information about the mysterious origins of the bronze piees began when a customer to his stall remarked on their striking similarity to the artists' work as they sat unassumingly on a shelf.
Ernest has since contacted numerous foundries, auction houses and foundations, including the Henry Moore Foundation, who did not believe the set to have been produced by the pioneering modernist.
Others have been more positive, such as Philip Freiensener from the Art Bronze Foundry London Ltd, who appearing on Del Boys and Dealers, who said: "The chances of someone fraudulently copying their style would be impossible to believe almost."
Ernest arrived at the multi-million pound figure for his chess set in light of a 2010 Christie's auction where Henry Moore's Maquette for King and Queen sold for an eye-watering £1,721,250.


ROYAL CONNECTION: Ernest says Moore made the king and queen, Armitage the rooks and pawns, and Chadwick the bishops and knights
He believes that his own set, which he stumbled upon at a Kent auction house, is both more extensive and unusual and therefore demands an even steeper fee — contrary to Christie's themselves, who suggested an auction reserve price of £22,000.
If Ernest's estimation is correct, however, it would make his chess set one of the most valuable ever made.
But it's certainly not all about the money for Ernest, he's clearly just as interested in the set's value as an artefact.
He said: "I'm an enthusiast first and a trader second – if it was the other way round maybe I'd be making a bit more money!"
Ernest's experiences with the chess set have inspired him to invest further in the art world, including purchasing a series of paintings by the recently late Tooting surrealist Stanley Clapham and his wife Ingrid.
For now, the Tooting trader is keeping his most prized possession safely locked away as he focuses on other projects.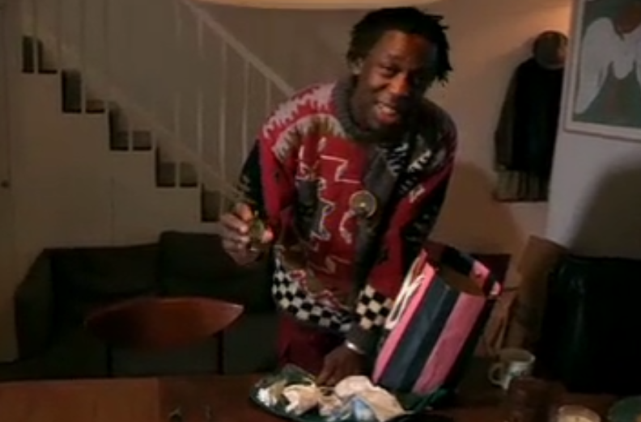 PRIZED POSSESSIONS: Ernest shows off the artworks image © BBC
He said: "I'll just keep it if I don't sell it, it's a nice thing to have around."
But, out of interest, just how much cash would one have to wave to tempt Ernest into parting with his chess set? £10,000? Go fish.
£100,000? Thank you for the offer, but it's a no this time.
Ernest's stall can be found at Unit 16 in Tooting Market.