Clapham Common station has been taken over by posters of chickens, cows and pigs to encourage commuters to go vegan.
More than 60 adverts have been plastered on walls, turnstiles and up the escalators by animal rights group PETA in the UK's first ever vegan tube station takeover.
PETA have been slammed by critics who believe the vegan propaganda, which will run for two weeks and cost £18,000, is a waste of charitable funds.
The campaign against meat, which launched on New Year's Eve, carries the slogan: 'I'm ME, Not MEAT. See the Individual. Go Vegan.'
PETA UK director Elisa Allen said London commuters could help spare the daily suffering and terrifying deaths of animals by going vegan.
She said: "We are always looking for new ways to reach as many people as possible with the message that animals are someone, not something to put on your plate, and this campaign does just that.
"And of course, the New Year is resolution season – a perfect time to encourage people to make a positive difference for their health as well as the lives of millions of animals by going vegan."
Animal Aid campaign manager Ben Martin said the campaign would get many commuters to think about the animals behind their food and hopefully convince some to adopt veganism.
He said: "Animal Aid is very supportive of PETA's advertising campaign at Clapham Common tube station and would like to see more vegan promotional campaigns like this.
"Going vegan is the only way to ensure you aren't contributing to animal cruelty of any kind, so schemes like this are essential for bringing an end to animal suffering."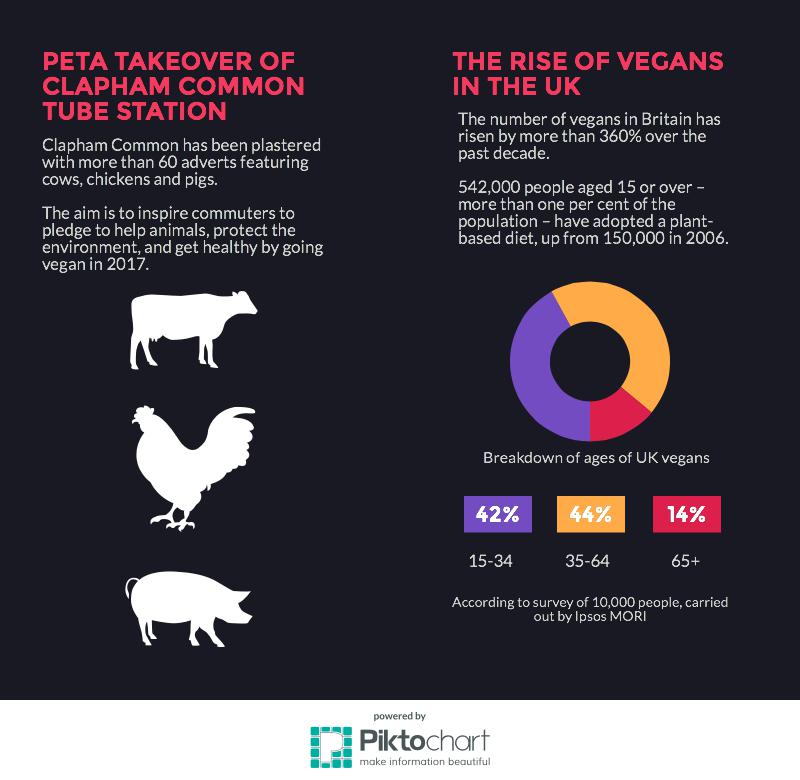 Critics have accused PETA, the largest animal rights group in the world, of squandering money on advertising and not supporting animals.
Will Coggin, Center for Consumer Freedom managing director, said: "If PETA truly cared about individual animals, then what of the 35,000 animals it has killed at its US headquarters?
"PETA should stop wasting charitable funds on guilt-tripping and start ethically treating the animals that pass through its doors."
Ms Allen said the response to PETA's station takeover had been phenomenal and generated international media coverage, online forum debate, and hundreds of thousands of social media shares.
She added: "In a world saturated with advertisements from wealthy industries and corporations that often hurt animals and the environment, commuters have told us they find it refreshing to have a colourful and catchy campaign pushing a positive message.
"When you consider the tens of thousands of commuters using the station each day and the millions of pounds of 'free' international media attention the campaign has generated, it was a good value for the money."