A Streatham yogi has launched a body-positive yoga class to encourage more plus-size women to take up the practice.
Donna Noble, from Streatham, was first inspired to launch CurveSome Yoga after reading an article about writer Deborah Coughlin's uncomfortable experiences at various classes.
In June 2015, the 50-year-old taught her first class in Islington and now holds sessions in Anerley, Brixton and Streatham – but she believes many women are still constrained by fear.
The yoga teacher, who is certified with the British Wheel of Yoga and Yoga Alliance, said: "They think they have to be flexible, they have to lose weight, have the right clothing – so there are a lot of barriers that prevent them from maybe considering yoga as an option straight away.
"They have this image that there are going to be people there who are slim, it's going to be competitive, they are just afraid to go there, and I think what people want is a safe, comfortable space where they can just be."
Donna, who trained in the US, believes there needs to be more classes that welcome women who aren't a 'conventional size'.
"There are so many people that are missing out on the many benefits of yoga. Yoga is meant to unite all of us and create union," she said.
"Yoga should be for everybody, and if we do have that we will be a better society because changing the world starts with us."
Alongside the many health benefits of yoga, including reducing blood pressure, building a strong core and eliminating toxins – Donna believes breathing is the most important.
She said: "A lot of us we shallow breathe so when we're getting too stressed the mouth opens, we tend to hyperventilate, but when you go to a yoga class you're taught how to breathe, and it will help you to reduce the stress levels again."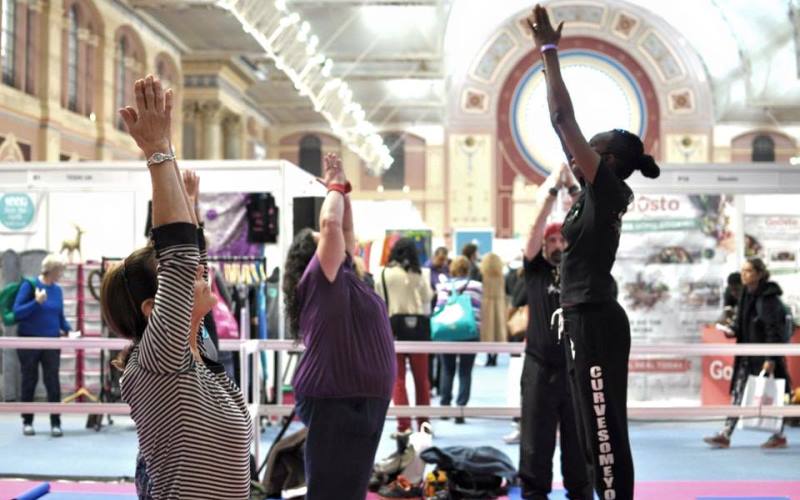 Donna believes yoga should not discriminate against size or age.
She said: "Slowly but surely with the body positive movement people are beginning to see they can do much more.
"Another thing they get when they come to my classes is self-acceptance and body confidence – it's about self-love.
"Once people get that, they appreciate their body more, whatever they came to the yoga for, they get so much more than they actually thought."
Donna has also partnered with Sports London to open the doors to those who feel financially restrained.
She said: "Another thing that prevents people from doing yoga is money because it can be so expensive.
"I've got some funding, so I'm making the classes so that individuals can afford it as well, so it's a next to nothing nominal fee so they can get access to yoga."
Before becoming a yoga specialist, Donna worked in a discontented corporate job and it was only because of the encouragement from a friend that she changed her path to yoga.
The yogi said: "Yoga has changed my life, I came from a corporate environment and I didn't intend to be a yoga teacher.
"I did the yoga course just as something I would do when I retire and I thought that would be a hobby for me, but the universe or whatever you want to class it had different plans for me.
"Suddenly my plan B became my plan A and this is what I'm doing now.
"With the CurveSomeYoga I didn't plan to find a niche, it just kind of happened and the more I go with the flow, the more I believe my path is already mapped out for me.
"I just embrace it and I'm richer now in terms of what I'm doing and the benefits."