By Emily Garbutt
January 28 2020, 19.05
Follow @SW_Londoner
Zero waste lifestyles are more necessary now than ever, but how many people are actually making changes to their daily life?
'Zero waste' is defined as a set of principles focused on waste prevention – i.e. reusing things and throwing away as little as possible.
Out of the 92 people who took part in a poll on Twitter, only 9% said they followed a zero waste lifestyle.
However, 49% of people said that although they didn't, they'd like to start.
When asked what was holding these people back from starting, the most popular answer was money.
Respondent Elizabeth Rushton said: "A lot of products that are zero waste might turn out cheaper in the long run, but the initial costs can be prohibitively expensive."
Meanwhile, 36% of people said they didn't know where to start and 12% cited a lack of resources as their reason.
A solution to the latter two problems are zero waste shops such as Hetu in Clapham, which opened just over two years ago and was London's first vegan zero waste shop.
When asked for her top tips for anyone starting out on a zero waste journey, founder Laura Boyes said: "I would say don't try and do everything in one go, because you will set yourself up to fail."
She recommends living with your waste for a few weeks to see what exactly you're throwing away, so you can then start trying to find easy swaps for those things.
She said: "We started with our kitchen, and then after a month or so moved on to the bathroom, and then we started moving on to our wardrobe, and we're still finding ourselves decluttering stuff.
"So easy, simple steps. Don't look at what anyone else is doing and judge yourself against them, but by all means use them as a reference point. But everyone is different."
Along with Hetu, eco-friendly shoppers with a SW postcode can browse the wares at BYO in Tooting, Sustenance in Brixton, The Source Bulk Foods in Battersea, Zéro in Colliers Wood, and The Refill Larder in Teddington.
Laura said: "South west London is definitely becoming a bit of a hub for zero waste shops."
She added: "We've been open over two years now, and every day we still get new customers walking in the door. So it's great.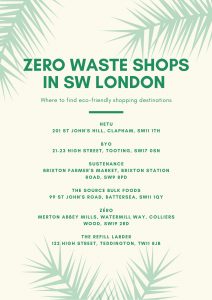 "But there are also a lot more shops opening up. That hasn't meant that we've lost customers, that has meant we've still maintained our customer base.
"That's fantastic because that means as more shops open, the interest is growing."
Another sustainable London-based business is Kind2, an online shop selling shampoo and conditioner bars that was set up last year.
Founder Sue Campbell was motivated to start the business because of the growing problem of plastic waste.
She advised that living sustainably was all about making things easy for yourself and planning ahead.
She said: "Think about the things you can do that are easy – if it's too difficult, you're not going to do it.
"Be prepared and organised – plan what you'll eat in the week."
Emma Kowalski has been trying her best to live a zero waste life since October last year.
She said: "I started around my birthday. I asked nobody to wrap up presents for me, as the wrapping paper always felt like a huge waste and it kind of blossomed from there.
"Next up was considering the way I shopped. I naturally grabbed vegetables which were wrapped in plastic when there were plastic free options available, I just hadn't been paying attention beforehand."
So is living sustainably a sustainable habit? Is zero waste a fad, or does it have staying power?
Laura said: "When I first opened the shop, people would come in and go, 'Oh, you're so on trend right now.' And that would really upset me, because we're not doing it to be trendy."
She concedes that in order for change to happen it has to be on-trend, but zero waste living is a significant lifestyle change.
"If you're going to make that bigger lifestyle choice, you don't just do it for a couple of weeks or a month, it becomes second nature. So it's 100% here to stay."
Featured image: Emily Garbutt