It was a sultry summer morning when the opportunity to sample artisan gelato in Chelsea arose – I was on the train before anyone else could volunteer their tastebuds.
My destination was Amorino Chelsea on King's Road, a gelateria that promises richly flavoured, creamy sweet concoctions and specialises in making flowers from their delicious gelato.
Gelato flowers were created to mark the RHS Chelsea Flower Show and Amorino teamed up with nearby florists Sloane Flowers to put on an eye-catching display.
The creamy creation, made of silky swirls of gelato spun into flowers and real blooms, took ten people more than two hours to put together.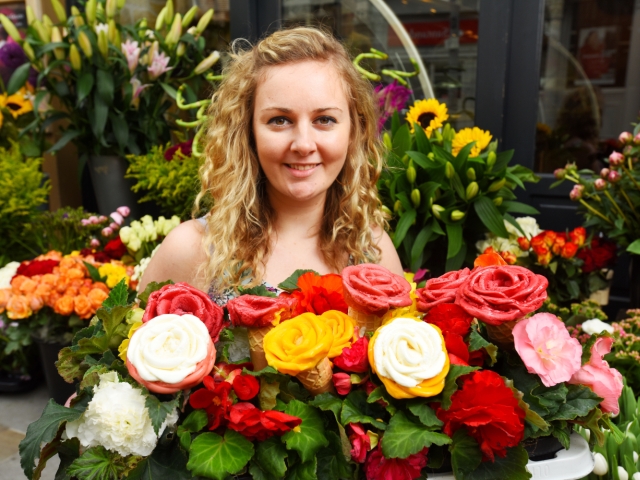 The team offered to share the skills of their sorbet secrets and as I sipped a black vanilla tea (I panicked, they have nine flavours) Cyndie, 26, the in-house gelato guru and my soon-to-be tutor, talked me through Amorino's history.
The company was set up by two Italian friends in 2002, starting with a small parlour on Paris's famous Rue de Buci. Their business quickly took off and now there are more than 140 Amorino boutiques in 15 different countries.
That figure includes six in London, with shops in Charing Cross, Covent Garden, Soho, Islington and Westfield Stratford, as well as one in Bicester, Oxfordshire.
As I struggled with my apron and dinner lady-style hat, Cyndie ran through the basics.
The basics, as I understood them, are deceptively easy – grab a cone and a spatula, scoop out a blob of gelato, put it in the cone. Repeat steps two and three until majestic rose is created.
At least, that's what Cyndie seemed to be doing, although I fear this assessment is painfully simplistic as I elicited bemused pity from customers while I attempted to put theory into practice.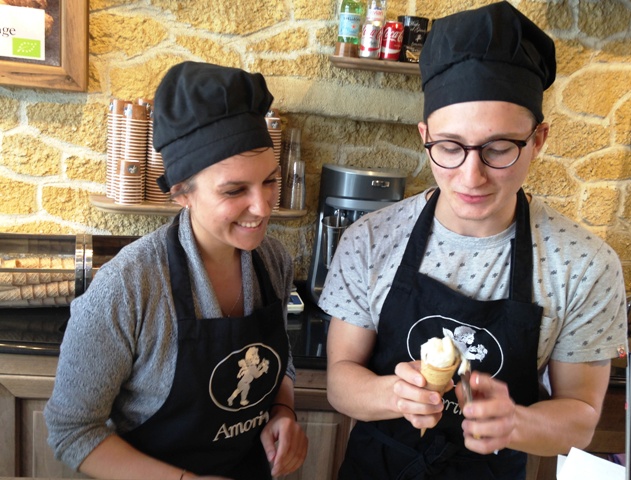 Eventually, the miraculously patient Cyndie deemed me safe to be left alone to make a gelato flower of my own choice flavours.
I went with chocolate hazelnut, caramel and amaretto, which were not the most colourful options, but apparently all ranked highly on scoopability.
While I did so, Cyndie whipped up another so we could compare.
Here are our efforts. Please bear in mind that Cyndie has been doing this for five years and is considered a master of the craft, having travelled all over Europe giving advice to Amorino employees, while I am a clumsy fool.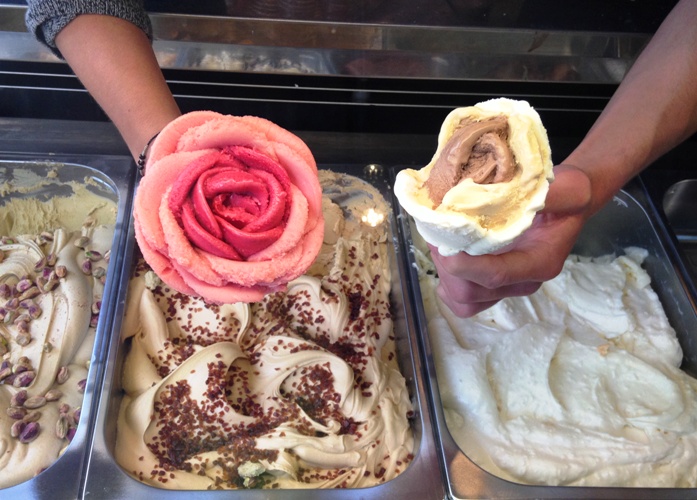 Cyndie seemed to find my rose somewhat amusing but that's OK because afterwards I was allowed to eat it.
It was delicious, even for ice cream, which is famously tasty. With no shame whatsoever I tucked in, applauding myself for being so clever in my choice of flavours.
Sticky but velvety, sweet and creamy, my gelato flower may have been ungainly, but it was a true godsend.
I chomped my merry way through it and when it was finished, took a moment to bask in that particular kind of greedy satisfaction only a good ice cream can give you.
I thanked Cyndie and bid her farewell, before stepping out into the muggy heat of King's Road a reporter rejuvenated.
Strolling happily back towards the station I reflected on what I had learned from my Amorino experience: gelato flowers are excellent — fun to make, even more fun to eat and endowed with almost magical properties.