Young people have been credited for working with communities and businesses to give London the highest proportion of vegans in the UK.
Research by Edge Hill University found that 3.11% of people living in London compared to 2.16% of people in other parts of the UK are vegans.
Dr Richard Twine, co-director of the Centre of Human Animal Studies at Edge Hill University and chairman of the research committee of the Vegan Society, said young people are "driving change".
"In urban concentrations you do tend to have a higher concentration of younger people, so it may well be this that's at least partly driving the higher number of vegans in London," he said.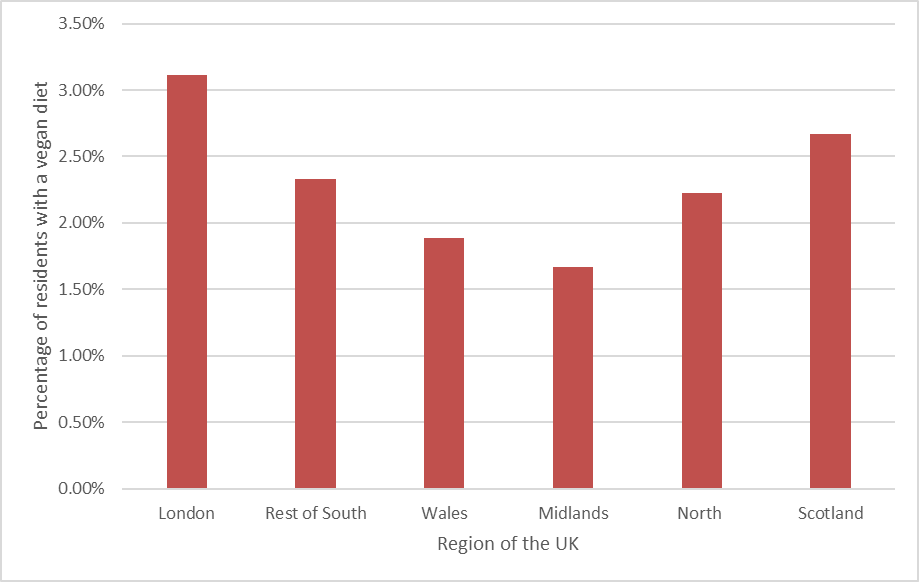 In total, 4.78% of 18-24 year olds compared to only 0.56% of people aged 65+ are vegan according to a YouGov poll.
The reason why there are more vegans in younger age groups is partly because many young people leave home and go through major life changes.
This can lead to a more experimental and open outlook towards change and they may adapt their lifestyle to make it more environmentally-friendly.
This can also apply to older age groups to a lesser extent, for example when people retire.
There are also many vegans in older age groups who may have concerns about climate change affecting their grandchildren or a health problem that prompted their interest.
The largest UK running group in 2023 has been the Vegan Runners, which consists of a membership of people who are mainly over 35.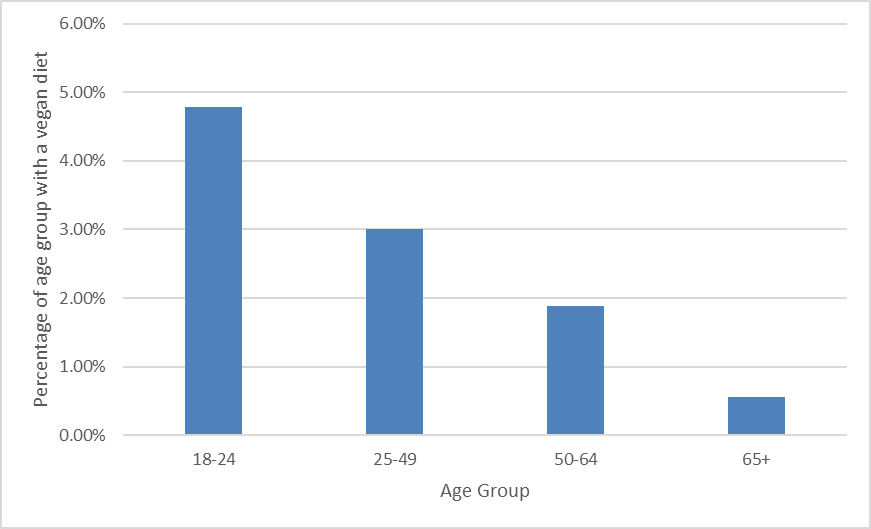 Twine continued: "We know, politically, younger age groups tend to be less conservative, which is a long-standing finding within the social and political sciences.
"That's probably going to translate into things like experimenting with our diets.
"Vegans and vegetarianism has historically been associated with the left of the political spectrum."
Another reason why young people are adopting vegan diets more than other age groups is that they consume media differently. For example, Instagram and TikTok tend to have more content supporting plant-based diets compared to mainstream media.
Twine added: "There have been some studies that say that cities can become social laboratories for ways of living, which's something that we see in cities like London, Glasgow, Edinburgh and Bristol. This can apply to small cities as well.
"We see a pro-environmental community that sees the threat of climate change and wants us to change our ways of living."
This enables them to socialise and create things together, for example vegan cafés, which is something that also applies to LGBTQ+ and other communities.
Image credit: Stevie Thomas