What does Botticelli's The Birth of Venus, the geometric carpet from Stanley Kubrick's The Shining and The Beatles' iconic yellow submarine have in common?
They've all been immortalised on banana skins as a-peeling works of art by self-proclaimed banana artist Elisa Roche.
The 35-year-old freelance writer and media consultant from Pimlico set up her Instagram account Fun with Fruit last July which has now racked up a whopping 34,700 followers, including Hollywood actress Diane Krugar and TV chef Jamie Oliver.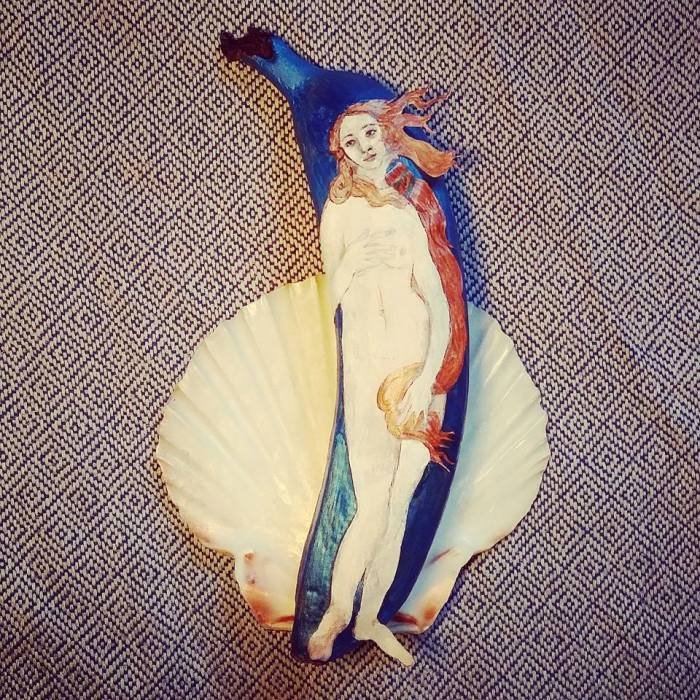 THE BIRTH OF VENUS: Elisa tackles Renaissance style in this piece

But what makes someone look at the humble fruit and see its potential as an artistic medium?
She explained: "Last year I was doodling on a notepad on my desk and then moved over to a banana while on the phone.
"It was a bit absent-minded but it felt lovely.
"The next day I drew my dachshund Teddy and a colleague loved it and said I should post it online."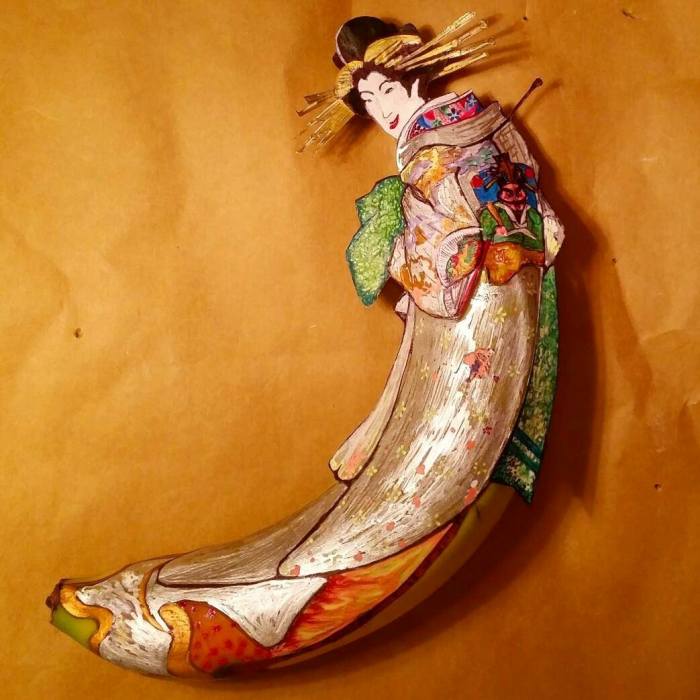 MEMOIRS OF A GEISHA: Japanese woman sports elaborate kimono

She decided to follow her co-worker's advice and launch the Instagram account where she now regularly documents her banana artworks.
No stranger to handling food, Elisa was trained to cook by Jamie Oliver for Channel 4 show Jamie's Kitchen more than a decade ago, but left to pursue food writing.
Along with her love of food she's always had a passion for art, but never formerly studied it, and now gets to combine her two passions.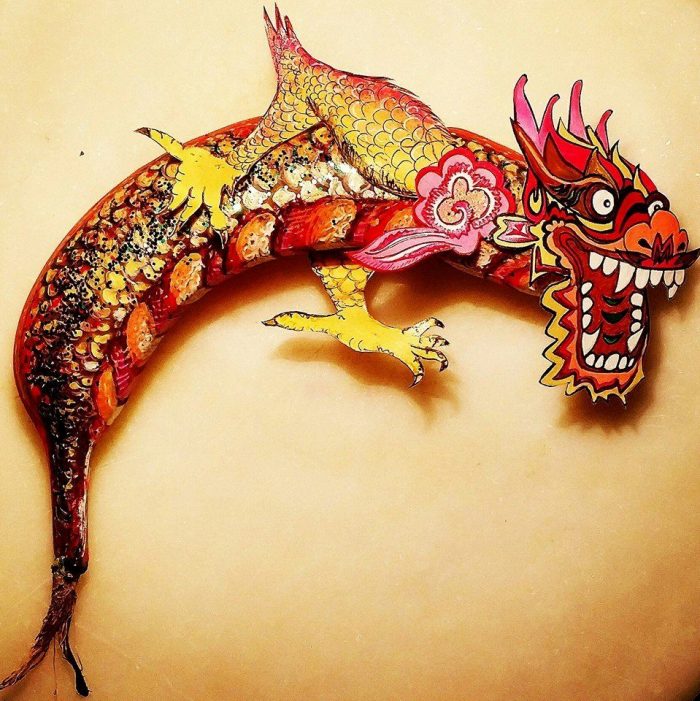 FIERCE: This intricate dragon looks as though it could leap off the page

She said: "My parents thought it was best to concentrate on more academic subjects but this was always inside me and it has just come out in a bit of a bizarre and quirky way."
Armed with just the canary-coloured fruit, biros and some Paperchase pens the south London native lets her imagination run wild when penning her creations.
"Pop culture is my main influence. I love those films that stick with you years after watching, like The Shining or Black Swan.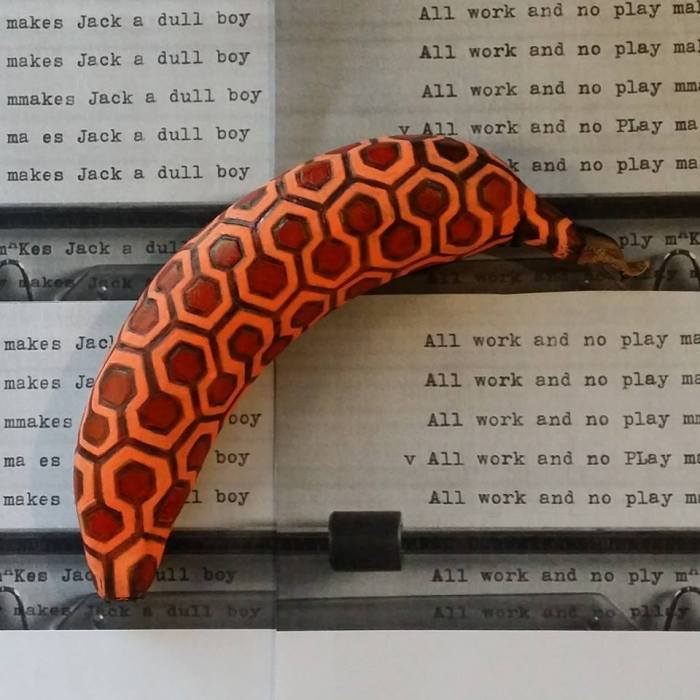 ICONIC: The geometric design spotted in cult movie The Shining
"I also love Scandinavian design and really want to do a Marimekko collaboration – I'd like to do a banana fashion or beauty shoot."
Elisa explained that sometimes she finds it difficult to destroy the artwork encapsulating the fruit within.
"When I've finished a banana artwork I don't really see its full potential until I frame it and take the snap – I feel proud of my little achievement," she said.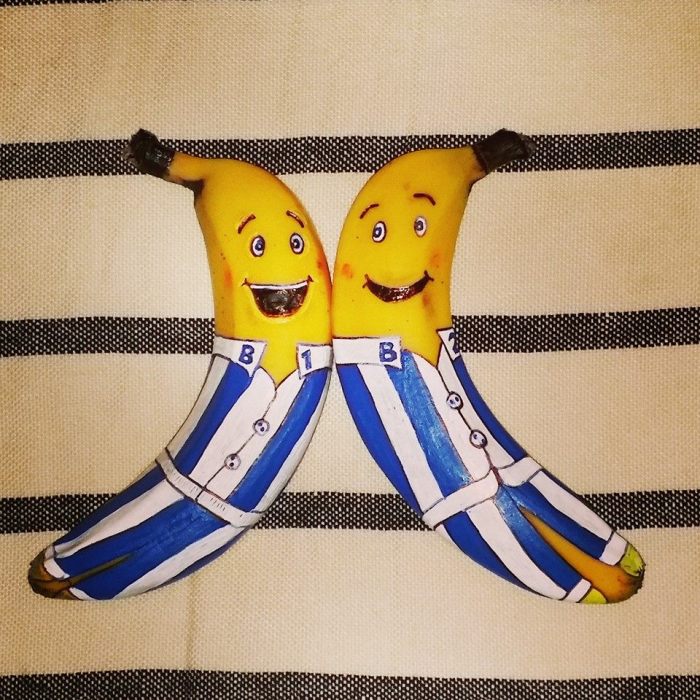 BANANAS IN PYJAMAS:B1 and B2 look delighted to be paired up
"I take a snap on my camera phone, pop it online and eat the nana, but I've put the Natalie Portman from Black Swan banana in my freezer – I couldn't bear to eat her!"
Elisa has secured a legion of fans across the globe who regularly comment on her quirky pieces, submit requests and attempt to create their own #funwithfruit works.
She smiled: "I've been amazed at how quickly I've gained a following from all over the world.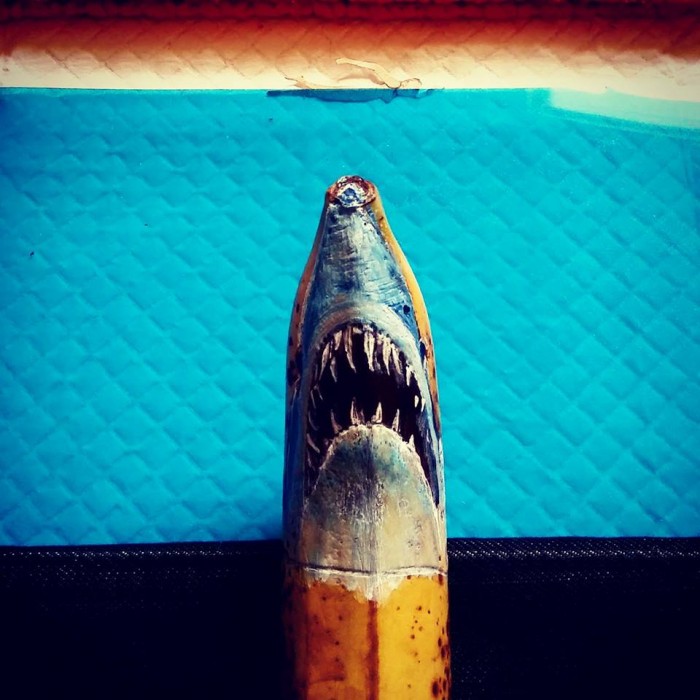 DON'T GO IN THE WATER! Jaws – a banana with bite
"I guess banana art doesn't need translating – people either like what they see or they don't.
"I've loved it when people have used my #funwithfruit hash tag to post up their own works of art, especially when it's children."
Not all of her works of art head for the plate and so far she's saved two from being devoured in order to preserve her work.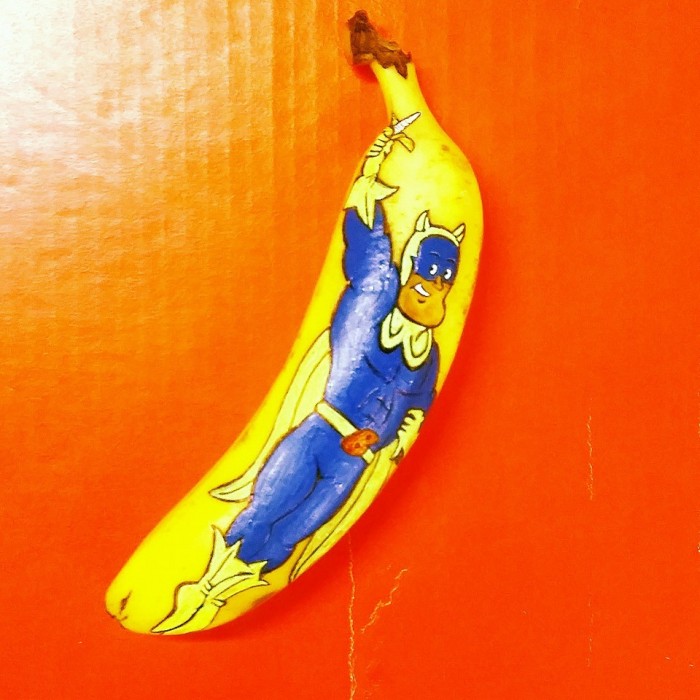 EVER ALERT FOR THE CALL TO ACTION! Bananaman comes to the rescue
She explained: "My favourite piece so far is my geisha girl – she's also sharing the freezer with Natalie.
"I do hope they're getting along!"
Looking to the future Elisa revealed that she wanted to continue pushing the boundaries of her work and sharing her work with her legion of online fans.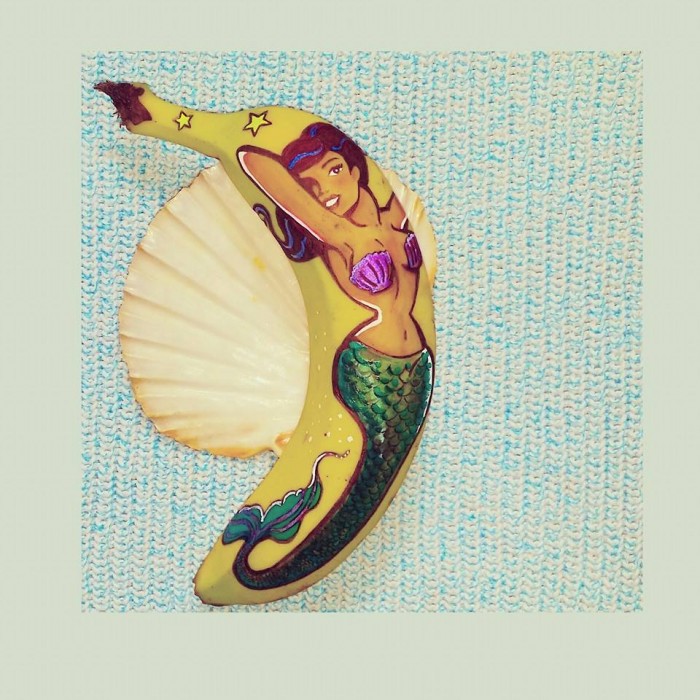 ALOHA! Wonderwoman moonlighting as a 1950's pin-up mermaid
She said: "I want to carry on what I'm doing as it seems to be making a lot of people smile.
"I would love to create a children's book about seeing the world differently.
"To most people a banana is just a banana but to me, and to children, it can be a dancer, a leaping porpoise or a dog dashing home for its tea."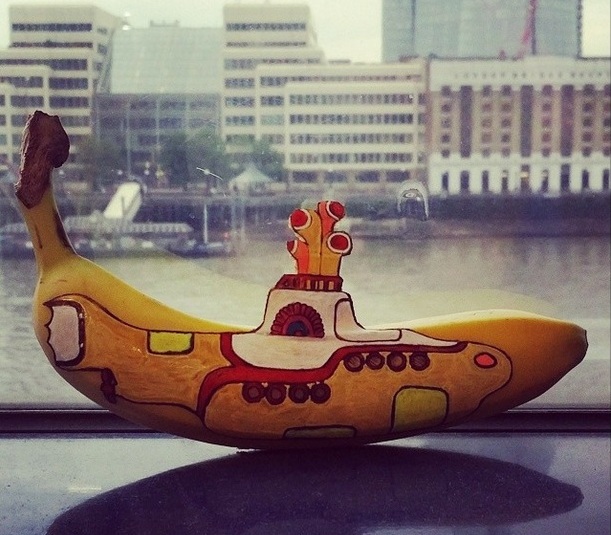 WE ALL LIVE IN A YELLOW SUBMARINE! Beatles' classic in banana form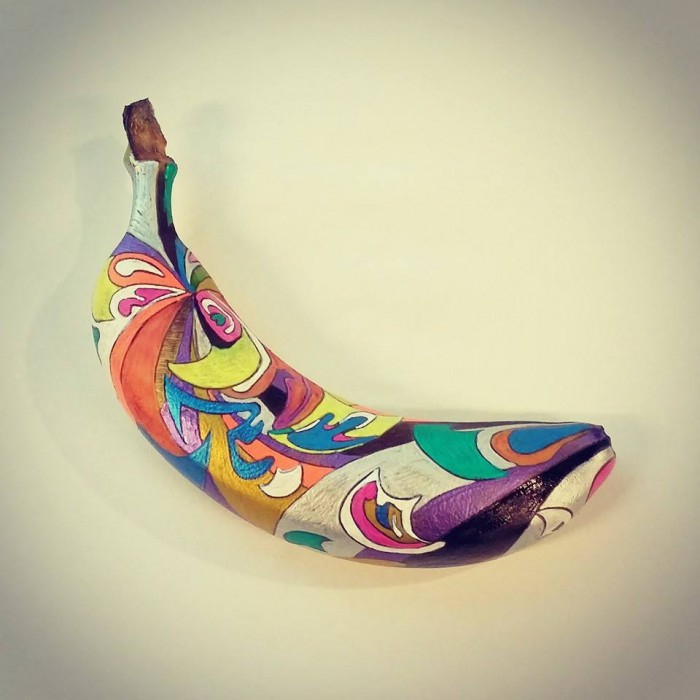 PSYCHEDELIC: Elisa channels Pucci's signature print on this banana skin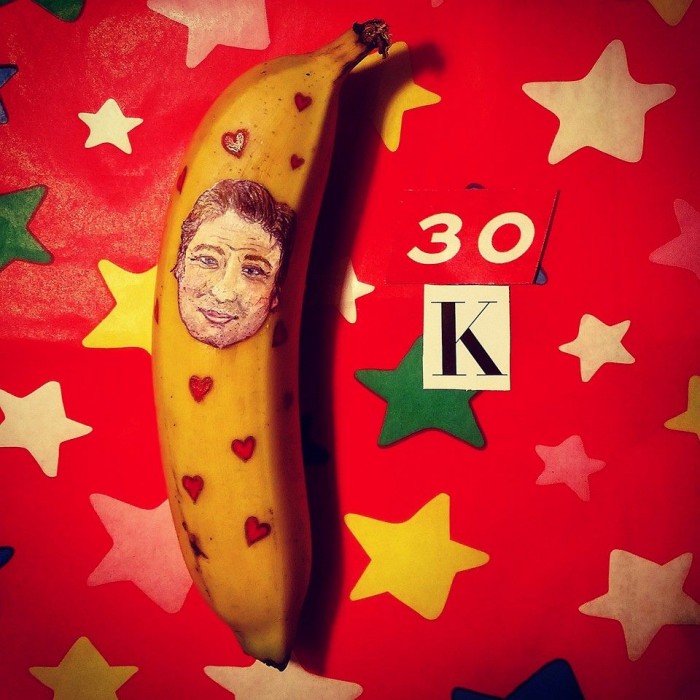 THAT'S BANANAS! Ode to chef pal and supporter Jamie Oliver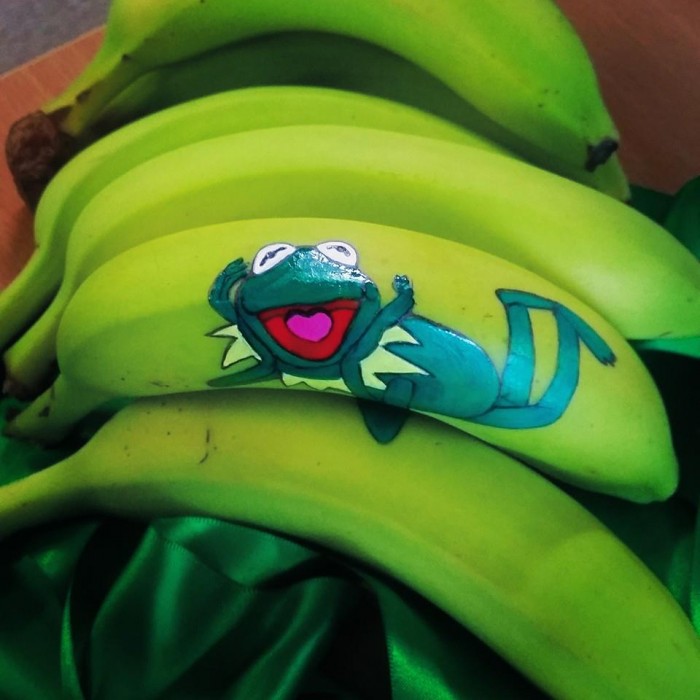 IT'S NOT EASY BEING GREEN! Kermit brings his goofy smile to unripe bananas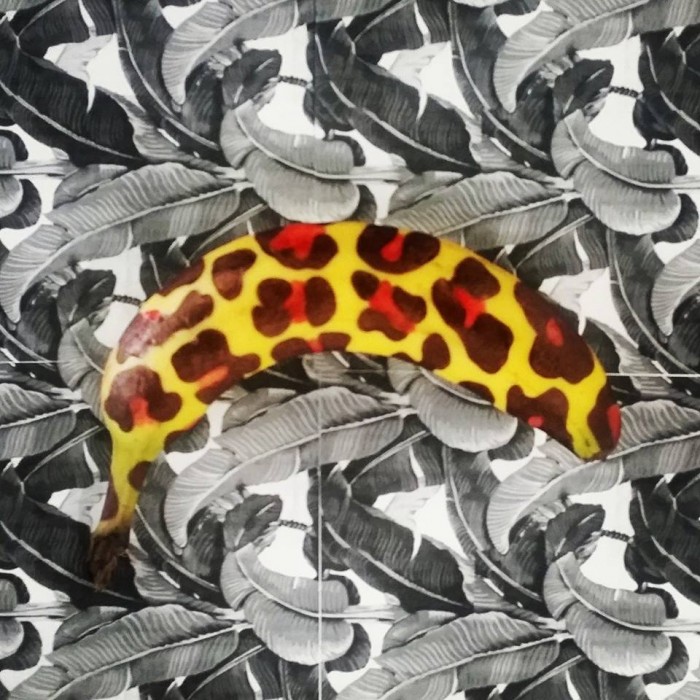 FUR REAL? This banana gets a feline makeover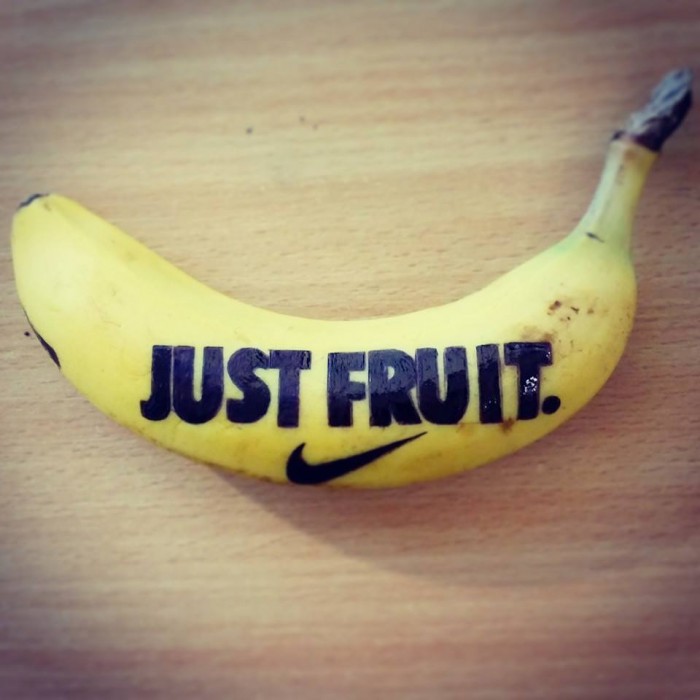 JUST FRU-IT! Nike's logo gets a fruity makeover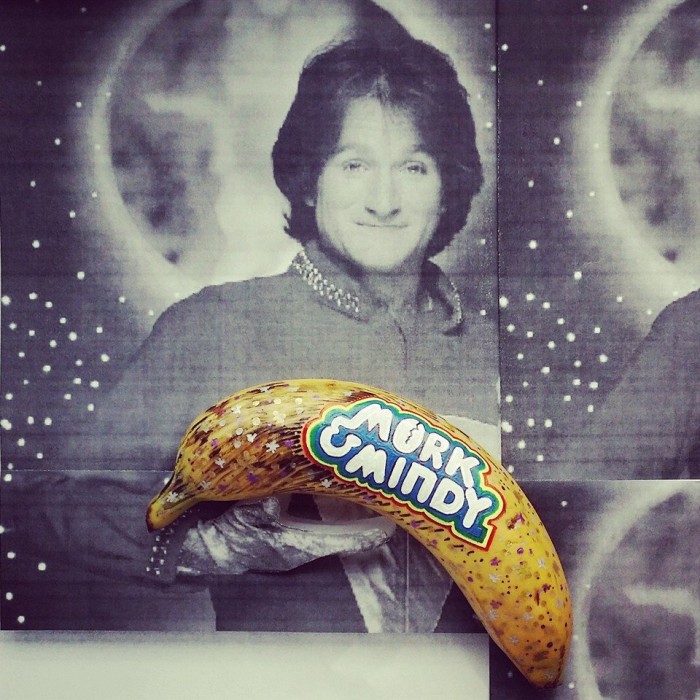 POIGNANT: Tribute to the late Robin Williams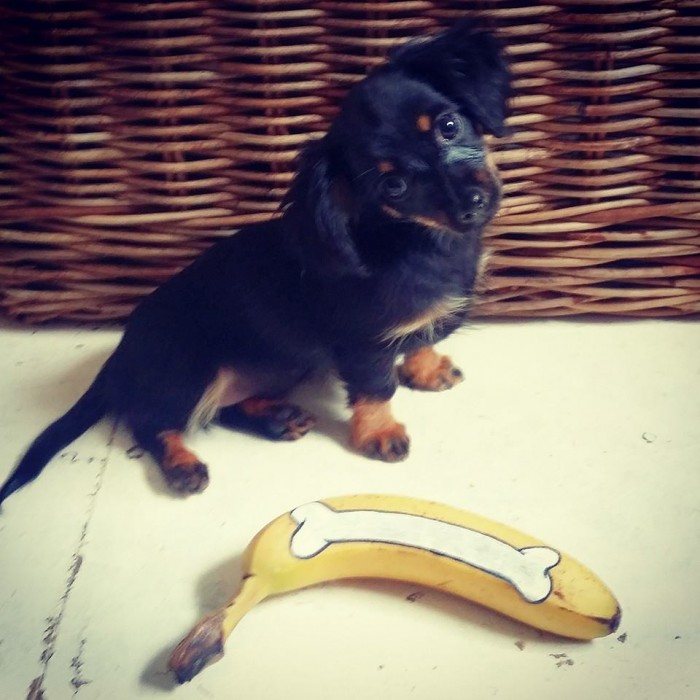 CONFUSED: Dolly the dachshund is perplexed by this fruity treat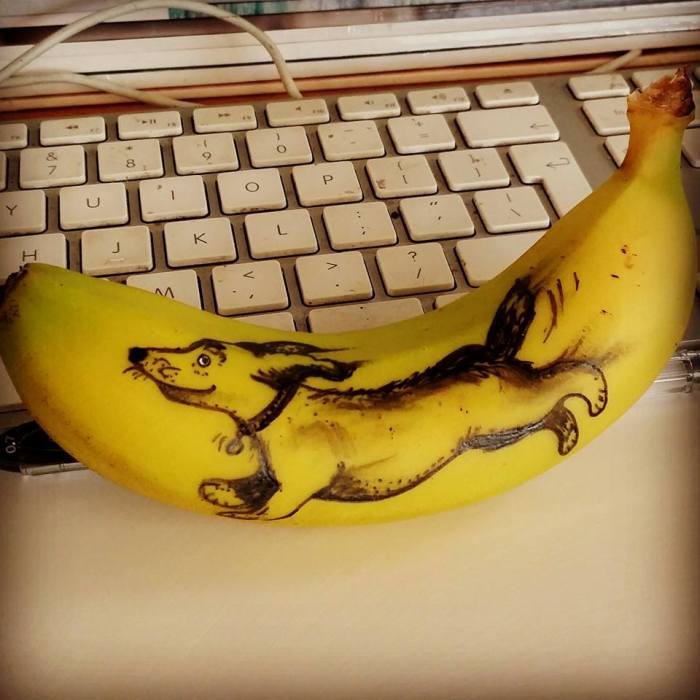 WHERE IT ALL BEGAN: The banana that kick-started a fruity empire
You can see more of Elisa's work on her Instagram account Fun With Fruit and also on her Fun With Fruit Facebook page.
All pictures courtesy of Elisa Roche with thanks