Leo Thomas entered the glamorous world of film-making as a bright-eyed trainee eager to get the big break she had spent her childhood dreaming of.
Shortly after moving up the ranks from trainee to freelancer within the Art department, Leo suffered a nervous breakdown in 2009 after being bullied on set.
She explained: "It was all too much and I left the industry. I realised that I needed help and there was no one to turn to at work."
Thomas was later diagnosed with Borderline Personality Disorder in 2015 and started therapy, where Dialectical Behavioural Therapy was introduced to her.
After getting help she returned to the industry years later as her love for creating was something she was unable to ignore.
Today, aged 39, the Twickenham resident is a Standby Art Director.
She has worked in the film industry as a freelancer for 17 years, lending her artistic vision to a number of high-profile films & TV shows including Netflix's 'The Crown'.
Leo has also worked tirelessly to advocate for increased mental health support for freelancers behind the scenes, alongside training as a Mental Health First Aider.
After losing two dear friends in the industry within two years to suicide she was determind to see change.
Alongside Matt Longley, co-founder of mental health non-profit company 6ft From The Spotlight, they developed the 'Wellbeing Facilitator' role to provide internal support for freelancers the industry lacks.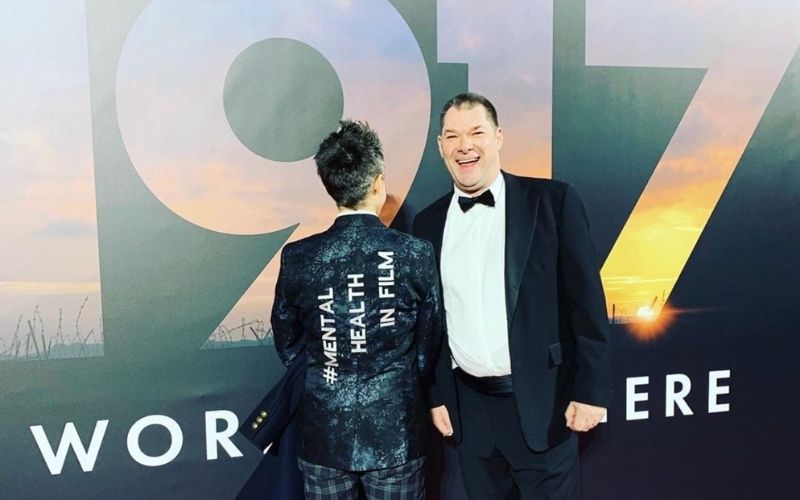 She explained: "Losing friends to suicide was the biggest catalyst of realising that there needs to be more support in place.
"Unfortunately, it happens a lot. There were three suicide's in our industry during lockdown.
"From my experience with mental health, I wanted to help others even though this role is not recognised officially by the film and TV industry."
The Well-Being Facilitator role pulls together skills from Mental Health First Aid England and Dialectical Behaviour Therapy.
The facilitator observes any issues or non-verbal behaviours on ground level of a film set that may be arising.
They diffuse situations by using coping mechanisms to ease anxiety, de-stress and regulate the workers emotions so they can safely do their job.
Leo trialled the role to stellar reviews on top of Art Direction on the set of His Dark Materials, Trigonometry and upcoming Amazon series Small Axe.
She explained: " The crew were so grateful for this role, but it needs to be permanent.
"There are many pressures being a freelancer, your work- life balance is erased.
"Alongside a constant level of uncertainty, you never know how long you will have to wait for your next job."
Leo calls for change within the film freelancer industry.
She said: "There needs to be a HR department who act as a neutral third party.
"There also needs to be accountability, people need to be held accountable if they are bullying, being racist or homophobic.
"Better working conditions are vital, freelancers' work hours need to be shortened."
She has a positive vision for the future of the film industry, as long as mental health awareness develops.
Leo stated: "One day, future generations will come from university and film schools into an industry with mental health awareness in place.
"By then the dinosaurs of the film industry will be gone. It will balance, it will take over 10 years, but it will balance."
To aspiring film creatives, she gives them hope but also reality.
She advised: "Ask yourself, why do you want to be in the industry? I thought it would be glamorous, but very quickly I realised it's not.
"If the answer is to be creative and tell stories through your art then go forward and make your connections."
She concluded: "Find the people you admire in the credits or on IMDB and reach out to them, you never know what could happen."
Through her advocacy of mental health, Leo hopes to serve as a reminder that there are many more layers to the film industry than just the glitz and glamour that appears on the surface.
Further information about #mentalhealthinfilm or the Wellbeing Facilitator role, contact Leo via email: [email protected]
Featured image provided by Martin Sean (@MartinSeanPhoto)