From the slaughterhouse to the star of the small screen, meet the new face of John Lewis' iconic Christmas advert 2016 — Amy the sheep. 
At just seven years old, Amy has become an A-lister on the celebrity scene — sharing an agent with Emma Bunton, Gerri Halliwell, Pixie Lott and Kate Moss.
The showbiz sheep has now appeared in five films and three pantomimes along with regular TV appearances, including a staring role in popular ITV drama, Foyle's War.
Inundated with constant screen time requests, Amy is regularly invited to high-profile red carpet events.
Owner Roger Reynolds urges Amy's long queue of fans waiting for a snap to keep their eyes peeled this Christmas.
The star-studded sheep will make her John Lewis deb-ewe in one of the most well-known and anticipated TV adverts of the year.
Amy is set to become the star of the Christmas prime-time slot which has previously included animal themes such The Bear and the Hare in 2013 and Monty the Penguin in 2014.
If history is anything to go by, Amy the sheep could soon become a household name and a cuddly must-have John Lewis toy this December.
Previously, the store cashed in with penguin toys costing £95 selling out in less than 24 hours and appearing on eBay for upwards of £500 following the launch of Monty the Penguin Christmas advert.
The much-loved farmyard animal is a mascot for St George's Hospital in Tooting and has raised more than £40,000 for various charities, including the Royal Marsden Hospital in Sutton, the Poppy Appeal, and various breast cancer charities.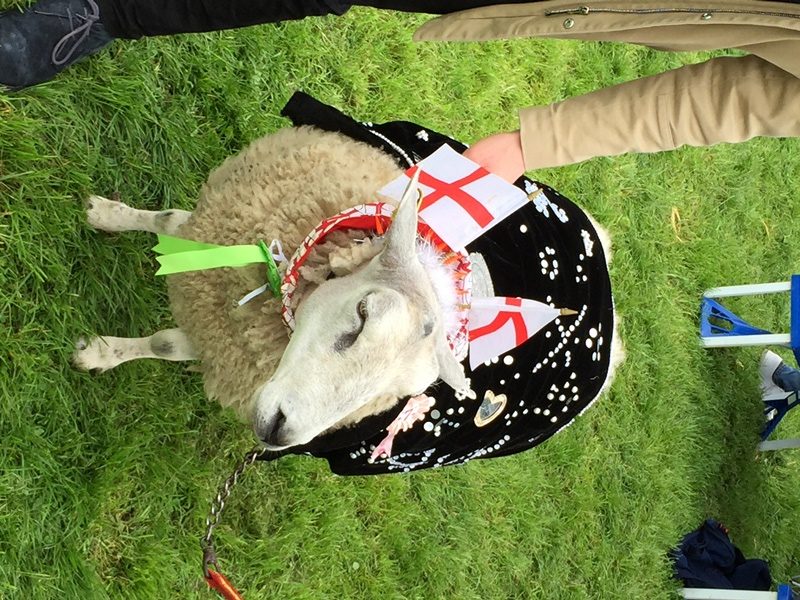 ALL'S WOOL: Amy the Sheep is soon to be a household name
Handler Mr Reynolds, who runs Kingston City Farm, has been touring community events, care homes and schools with Amy since 2011.
Mr Reynolds jokes: "Many people have asked 'how much money do you want so we can buy her for our dinner?'
"I said 'you wouldn't be able to afford her, she's insured for £2,000 – she'd be a bloody dear dinner wouldn't she!'"
The farmyard star of the big and small screen is insured by the National Farmers Union for £2,000 due to her various media and charity appearances.
In 2012, Amy received a Prince's Trust award from former Mayor of Wandsworth Jane Cooper for her tireless fundraising efforts.
More recently she received a medal from Princess Anne for money raised for charity, which Amy proudly displays on the back of her pristine coat.
Mr Reynolds said: "Amy has six different coats in her wardrobe.
"She will be filming a Tesco's advert in August and the supermarket is making a special Tesco's coat for her so she looks like staff.
"That is very special – Amy and I are both very excited."
But it hasn't been a smooth ride for the sheep who now lives in the fast lane.
Amy was rescued from an abattoir at birth in 2009 and now lives on Kingston City Farm.
"Well her mother was one that slipped through the net," said Mr Reynolds.
"You get the odd one pregnant going in there – they smell the blood, take fright and drop them on the floor.
"My partner brought her home from the slaughterhouse in just an ordinary carrier bag.
"When they're born they are very small so her little head was poking out from the top of the bag bleating away when smuggled home on the tube.
"My partner bottle fed her every two hours all through the night and she's now grown up into this big lump."
Along with charity and TV work, the award-winning sheep has also dabbled her hooves in the world of politics.
Mr Reynolds said: "When David Cameron got into power in 2010, the first thing that he did was to lift a ban on livestock crossing London Bridge.
"That was a law that dated right back to the doomsday book.
"It was a massive event and she even appeared on the six o'clock news walking over the famous London Bridge with Romilly Weeks.
"Amy was only a baby then, about nine months old when she made history.
"Then she went on the Lorraine Kelly show, she's been on here and there – you name it, she's been about all over the place."
Amy also made a special guest appearance at the London 2012 Olympic ceremony, appeared in an Admiral Insurance advert, has an affiliation with the Purley Kings and had a portrait of her commissioned and unveiled at the Great Hall in Greenwich for the Queens 90th birthday.
Amy is at the top of the farmyard pecking order with her own customised wardrobe and is even allowed to travel in the back seat of Mr Reynolds' car on the way to events.
He said: "She loves it all – she loves coming to events.
"You only have to say 'Do you want a carrot or a biscuit?' You think she doesn't know? She knows her name, she knows biscuits!"
Amy is a sheep of the modern age and even has her own Facebook account where she posts regularly to adoring fans.
She can be spotted outdoors getting exercise when confidently running around Wimbledon Common, or when nobly raising charity money outside Wimbledon station.