A uniquely British ailment – a combination of acute humility and a dry sense of humour – has caused us to undersell British food globally since Sir Francis Drake set sail in the 1500s.
Yet maybe this self-deprecation will turn out to be one of our greatest culinary assets.
In contrast to the modesty for our home-grown efforts we have embraced foreign imports and celebrated fusion food.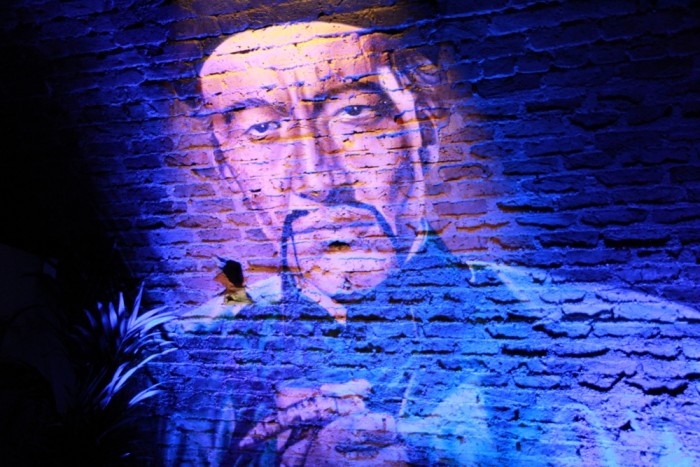 SUPER-VILLAIN:  Fu Manchu's striking image is included in the decor

Now Clapham restaurant Fu Manchu is offering a European attempt at dim sum with recipes you won't find on any menu in China Town.
Tucked away under a railway arch, the inconspicuous exterior, with one discrete projection sign and a tinted glass window, is a nod towards a prohibition-era speakeasy bar.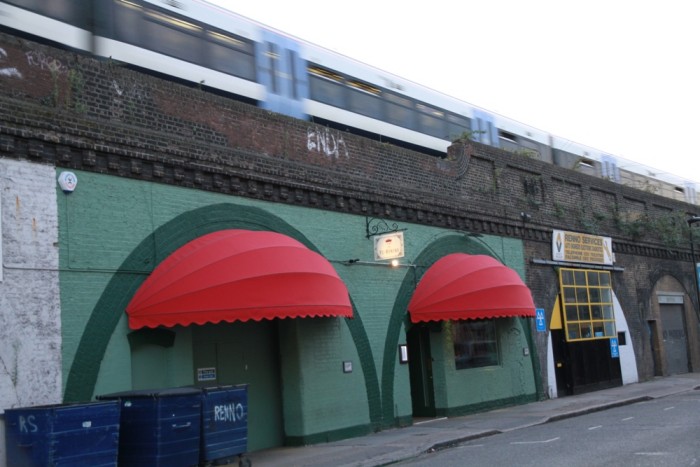 INCONSPICUOUS: An under-whelming exterior belies what's inside
Through the double doors the synthesis of Edwardian, opium den and Chinese themes makes for a hedonistic hideaway on a gritty Clapham North side-street.
The feeling you've made a furtive discovery is further exaggerated by the occasional rumble of trains passing overhead.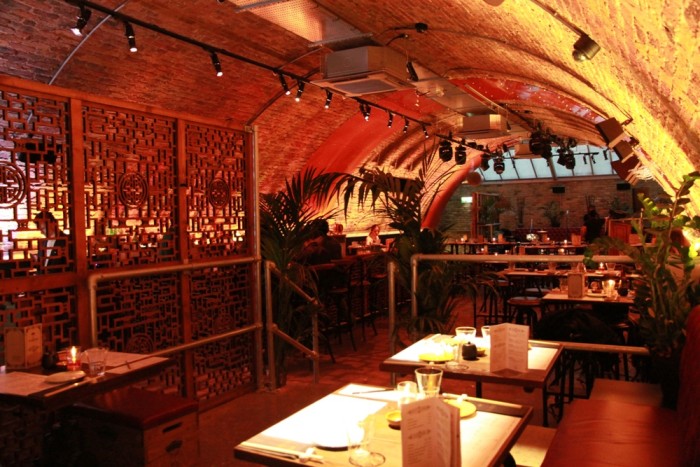 HEDONISTIC HIDEAWAY: Fu Manchu is tucked away under a railway arch

The team of Europeans, led by their Cantonese head chef, has concocted a variety of new takes on classic Chinese dim sum for an original menu.
Traditional phoenix eye dumplings from the Guangdong province in southern China are usually filled with shrimp.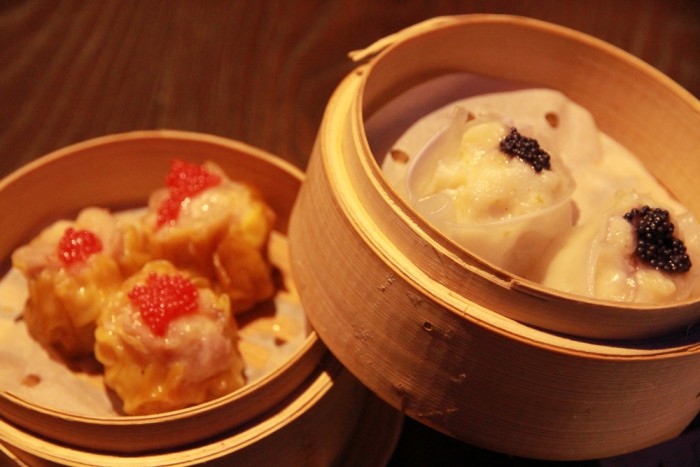 DELIGHTFUL: Traditional phoenix eye dumplings

Fu Manchu uses monkfish, a common catch off the coasts of Europe, that is so delicate it melts in your mouth.
This Chinese classic with a twist of the Occident has a fresh kick thanks to a perceptible hint of lime which, together with the monkfish, makes for a light and refreshing dish.
Other creative fusions include Ngo Lam Gua Wau Tip – beef and pumpkin dumplings – and Kimchi Jin Gau – kimchi and mushroom dumplings inspired by a traditional fermented Korean side dish.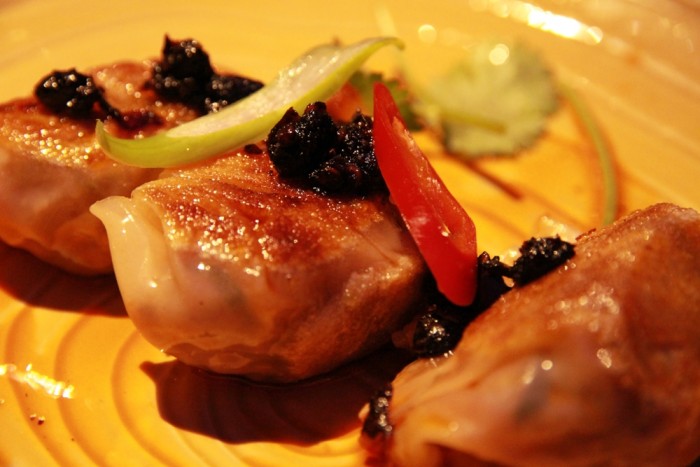 KOREAN-INSPIRED: Kimchi Jin Gau
The Ngo Lam Gua Wau Tip have an orange tint, owing to the pumpkin, which also gives this dish a distinctive sweetness that contrasts beautifully with the tender and flavoursome beef.
Kimchi has an unusual taste – spicy, salty and sweet all at once.
Combined with the smooth texture and subtle flavour of mushroom, this dish has a multi-dimensional taste that evolves as you eat it.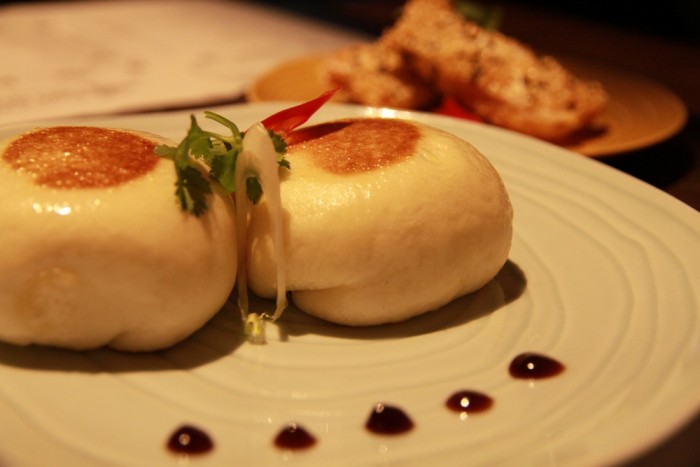 DELICIOUS: Mince beef and Chinese leaf crispy buns
The inventive dim sum complements the equally experimental cocktails.
The restaurant's signature drink Manchu's Mind Control is made with secret recipe grog and served in the fictional super-villain's face.
Lin Tang's Szechuan Sling, allegedly Dr. Fu Manchu's daughter's favourite tipple, is a mango vodka-based cocktail with homemade Szechuan pepper.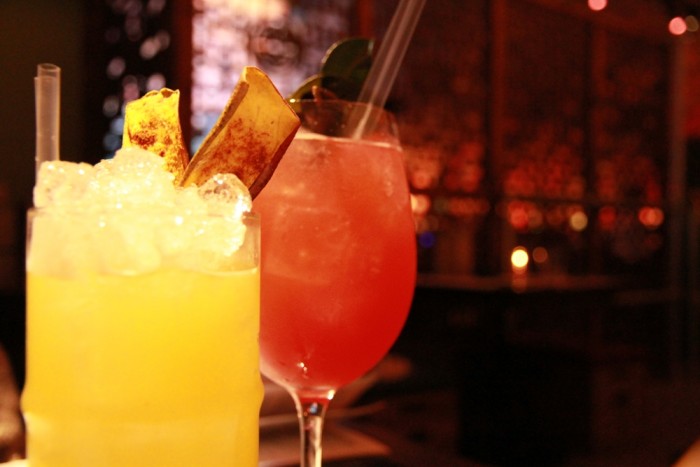 COLOURFUL COCKTAILS: Themed drinks are a tasty accompaniment to the dim sum dishes

The Chinese pepper has a numbing pungency and the drink is designed to accompany spicy dishes (I can recommend the kimchi dumplings) to enhance the warm flavours.
So while I despair every time I hear a compatriot under-selling Britain's best I have to admit a little part of me rejoices that London is a hub for culinary innovation, which Fu Manchu exemplifies in a suitably understated British way.