We're all guilty of throwing stale bread, overripe fruit or an abundance of limp lettuces, now a Notting Hill restaurant is tackling the £12.5 billion worth of food wasted every year in the UK.
Food waste has a significant global impact, if it was a country, would be the third largest greenhouse gas emitter in the world, after the USA and China.
This is just what chef Justin Horne and Saasha Celestial-One, co-creator of an app that helps connect people sharing surplus food, wanted to address at a Food Waste Fiasco event.
The foodie event was held at Tiny Leaf, a first of its kind, organic, vegetarian surplus food restaurant that opens on January 28 on Westbourne Park Road.
Justin, creative visionary and executive chef at Tiny Leaf, wanted to find a solution to the food waste pandemic happening.
"I've been reading a lot about the current food waste and it highlighted the idea for finding a food waste solution," he said.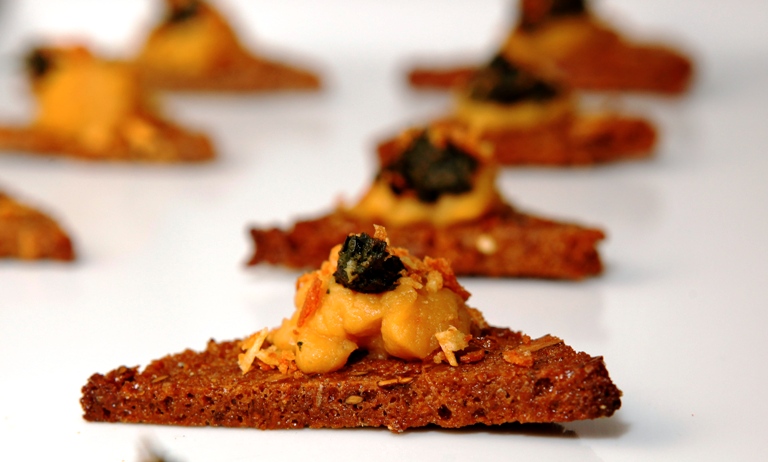 MOREISH MORSELS: Beautifully presented canapés belied their origins
The creative foodies of Tiny Leaf have found a solid supply chain from restaurants, companies and farmers.
Justin said: "Planet Organic supply bread every day and we're using Langridges, one of the UK's biggest supply chains for organic vegetables.
"We even have an organic surplus supply chain, Twaste, for ice cream and cakes."
We asked Justin the most creative dish he has come up with, but we were sworn to secrecy.
He did, however, let SW London readers into a sneak preview of his favourite ingredients.
He said: "The menu changes every day, but for one dish I experiment with the different textures of beetroot – like raw and poached beetroot."
If the canapés are anything to go by, Notting Hill gourmets are in for a treat.
Justin satisfied our taste buds with porcini cream, pumpkin brunoise, crispy leek on sourdough, as well as roast peppers and mint chiffonade crostini, and pomegranate with pepper cream on parsnip base.
Finding a surplus drinks supply chain was a challenge, but Justin said: "We've found organic spirit companies like FAIR Spirits, UK5 Organic Vodka, Papagayo Organic Rum and Dailuaine Fairtrade Whisky.
"Fantastical Botanicals, owned by the son of Green & Black's founder Craig Sams, have made us out of this world elixirs to mix into the cocktails."
We took a peek at one of the cocktails, Tiny Leaf, and it comes complete in a plant pot with edible soil.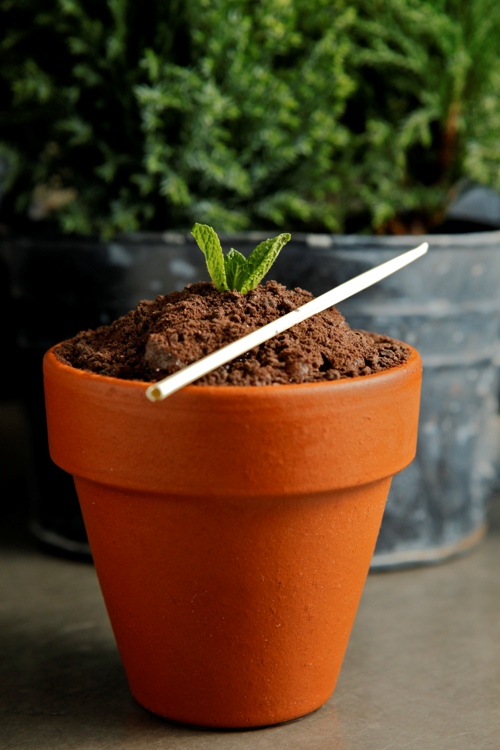 MORE THAN MEETS THE EYE: Cocktail in disguise
The restaurant is Jackson Pollock-inspired, with walls and chairs splattered in earthy colours of paint while the bar will be covered in edible plants and herbs to add to drinks.
The event was hosted by OLIO, a free app connecting neighbours and local businesses so food can be shared, not thrown away.
Saasha Celestial-One, co-founder of OLIO, launched the app across London in mid-December and it already has 100,000 user sessions.
She said: "Most of food waste is done in people's homes, not the supermarkets.
"Food is cheap and people see it as normal to throw away food they don't use. We want to change the way people think about food before it goes off.
"If you know you're busy this week and you won't eat the food in your fridge, why not put it on the app and let someone else use it."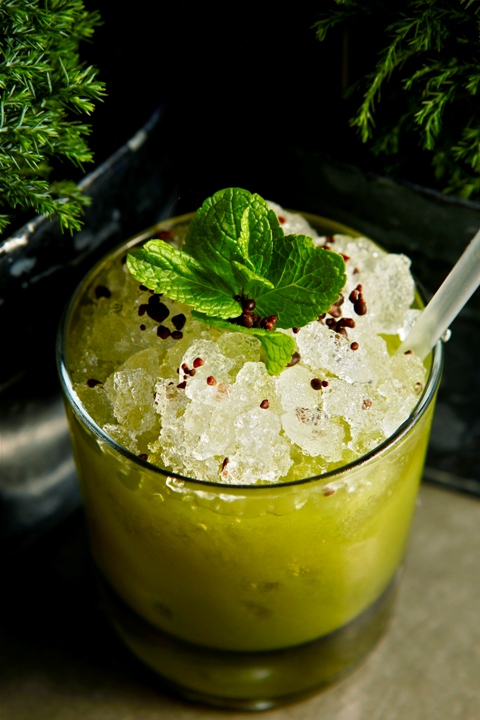 MINTY FRESH: Even drinks are made from surplus supplies 
Guest speaker at the event was Rob Greenfield, America's food waste hero and author of Dude Making a Difference, who shared his O2 TEDx talk.
The dumpster-diving foodie told of his latest cycling mission across the US, where he vowed to exclusively only eat out of grocery store dumpsters.
Rob said: "Five years ago I read a lot of books and watched a lot of documentaries about the individual actions causing so much destruction to the environment.
"I wanted to act on what I was seeing and to change the feeling in my gut that I was doing something wrong."
Rob admits that his is an extreme version of an environmental life, but he wants to show people that it's possible.
"I want to empower people and help them drop the social stigma attached to dumpster diving," he said.
"Don't fear what people think; feel empowered that you are doing something good."
Rob has been dumpster diving in London since arriving and he was appalled to find supermarkets throwing out perfectly good food in pre-packaged bags.
"Today I had falafel and hummus for lunch and cookies afterwards – it all looked perfect and tasted amazing," he said.
"I'm excited about the future of Tiny Leaf, people can come to this restaurant and know that they're doing good."
Picture courtesy of Martin Behrman, with thanks