I have a weird feeling of recognising everyone whenever I go to Notting Hill, as if all who walk down the street there must be famous.
In a moment that will do nothing to ease this, when I went there recently to review Orasay – a restaurant that joined the area's neutral matt-painted shop fronts earlier this year – none other than Nigella Lawson slid in to the seat next to me on a return visit. In lieu of my review, I wrote down what she said about each course, word for word, and will share it here.
I joke, of course.
Orasay is a new venture from chefs Jackson Boxer and Andrew Clarke, inspired by the Western Isles of Scotland with a focus on seafood.
The interior is cool and clean, with exposed bricks and rough plaster-work, natural fabrics and a huge window open to the street which lets in the summer goings on of this famous neighbourhood.
There is a selection of wines on tap, minimising the carbon footprint, and the restaurant works with only select suppliers for its produce – including the chef-patrons' organic farm in Sussex.
The attention to detail and dedication to the freshest seasonal ingredients was evident throughout our meal, while delicate pairings (such as my prawn and kumquat starter) and varied menu make this an offering not to miss.
The potato flatbread top with cod's roe, a regular on the menu, was swiftly demolished between us, while my partner's scallop with shiitake was perfectly cooked and disappeared speedily too.
My skate main with grilled sweetcorn, girolles and a rich chicken jus, all topped with crispy matchstick fries was decadent and flavoursome but still light.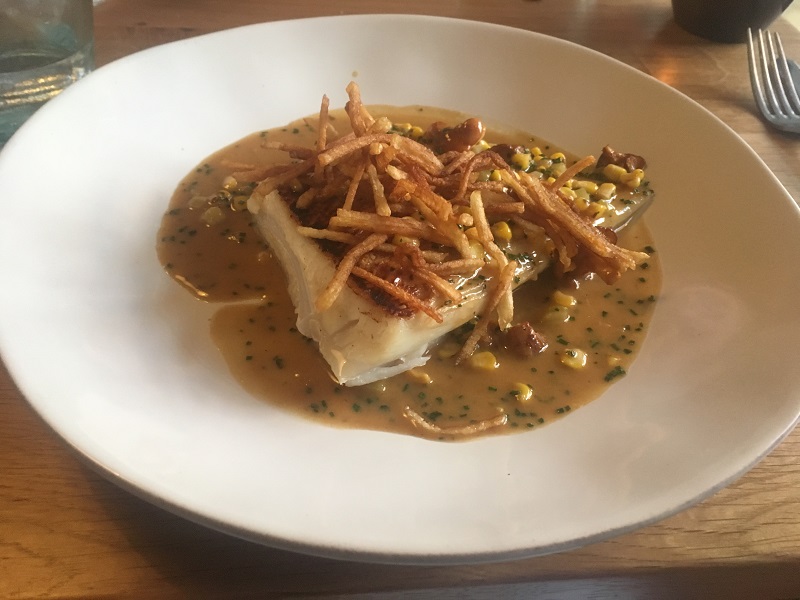 The seabass main with sweet red peppers and earthy black olives was, as our server had promised, a very different dish from the skate, also beautifully balanced, and transporting us to the Mediterranean rather than Scotland.
The serving staff are cool as anything, very knowledgeable but friendly and genuine. All were happy to talk us through any part of the menu and make recommendations based on what was new in this week, or a twist on a usual offering.
By the time pudding came around, I wasn't really sure things could get any better. While I personally found the flourless chocolate cake a little too dense – although the coffee and malt flavours were delicious – I don't think I'll ever eat a better dessert than my peaches swimming in sweet juice with a panna cotta-like set buttermilk and topped with crunchy almonds.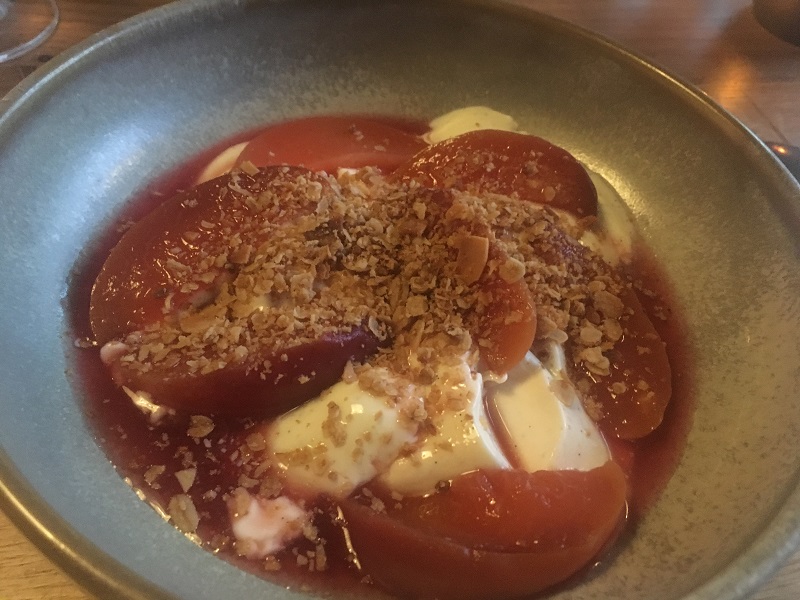 I'd return to Orasay in a heartbeat, and obviously my eyes will be peeled for the inevitable celeb-spot.