Richmond-Upon-Thames College (RUTC) has welcomed a therapy dog this week to help students dealing with mental health issues.
Fred, a 12-year-old West Highland Terrier and Labrador cross, has his own lanyard and works 3 days a week at RUTC, which is based in Twickenham.
Staff initially came up with the idea after seeing the impact therapy dogs were having in primary schools, and claim RUTC is one of the first colleges in the UK to bring a dog onboard.
Beth Pattison, the college's Student Engagement and Equalities Lead, has already noted Fred's impact on an 18-year-old-student who barely communicates and suffers with poor mental health, after his first appointment with the dog.
Pattison said: "It was the most animated we've ever seen him."
Fred's owner Tina Ball, who is Attendance, Engagement and Outreach Lead at RUTC, said there had been a huge rise in students struggling with depression and anxiety over the past two years due to the pandemic, which caused widespread disruption to the school year.
Speaking about how Fred is enjoying his new role, she added: "Fred is in heaven, he's getting so much attention."
Studies have found that therapy dogs can increase reading fluency, reduce loneliness and have a calming effect on students.
Simply petting a dog has been shown to boost levels of serotonin, dopamine and oxytocin, the 'feel good' chemicals that help to reduce anxiety.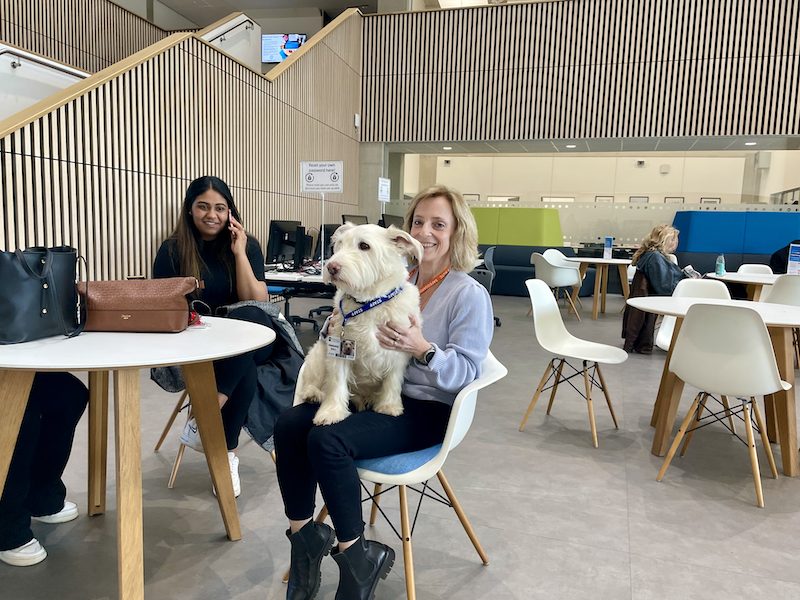 Fred is available for drop-in sessions but can also accompany students at private meetings with school councillors.
During 1-1 sessions, students stroke Fred who sits beside them whilst speaking to their Councillor.
Student Emily Butler, 16, who has regular therapy, had her first session with Fred last week.
She said: "I was very stressed because I was running late, and then I saw Fred and I was like 'dog!' and then I wasn't really stressed anymore."
Zhozefina Atanasova, 18, another student at RUTC said: "When people are having a bad day, Fred is going to brighten it up."