Michael Doughty was a professional footballer for ten years, playing in the Premier League with QPR, but walked away in September 2020 to pursue a sustainable trainer company.
Hylo Athletics, a project he first began a year before leaving football, is a trainer company looking to promote greater sustainability in sport.
Hylo looks to make shoes in a more sustainable way than traditional brands, making its trainers using 60% bio-content.
It also boasts a Life Cycle Assessment number, which takes into account all factors from production to transportation to end-of-life, that is 40% lower than the industry average.
Doughty said: "From our supply chain through to our warehouse and packaging, we are obsessed by making each touch point as impactful as possible.
"A lot of the environmental impact is during that material and production phase.
"And what used to happen is that the place that makes the product is extremely far away from the place that supplies that product.
"Then you've already got this huge carbon footprint before you have even sent it anywhere.
"And we have centralised around one area, so all of our innovation happens around that one area, which is massively advantageous in the end."
It was after the first game of the 2020/21 season that Doughty decided to walk away from football aged 27 to pursue Hylo full-time for a range of reasons.
He said: "Without the fans being there, I didn't feel the same connection to the game that I normally would with fans there.
"We were promoted to League One, which is a level I had been playing at for quite a few years, so it wasn't a new experience for me.
"Additionally, a month prior to leaving, I had a daughter, and I think that changed my perspective a little bit on the future, and on my responsibilities, and also her future and what that was going to look like in the current climate."
Hylo are partnered with 30 athletes, including Leeds United's Patrick Bamford and Rugby World Cup winner Victoria Fleetwood.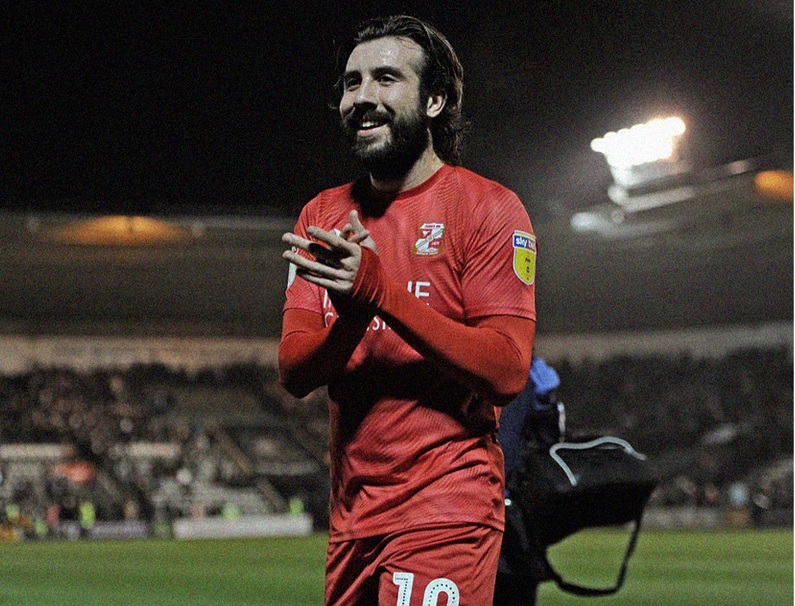 And it was during his own professional career that the Wiltshire Pirlo, as he was affectionately known whilst playing for Swindon Town, noticed many problems with how sport dealt with the environment.
He said: "I think with athletes there needs to be more education about what the risks are in their sport for them and their families, I think would be a good starting point.
"I think in my experience there are some simple things that could be done at a club level, like taking away plastic water bottles, doing some carbon accounting on the travel.
"Football teams travel a lot, so how do we look to offset that and even improve the impact?
"And just a general shift from players, to clubs, to organisations in making it a key part of their public communications to bring fans into the discussion as well."
This lack of education on the issue, Doughty says, is what prevents athletes from becoming knowledgeable, and has prevented an equivalent figure to Marcus Rashford or Colin Kaepernick for the environment.
He said: "When I speak to athletes there is definitely this intent that we need to do better, but sometimes they don't know where to direct their energy because they don't necessarily understand all of the things.
"I think it is about opening up that discussion, but not in a judgemental way where you are asking somebody to solve the problem or have their life scrutinised because people think 'I'm not perfect in my approach, so how can I talk about it?'
"But it's not about being perfect, it's about being better and the incremental aspects of that."
But this does not mean that good work is not being done within sport and the sportswear industry to combat climate change, like the recent fully vegan football boot made by Paul Pogba and Stella McCartney.
He said: "I can't speak for the holistic sustainability credentials of that product, because you have to look at things holistically to really understand if something is better, worse or the same.
"But I think that Paul Pogba and Stella McCartney doing something together and talking about the importance of veganism and of a sustainable product is incredibly exciting.
"People idolise Paul Pogba and Stella McCartney, and those names are the ones that can really drive change."
Many see climate change as an issue which is still a long way from seriously impacting our lives, but its impact is already affecting sport.
He said: "A problem which is probably 50 years from rearing its devastating head is a tough subject to communicate.
"But actually, what I am trying to get through to people is that it might be 50 years until there is an absolute climate disaster, but we're seeing climate change impact sport today.
"We saw the women's PGA tournament in the UK last year being interrupted by a wildfire.
"As a player, flooding was happening way more than I've ever known and my games being called off."
Despite believing that there is a need to take action, where others can sound like harbingers of doom, Doughty is more positive about the work that is being done.
He said: "We have this very big problem, which seems very challenging, and no one knows how to solve it.
"But people thought that the marathon record would never be broken, and they never thought a team could go a season unbeaten.
"There are some similarities in what we are facing and the importance of sport within that message is my overarching message.
"We are seeing athletes communicate more and more, we are seeing initiatives being taken up at the sporting body level, with the likes of the Premier League, EFL, and other sports massively.
"So, I think we are moving in the right direction and I'm incredibly positive about where we can go, but I am an eternal optimist.
"I just think that a problem that might be seen as a big problem in the future, is actually a big problem today and we need to as a community, as people who love sport, we need to come together to improve things and it is a massive collaborative effort."
Featured image credit: Hylo Athletics