London Welsh's former Championship-winning second row Ben West has stated that he believes the league is no longer viable as funding disparities with the Gallagher Premiership reach breaking point.
West, 29, was a part of the winning Championship team of London Welsh in 2013/14, and a runner-up with Yorkshire Carnegie in 2016/17, before he finished his professional career at Ealing, Championship runners-up in the last two seasons.
In a wide-ranging interview he also discussed how Welsh's attempts to survive in the Premiership led to their liquidation in 2016, and how Yorkshire slipped into the third tier after their own investment to reach the top division proved fruitless and he was forced to move on.
West is back at the now-amateur Welsh, having spent the last two years of his career at Ealing Trailfinders.
Whilst he believes Trailfinders' financial backing will turn their current lead at the top of the Championship into promotion, he fears it will have the effect of leaving the rest of the league further isolated from the Premiership.
He said: "Ealing should get promoted, they're the only people with the money to go up, a backer might then enter one of the other competitive clubs while they temporarily ringfence the Premiership but I don't know if that will happen.
"I'm not sure the Championship will survive in the form it's in at the moment.
"Knowing the disparity in resources provided and therefore facilities between the Premiership and Championship, it's not fundamentally sustainable."
He conjectures the future could see these clubs turning amateur, as the process of them being weakened through the years by growing disparities in funding reaches a crossroads.
He said: "At the bottom end of the Championship you've got London Scottish who are essentially an amateur team, you can't have those guys rolling out against internationals.
"I think it will all have to go down the amateur route unless Premiership rugby step in.
"They've done a slow death up to now with funding cuts every year, bending the rules to make it more difficult to get promoted and making clubs jump through hoops and I don't think it will survive the way it is currently."
West lamented the dominance of the Premiership's 13 sides, who are shareholders of the limited company that runs the league, and their stranglehold on resources, having been a prominent player for three other clubs who have unsuccessfully attempted to break the mould.
Though Ealing have plenty of their own resources, provided by wealthy backer Mike Gooley, it is West's other clubs whose attempts to compete with the 13 shareholders that has ultimately led to their respective collapses, to differing degrees.
He joined London Welsh in 2013, staying till the club went into financial oblivion just over three years later, after their two Premiership spells in three seasons left incurable financial scars.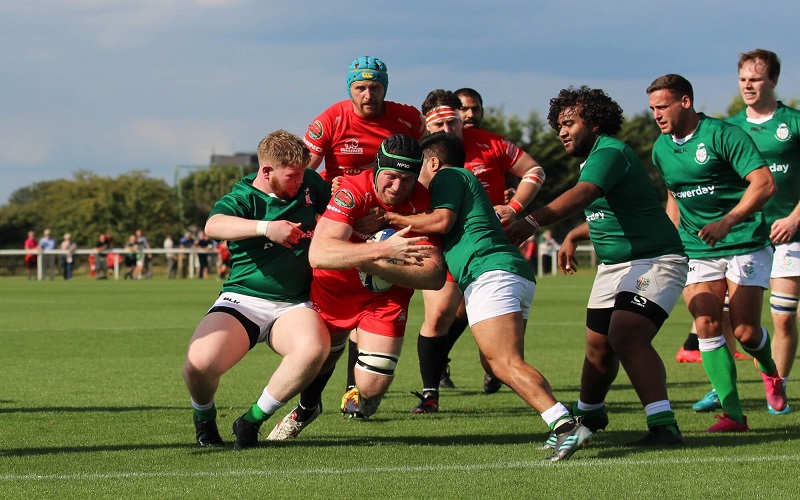 When asked whether he believed Welsh were unwelcome in the league, West agreed, citing their controversial five-point deduction for a registration error of player Tyson Keates which doomed them in 2012/13, and other controversial moments he noticed ahead of signing for the club.
He said: "He was actually fine to play for us, it was just an admin error where his registration was filed incorrectly.
"I'd already signed for Welsh at that point and thinking I was in the Premiership and then had to watch a few dubious refereeing decisions going the other way in their games.
"They were almost seeing you as the mouthy little brothers, with everyone else thinking: 'Do we really want you here?'"
When they returned to the Premiership, Welsh managed just one league point in the 2014/15 season, and third bottom London Irish (40 points) were closer to table-toppers Northampton (76) than they were to relegated Welsh.
Their attempts to stay in the league ultimately led to their bankruptcy, and while West was one of the players who was able to get a new club, the same fate would befall new club Yorkshire Carnegie after they were pipped to the Premiership following their play-off defeat by another shareholder, London Irish.
He said: "At Welsh we were pulled in over Christmas and told we didn't have jobs anymore, players' faces dropped, they were walking out of the room on the phone to their agents.
"Then at Yorkshire we were on a timeline to get promoted with an investor and we didn't hit the deadline after not doing ourselves justice in the play-off final.
"They pulled out, and though it was ultimately a slightly more graceful slide down the leagues than Welsh, the money had run out and there was nothing they could do for me or themselves."
West has returned to the now tier six London Welsh, who play as an amateur team, with a career in finance taking up his time after he decided to end his pursuit of a Premiership career.
He is the only player at the club who was there during their Premiership season and subsequent liquidation, as the club look to make it 10 out 10 for the season this Saturday while their ascent back-up the leagues continues.