London Titans Football Club are celebrating a new community partnership with Queens Park Rangers this LGBT history month.
The Titans, who play their home matches at Wandsworth Common, are one of London's foremost LGBT football teams.
The team were formed after a kick-about in 2005 and now offer a friendly environment for footballers regardless of ability, age, sexuality or gender.
Club manager Phil Steer said: "As a club we're really proud to provide an accepting and competitive space for players to experience the game regardless of their sexuality.
"Over the last ten years we've come a long way, it's great to see the community has grown around a love of the game, free from the homophobia you may find elsewhere."
The club have grown significantly in the past ten years, having reached the second tier final of the International Gay and Lesbian Football Association (IGLFA) European Championship in 2015, where they met Thomas Hitzlsperger – the first openly gay ex-Premier League footballer.
As the Titans approach their tenth anniversary, the club want to engage further with the community off the field, through their partnership with Championship side QPR.
Steer said: "Entering into partnership with QPR signals an exciting step for the club, and the importance on both sides of keeping equality at the heart of football."
In a groundbreaking move for a professional football club, QPR invited the Titans onto the pitch at Loftus Road before their west London derby with Fulham on Saturday.
The welcoming formed part of Football V Homophobia's Month of Action, a series of events designed to confront any anti-gay feelings that have long been associated with the game.
Alongside their presence at match days, the community partnership will look to establish an LGBT supporters group for the club.
The Titans boast another exciting partnership with popular gay entertainment venue Two Brewers on Clapham High Street.
The cabaret bar are the club's principle sponsors and offer post-match buffets and huge fundraisers, which have enabled the club to develop strong links with charity organisations including GMFA, Switchboard, Stonewall and the Albert Kennedy Trust.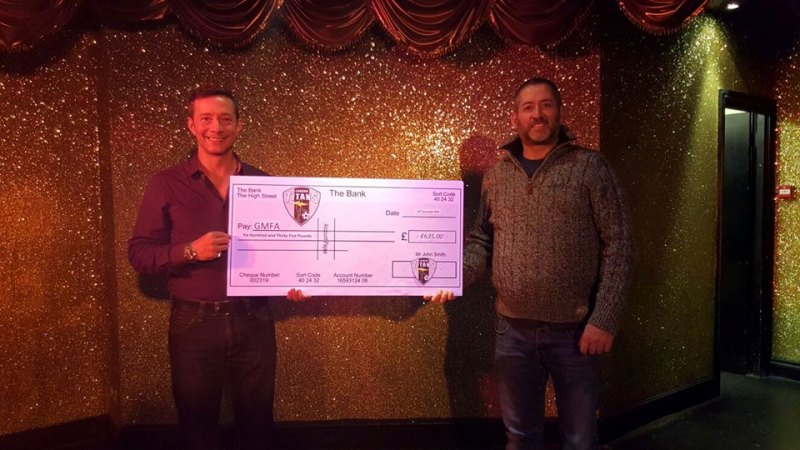 GOOD SPORTS: The London Titans presenting GMFA with a fundraising cheque 
As well as the usual post-match drinks and dedicated club nights, players get the opportunity to travel, having competed at tournaments in Hamburg and Mexico City.
The travelling is set to continue as the club plan to send teams to this summer's EuroGames in Helsinki and the August IGLFA World Championships in Portland.
The Titans' next match is on Sunday February 21 at home against East End Phoenix.
Images courtesy of London Titans, with thanks