Life hasn't always been kind to 22-year-old Max Spooner – he was diagnosed with Asperger's syndrome in 2004 and doctors feared that he would never lead an independent life as he struggled with balance and mobility.
However Max, from Surrey, gets a kick out of proving people wrong and this year he hopes to beat the odds again by becoming a professional racing driver.
Ever since he tuned into the 2007 Formula 1 Australian Grand Prix, Max has been hooked on motorsport.
That day, a certain Lewis Hamilton wowed the world by finishing second in his debut race, he is now a three-time world champion and one of sport's biggest names and Max has watched all of the 166 races since.
"School was particularly tough," he said, referring to Asperger's, which is on the autistic spectrum.
"I was always the weird one. I was into cars and at that age most teenagers aren't thinking about cars, they are thinking about other things. They always said it was a silly idea and it will never happen. Now they have a shock because I am doing it.
"The people who doubt me have always driven me. I want to prove them wrong. Now I want to take the next step and make a career of it."
Like Hamilton, Max does not come from a privileged racing background (his dad, Mick, is set to open a kitchen and bathroom showroom near Twickenham this year) but he has the talent and drive to go far.
He has raced against former Formula 1 world champion Damon Hill in go-karts, gone wheel-to-wheel with British favourite Johnny Herbert, beaten multiple grand prix winner David Coulthard in online simulator racing, and been described as a 'top 10 driver out of the box'.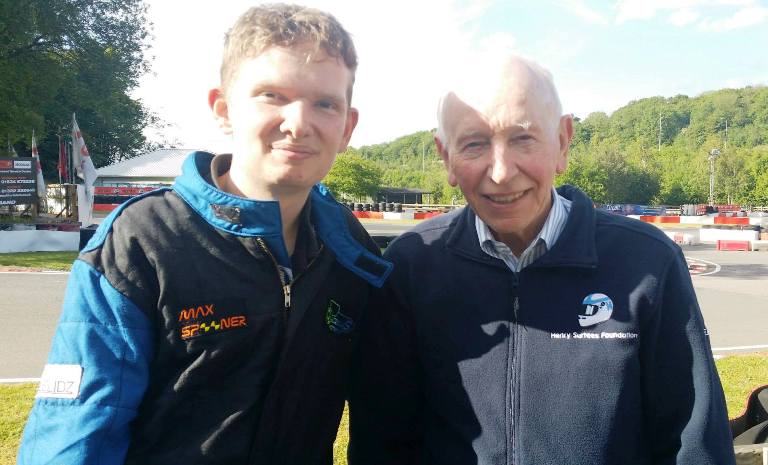 RACING LEGEND: Max with John Surtees, the 1964 F1 World Champion
Now, the man from Chertsey wants a real piece of the action.
With an offer on the table from team owner Paul Sheard to race in the Mazda MX-5 Supercup this season, Max has set up a crowd funding scheme in order to raise the £30,000 he needs to compete by the opening race of the season at Snetterton in April.
But that is just the first rung on a ladder leading to the very top of the sport. "The goal is to get into the British GT Championship," he said.
"To do that I would start in the MX-5 Championship and then progress into GT4.
"I would then move into the top tier of the British GT Championship, GT3. That is where all the fire-breathing man-eating supercars are, and then if we did really well there we could look to progress and race at Le Mans, on the international scene."
Le Mans is one third of the 'Triple Crown', along with the Monaco Grand Prix and Indianapolis 500, it is the world's most prestigious motor race.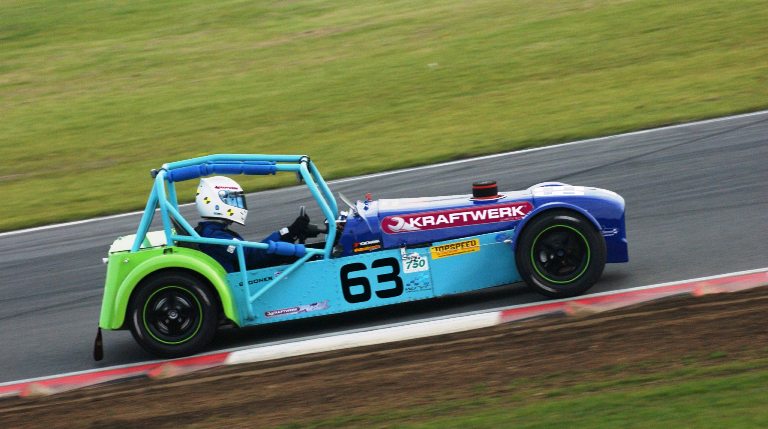 SPEED FREAK: Max on the racing track
It seems a tall task, but former Brooklands College student Max isn't deterred despite the fact that a racing career wasn't on the agenda until last September, when he drove around ex-F1 circuit Donington Park in the pouring rain with British Touring Car race winner Jack Goff.
Goff was impressed, and after Mazda MX-5 Supercup driver George Line told him he was a top 10 driver after his first test in a MX-5 race car, Max was encouraged to chase the dream.
"Having never driven the car before, it was at that point that I thought I've had it from two professional drivers and now I have to go and find the money," he said.
The funding he needs would pay for a new helmet (bright orange, with motifs of his idols, Lewis Hamilton and double Paralympic gold medallist Hannah Cockroft, on the back), new racing suits and all the equipment his car requires.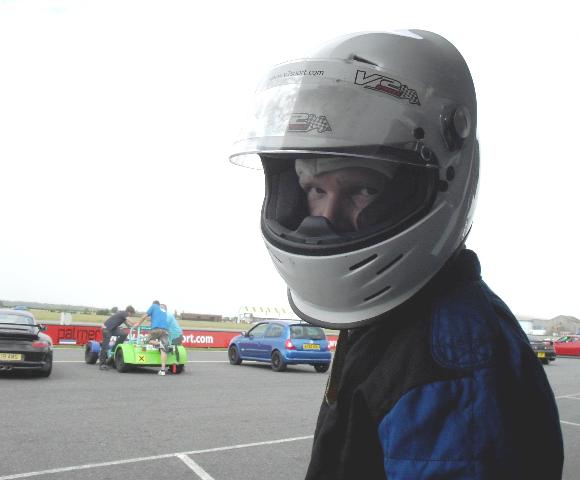 EYES ON THE PRIZE: Max is determined to make his community proud
He wants to be the pride of the community and is trying to encourage businesses to get involved.
"We want to try and get the local community interested and if they really wanted me to do well, they could chip in a tenner here or £100 there," he said.
"But we have also structured it so that if a business wants to get involved we have packages all the way up to £20,000. For their money, I would give something back – I would host track days, attend their charity events and all sorts of things like that."
Max seems like a sound investment, he is confident, charming and likeable. It is easy to see why racing equipment supplier Kraftwerk Tools hired him as a brand ambassador two years ago, and why he was a successful test crash dummy for Mercedes-Benz, posing as his alter personality Ken.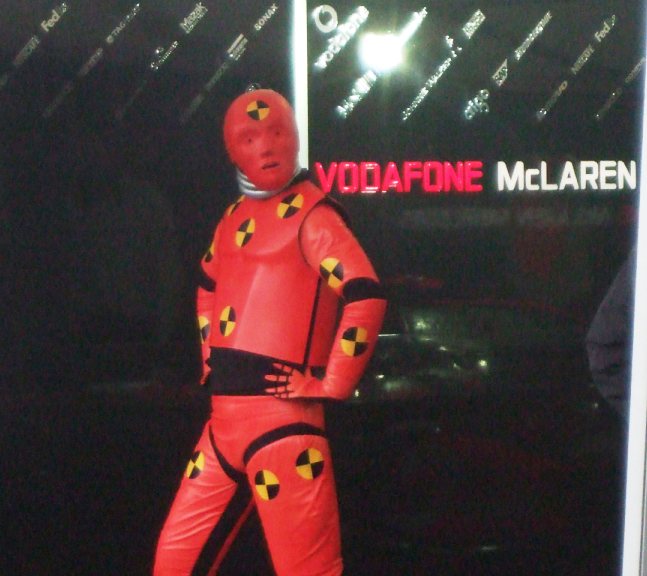 ALTER EGO: Mercedes-Benz hired him as a test crash dummy
He has come a long way in pursuit of his dream, when he first studied motorsport engineering at college, he had to block out engine noise as he was too sensitive to the sound, due to his poor motor skills.
When he was young, his mum Louise used to watch him walk into furniture without realising it was there. Now, he is comfortable putting a Lamborghini Aventador through its paces at 175mph, a privilege he was granted after winning a simulator challenge.
As he says: "I can drive a racing car at breakneck speed but I can't tie my own shoe-laces.
"I can build a computer but have no idea how a washing machine works. It's things like that. I have a hypersensitive feel for things."
It is this hypersensitive feel which separates him from the rest when driving a racing car. With a bit of help, he could show everyone his true talent and prove everyone wrong. Again.
You can support Max's dreams by clicking here.