London Welsh RFC has unveiled a five-year plan to return to the National Leagues following the professional team's expulsion from the Rugby Football Union.
The Richmond-based side failed to meet the RFU's criteria for Championship rugby after going into liquidation in December.
The now-amateur team will be represented by the community club that currently plays in the ninth tier Herts/Middlesex 1 league, but London Welsh Amateur RFC chairman Gwyn Williams says that the club does not have aspirations of playing professional rugby at Old Deer Park again.
Williams said: "It simply isn't viable to play professional sport at this ground. I would love to see London Welsh play professional rugby again but that is a long way off.
"But now if we look at Richmond, that is not a rugby club operated on a professional basis, it is clearly amateur. But it is run in such a professional manner and it is absolutely incredible what they have achieved.
"To me, that's an example of how rugby can be played. At an extraordinary good level, at an amazing rugby club, but without actually having to pay players, so I think they are a really good example of what can be achieved if you put your mind to it."
But Williams denies that London Welsh were over ambitious to turn professional considering the seated capacity at Old Deer Park is only 1000 and the fact that the funds available to the club were never enough to make it sustainable.
The club did move to the Kassam Stadium in Oxford for three seasons in the hope of increasing their revenue but the move was marred by low attendances, forcing the club back to Old Deer Park in 2015.
He said: "We must be the luckiest club in the world to have had the group of people that we had that supported this rugby club all the way up from Division 5 South to the Premiership.
"I mean the amount of pleasure it gave people – not just London Welsh supporters, but other supporters coming to watch London Welsh in the chasm – was extraordinary.
"People from Leicester and Bath and all over the country would come to watch us play and it also gave opportunities to young men, sports administrators and physios who may have never had another chance to work in professional sport and I think it was just an amazing thing that happened."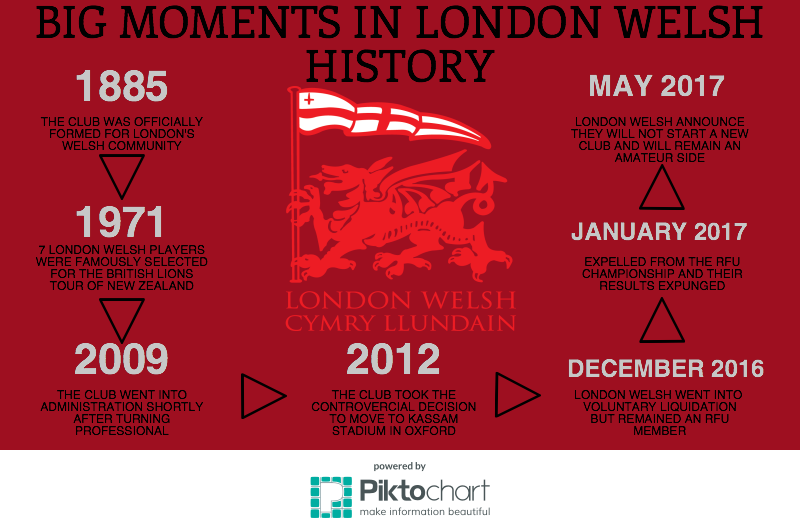 The Exiles have appointed former Wales centre, Sonny Parker, as the club's director of rugby and Parker says he is treating the current situation as a clean slate and raring to dig in.
"I want to change thing here and the fact that we have a clean canvas to build on allows me to do that," said Parker.
"My social media has just exploded with people from the rugby community offering their help and it's refreshing to know we are supported the way we are.
"There are a lot of guys I know that are finishing their rugby career and are wanting to be involved. They want to move to London as well, so it's that type of thing that I will be focusing on- guys that have got connections within universities and Wales as well, because we also want to keep it a little Welsh based."
Parker and Williams are well aware of the task that awaits them and know that the glory days of London Welsh may well be behind them but there is no denying that the journey the club has ventured on has engraved itself into the rugby history books.
"We will never lose our history. You walk out here, and you'll bump into 86-year-old, and you'll cut them in half and there will be a small little dragon in the middle of them," added Williams.
"The same thing that will happen if you chop some of the ten year olds in half. It gets under your skin this place.
"And I'm sure there's other rugby clubs and sports institutions where that's the same, but we all end up feeling very tied and feeling the same strong desire that's' largely about that red dragon that we would give anything for, and that's important to everyone who loves this club.
"We all have a shared value and as long as we still have that, the dragon will continue to breath its fire."