On Sunday at Lord's, England secured their first Test win in 10 games with a five-wicket victory over New Zealand as Joe Root's unbeaten 115 got the Stokes-McCullum era off to an ideal start.
It was a significant win, for sure. One that cricket fans across the country had been yearning for a long time.
Prior to this game, England had only won once in 17 Test matches and with that came a lot of criticism – people often have to find something or someone to blame.
Although Ashley Giles, Chris Silverwood and Root were released from their duties as director of cricket, head coach and captain respectively, county cricket took a lot of the flak.
The argument is that county pitches have not been good enough to produce players capable of making the step up to the Test arena, specifically batters, with the number of runs being scored in the County Championship, England's premier red-ball competition, decreasing.
Since Andrew Strauss retired in 2012, England have handed out debuts to 23 different batters, in the hope one will be able to replace the three-time Ashes winner and former captain.
Despite the blame apportioned towards county pitches, ground staff believe they are doing all they can.
The England and Wales Cricket Board (ECB) grade pitches across six criteria, very good, good, above average, below average, poor and unfit. And out of all the matches played by the 18 first-class counties last season, only four were on pitches graded below average.
Warwickshire groundsman Gary Barwell believes the congested fixture schedule, following the addition of The Hundred to a summer calendar already boasting three competitions, means some counties may struggle to cope with the demands.
"I do think the fixture list is very very hard," Barwell said.
"In 1993, we had 19 first-class matches played at Edgbaston, last year we had 32 and the square is the same.
"Now my CEO could turn around and say your pitches were brilliant. But we've invested quite heavily in the pitch, the infrastructure, we have lighting rigs, but not all grounds and counties are as lucky as I am.
"There is an argument that more resources and staff might help. We gained certain competitions and it added more pressure."
The Hundred is played in the school holidays in August. It's deliberately exposed to the warmest weather to attract strong attendances.
This has a knock-on effect on the County Championship – currently the only competition set-up to produce Test cricketers – marginalising it to the bookends of summer where the weather doesn't always allow ground staff to produce quality pitches for players to prosper.
This season has seen a change, though. With warmer and drier conditions in April, they had the time to prepare pitches that allowed batters to score big.
According to the Met Office, England and Wales had just 44% (24.7mm) and 53% (46.6mm) of their average rainfall in April respectively, with maximum temperatures and sunshine hours also above average.
The drier climate meant runs were flowing in county cricket with the average runs per innings in Division One in April (minimum 10 overs per innings) the highest for six seasons.
Other factors have influenced this too. Players have noted the current batch of Duke balls, used across both divisions of the County Championship, go soft earlier in the innings than in previous seasons.
A harder ball with a proud seam gives bowlers more assistance and therefore presents a greater challenge for batters. Switching to Kookaburra manufactured balls, known for their less pronounced seam, has been suggested.
The graph demonstrates positive signs for county cricket. Something the recently appointed Director of Men's Cricket Rob Key has stated, however, he will be keeping a close eye on how those stats develop throughout this season and beyond.
The term 'red-ball reset' has been thrown around a lot of late. But this isn't unfamiliar territory. Back in 2015, after a shambolic World Cup campaign, England reset their white-ball side and more crucially worked with counties to find a solution. The result, England were crowned 2019 World Cup champions.
Barwell recalls how the pitch grades for white-ball one-day cricket have gone, "through the roof" following a directive from ECB to counties in 2015 on how a good pitch should play.
Of all the match pitches produced by counties in one-day cricket last season, none were graded below 5.9 out of six.
"In white-ball cricket, we're more joined up," Barwell said.
"Every county wants to win the T20 Blast or Royal London Cup and plays the same brand of cricket as England. In red-ball cricket, in an ideal world, we become more joined up. So, you look at what's important, when it's important and why."
But, for red-ball cricket, there has yet to be that same message from the games' governing body.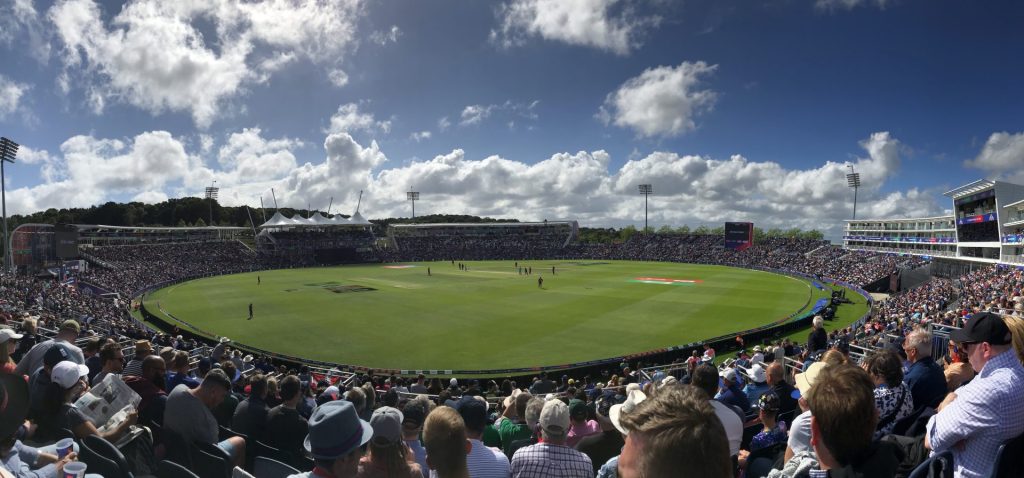 Simon Lee, head groundsman at Hampshire, believes a county's desire to win matches and therefore play on surfaces that suit their style of cricket is causing conflict.
Lee said: "Trying to strike a balance between what counties want and what the ECB want with team England is the hard thing and as ground staff we get caught in the middle.
"First and foremost I'm employed by Hampshire to produce pitches for the first team, second team, academy and Southern Vipers (women's team). I have to juggle all of those things and get the best pitch out as possible, and a happy coincidence of that should be that you're producing England cricketers.
"But you always have that caveat of, maybe we've got a load of seamers injured so we're going to play two spinners and we want the pitch to spin, so I am going to try and make sure it spins, and vice versa. That is the awkward position groundsmen find themselves in.
"Ground staff always want to try and produce the best pitch possible, but at the end of the day, we are an entertainment industry as well and it is a results-based system with the County Championship, where teams want to win it, stave off relegation or get promoted."
Lee acknowledged the warmer weather has been a benefit to him and his colleagues this campaign, giving them more time to work on the square and prepare wickets.
However, back in 2015 when England's white-ball side were at their lowest, it took unity and clear instruction to flip their fortunes around. They became, 'more joined up' and, like Barwell, Lee is a big advocate for a similar declaration.
"Without a doubt, it would help," Lee said.
"Because that's then driving every county side towards the style of cricket they want to play. And I think that's one thing we haven't really got at the moment and hopefully, that might change with the change of direction at the ECB.
"It would be a great thing. It would clear it up for everyone, not just for ground staff, but for the fans and media too. They would see there is a blueprint and this is what we're trying to do.
"So a defined position from the ECB and directed towards the counties would be nice, so they're able to go, 'right, this is what we're doing and you just crack on.'"