A south London family have been inspired to jump off their sofa and into their swimming pool thanks to a landmark Swim England scheme.
The national swimming body launched Love Swimming this year and Alys Whyte and her son Sam are already reaping the benefits of the month-long program.
The initiative follows Ofcom's 2017 Annual Report, which showed a general acceptance of families sitting in the same room together all occupied by different gadgets.
Speaking about how swimming has helped her reconnect with her son, Alys said: "It's been brilliant, Sam and I have definitely bonded more, which is very important during his formative years."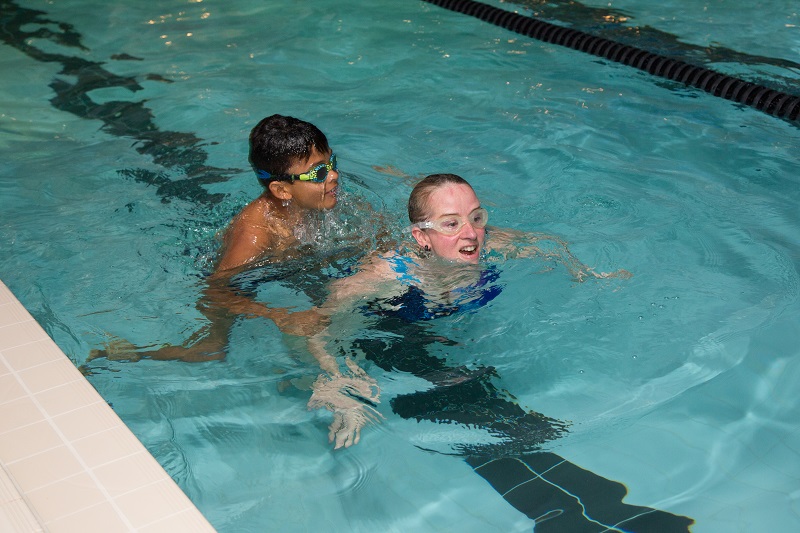 However, the reliance on modern technology in the family home means that more still needs to be done to encourage people of all ages to take up more exercise.
According to the Children's Commissioner's 2017 report, the use of the internet has overtaken television as a past time for British children, who now find themselves spending around 15 hours a week online.
Moreover, the report warned there are serious mental and physical health concerns that can arise from relying on gadgets to provide both physical and emotional support for families.
Alys said: "I have an autoimmune disease which makes other forms of exercise very difficult, swimming has allowed me to exercise and keep fit.
"Mentally, it is calming and helps with anxiety, being in the pool is rather like meditation in a way."
Sam admits he shares his mother's sentiment. As a keen swimmer for a long time, he enjoys spending some quality time with her.
They have also taken other steps to ensure that they do not stay overly reliant on technology in the household, setting boundaries on the use of gadgets to achieve a healthy balance.
"We no longer have a television in the house, but, Sam does get times to play his Xbox with his friends when he wants," said Alys.
The initiative has been a roaring success for the Whytes, who are finding that spending quality time with your family is much better than being glued to a screen.
Reflecting on his newfound hobby, Sam said: "I love swimming, I just love it."