Chelsea FC had the highest proportion of academy graduates making appearances at Premier League clubs this season, data has shown.
The Blues' academy produced 27 players, who represented 12 of the 20 Premier League clubs across all competitions in 2021-22, far outstripping the academies of their London-based rivals.
In London, the club with the next highest number of academy players making appearances for Premier League clubs was Arsenal, with 22, then Tottenham Hotspur and West Ham, both with 14 graduates.
The only Premier League clubs which did not field a Chelsea academy graduate were Everton, Tottenham, Liverpool, Manchester United, Wolverhampton, Newcastle, Watford, and Aston Villa.
Michael Clewer, of At The Bridge Pod, a Chelsea-centric podcast which launched in 2019, attributes this success to years of investment under the club's former owner, Roman Abramovich.
He said: "That mentality of win, win, win was instilled when Abramovich came in. Neil Bath, who became our academy coach, said to Abramovich that he wanted investments in the academy, and he got it.
"We relocated to Cobham, scouting and the recruitment departments were improved, and ever since then, it's just been an ongoing success."
The first sign of this came in 2010, when Chelsea won their first FA Youth Cup in 49 years, after last lifting the trophy in 1961.
They went on to win the same trophy in 2012, 2014, 2015, 2016, 2017, and 2018.
Whilst Chelsea itself fielded the greatest number of academy graduates, granting an appearance to nine Cobham-grown talents, the reach that Chelsea's academy has had throughout the Premier League is evident.
Two-thirds of Chelsea's academy graduates play for an array of other teams, with some, such as Conor Gallagher, Declan Rice, and Tariq Lamptey, producing season-defining performances for their teams.
Compared to other teams, this reach looks all the more impressive, with north London rival Arsenal accounting for 50% of their academy players' appearances this season.
Manchester United, which has arguably the most historically-strong academy, fielded 43% of their 23 academy graduates who featured in the 2021/22 season.
However, there is no doubt that a fateful turn of events at the start of the 2019/20 season pushed Chelsea academy graduates to the fore of the media cycle.
Most familiar are the boldfaced names of Mason Mount, Reece James, Tammy Abraham and Fikayo Tomori, all handed a first team start in part due to the two-window transfer ban that was handed to Chelsea ahead of that season.
All four players had successful loans in the Championship the previous season, but may not have expected a first team call up.
Earlier in Abramovich's tenure, successful academy graduates were seen more as valuable products for sale or loan, rather than players destined to play at Stamford Bridge, with only a handful breaking through since that first FA Youth Cup win.
But the ban had an immediate impact on squad turnover, forcing then-manager Frank Lampard's hand to take greater care sifting through homegrown first team prospects.
Clewer said: "When Frank Lampard took over, he understood the club and he understood the academy. And that was such a blessing in disguise.
"Not just for Chelsea, but I'd say for the international team too, because of how important those players are to England."
Just a week ago, Mount, James, Abraham and Tomori were all called up by Gareth Southgate to join England's Nations League squad.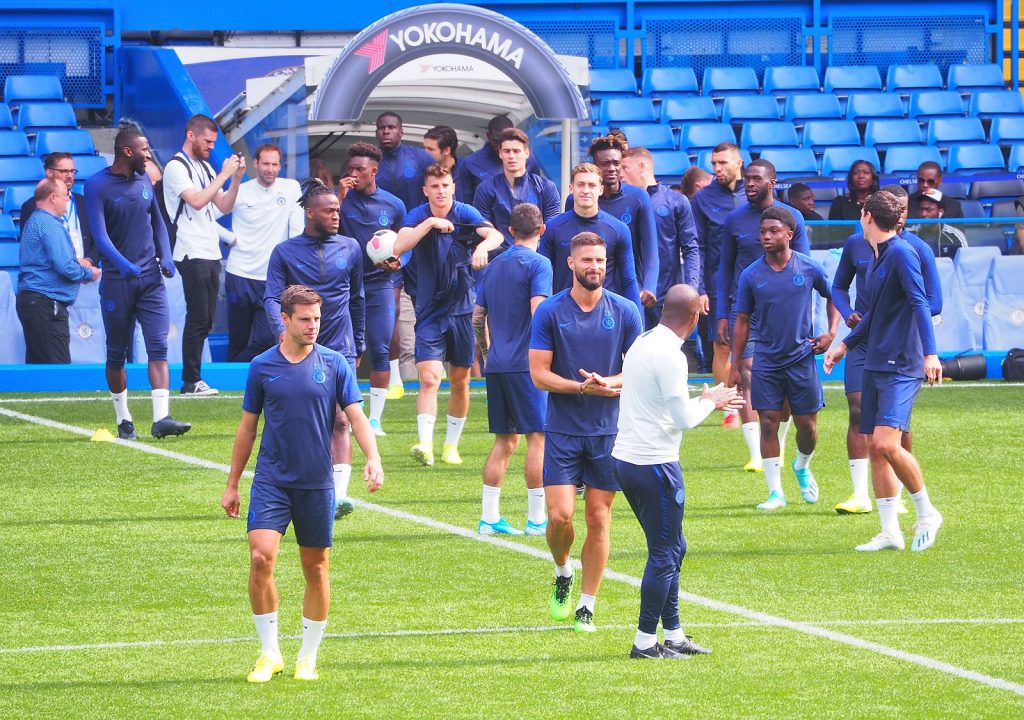 An additional impact the transfer ban had on Chelsea's academy was igniting the possibility in academy players, or those interested in joining the academy, of a first team start.
Through watching James and Mount, Clewer believes, and up-and-comers like Jude Soonsup-Bell and Harvey Vale, academy players develop the Chelsea spirit.
"They do love the club. Obviously they're talented, talented individuals, which helps, but to see that passion is amazing, because it inspires other young kids in the Chelsea area, or looking at that academy," he said.
"We all love to watch players like that. That's the true value of football, win or lose: if you enjoy it, then you win every day. It's so cliché, but it's true."
Clewer hopes that new owner Todd Boehly will continue to recognise the importance of the academy, not just as another vehicle for success, but for its role in providing the next generation of club heroes, and beyond that, make sure to provide a holistic experience for its graduates.
Clewer added: "I think it's a big problem in modern academies: if they don't make it, what do they do next.
"We need to prep them not just for if they make it, but also if they don't.
"That way, there's more chance of these talents coming to us: showing we care about them if they've got talent, but also we care about how successful they are as an individual."
Data cited taken from Transfermarkt. All infographic credit: Tamara Prenn