Hundreds of campaigners made themselves heard on Wednesday 25 October, as they gathered to protest against the rise of antisemitism in London.
The volunteer-led charity Campaign Against Antisemitism (CAA) hosted the peaceful protest outside New Scotland Yard, Westminster, and compelled the Metropolitan Police to do more to combat the rise in antisemitic hate in London.
This comes amidst the escalating conflict in the Middle East between Israel and Hamas.
Stephen Silverman, Director of Investigations and Enforcement at CAA, said: "Right now I think the entire Jewish community feels under siege.
"It is clear that there are huge numbers of people in this country who hate us, simply because we are Jewish, and they are not frightened to say so on the streets.
"We need to take a stand. We need to make our voices heard.
"Antisemitism doesn't just affect Jews. It is a societal problem."
There were 218 antisemitic offences recorded between 1 October and 18 October 2023, compared to 15 in the same period last year, according to data published by the Metropolitan Police.
This is an increase of 1,353%.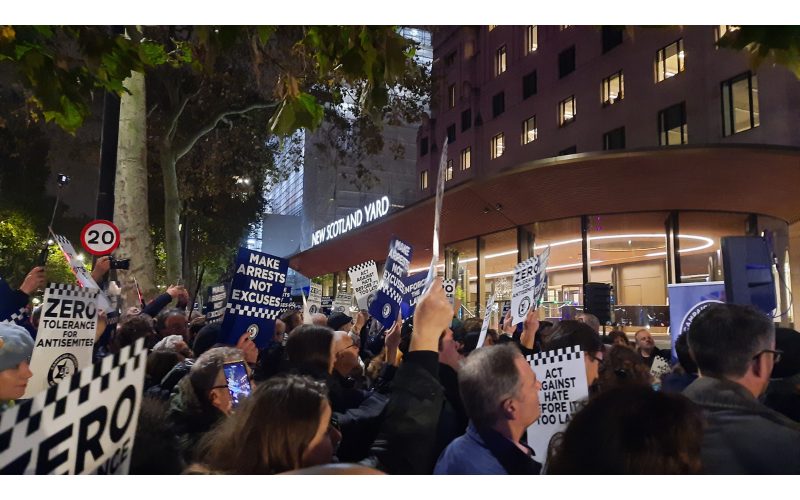 One of the Jewish protestors, Susan Kaye, 72, said: "I feel persecuted.
"I think we have to stand up and be counted.
"There are so few of us in this country and we all feel threatened and we don't feel we are being protected.
"We have to fight back. I feel that those people are dying in my name, and I can't stand by and be quiet.
"I absolutely refuse to hide – we're Jewish and we're proud of it."
Another protestor, Joshua Rom, 28, said: "I'm here because I want to let the Metropolitan police know what I've experienced.
"Antisemitism is not just a statistic; it's happening here on our streets.
"The saddest thing is I feel most safe at a demonstration, where there is a police presence actually protecting us.
"I think it's a really sad state when a Jewish person feels safer at a protest than they do just going about their day to day business in this country.
"I feel comforted by being around other members of the Jewish community but I also feel comforted by those who aren't of the Jewish faith that have come out to stand in solidarity with us."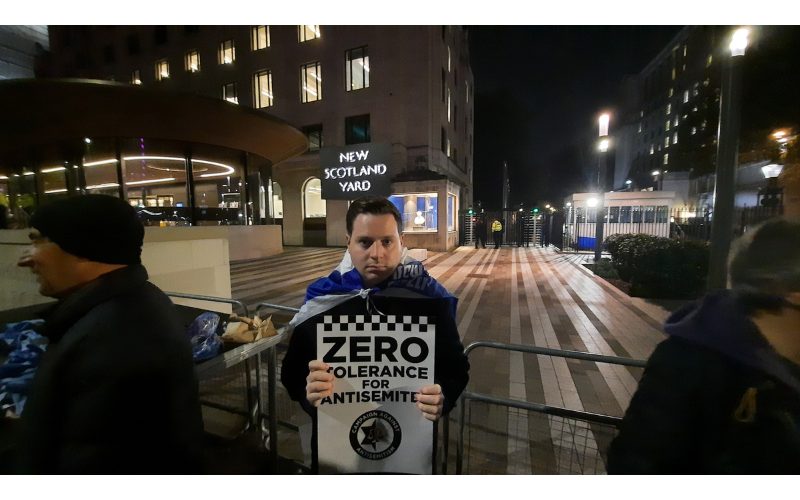 The CAA was joined by Tim Gutmann, co-founder of Christian Action Against Antisemitism.
Gutmann said: "We want to join the Campaign Against Antisemitism and say this has got to stop.
"We want to say that now is the time we need to protect and stand with.
"It's sickening that Jewish people can't walk around Central London on Saturday for fear of attack and abuse."
A survey published by the Anti-Defamation League in 2023 found that in the UK, over 5.3 million people harbour antisemitic attitudes.
Out of this number, eight per cent are Christian.
The Metropolitan Police said: "Thousands of officers are undertaking extra patrols across London following the terrorist attack on Israel and ensuing conflict with Hamas.
"In addition to the reassurance and security patrols, officers have visited more than 200 schools as well as more than 300 synagogues, mosques and other places of worship.
"Some of our communities are telling us they feel very vulnerable and we are working with their leaders, faith groups and others to reassure them and ensure they feel safe."