London donor centres are facing a crisis as 5,400 appointments to give blood are unfilled during the festive period.
Donations fall in the six weeks leading up to New Year as people are busy with celebrations and shopping, according to NHS Blood and Transplant – and some people miss their appointments completely.
Each donation has the potential to save up to three lives, and this drop in donations could lead to a serious shortfall in blood supply to nearly 16,200 people. 
Mike Stredder, director of blood donation for NHS Blood and Transplant, said: "We need to collect blood throughout November and December to build up stocks in time for Christmas.
"Demand for lifesaving blood doesn't stop for Christmas. But England's stock levels can drop dramatically if too many donor appointments go missed or unfilled.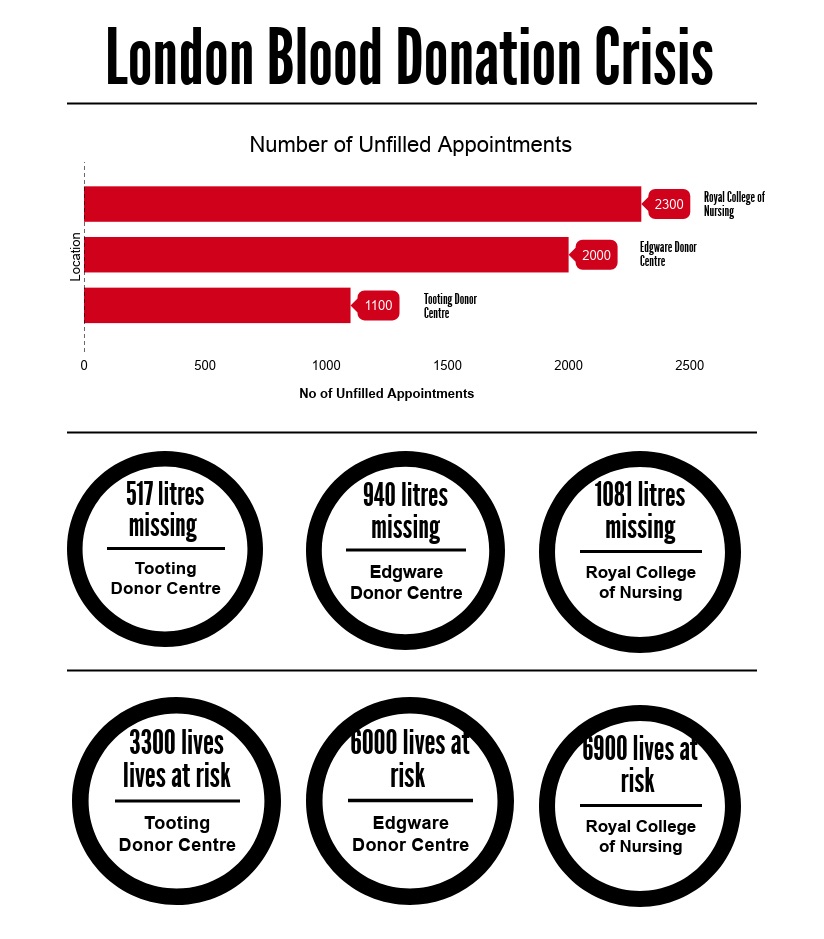 "We need our loyal donors to donate at London's donor centres more than ever at this time of year, to make sure hospitals have the blood that seriously ill children and adults will need over Christmas and the New Year. Each donation can save up to three lives."
In Tooting there are 1,100 unfilled donation appointments, which equates to 26 unfilled appointments a day and a loss of 517 litres of blood.
Almost 40% of the missed appointments are in Royal College of Nursing temporary donor centre which has 2,300 unfilled blood appointments, which equates to 1,081 litres of blood that will go uncollected over the festive period.
In Edgware Donor Centre there are 2,000 unfilled appointments which equates to 940 litres of blood going uncollected.
NHS Blood and Transplant are urging registered donors to give blood over the festive period, reminding donors that permanent donor centres have the best appointment availability.
They also urged potential donors to wait until the New Year to register as existing donors are being prioritised.
Find out more at www.blood.co.uk
Feature image credit D464-Darren Hall, with thanks.