Green Party leader Natalie Bennett pledged her support for soon to be demolished Brixton Cycles as the beleaguered shop smashed its £60,0000 fundraising target last night.
The shop thought to be London's oldest bike cooperative is being demolished to make way for luxury flats.
After hitting its initial crowdfunding target of £40,000 within just five days, the Save Brixton Cycles campaign set their sights on securing an extra £20,000 to help move the shop to new premises.
Although the initial costs to secure the new site have been raised, the shop was in desperate need of extra funding as it estimates it will cost between £120,000 and £150,000 to secure, move into and renovate the new space.
Ms Bennett, who visited the shop on Wednesday, said: "Brixton Cycles is a wonderful organisation, a cooperative, a small business, and I'd urge you to give to the crowdfunder that can help the move of this business to a great new premises. Please, save Brixton Cycles!"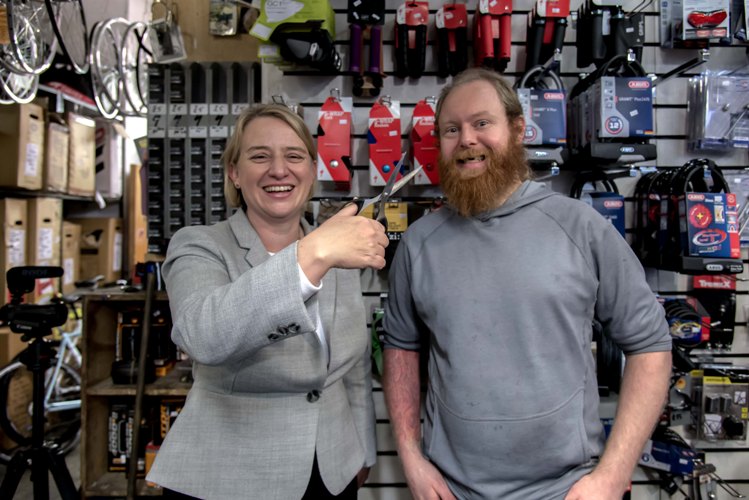 Ms Bennett playfully posed with scissors next to bike engineer and Brixton Cycles coop member Jim Sullivan who has vowed to shave off his beard of 10 years if the campaign reaches the £60,000 mark.

Lincoln Romain, Brixton Cycles longest-serving team member who has worked at the shop for 26 years, said: "We were touched by Natalie's visit and pledge of support."

He said that they shared a belief in the positive impact of cycling in creating a greener future and that they both believe in the importance of independent community-focused businesses like Brixton Cycles.

Brixton Cycles said Natalie supports their community focus, including their lending of tools for free to encourage young people to cycle.

Unlike the majority of shops where profits and decision do not generally go to the workers, decisions are made at monthly meetings by concensus and profits split between cooperative members.

Since the launch of the fundraising campaign on October 22, Brixton Cycles has drawn support and donations from 1412 people. One backer described it as a 'jewel of south London', while another described it as 'the best bike shop in the world'.
Other well-known supporters of Brixton Cycles include bicycle icon Keith Bontrager and award-winning actor Michael Smiley.