The Conservative party candidate for London Mayor apologised this week for several offensive comments he made about minorities but insisted they were intentionally taken out of context.
Shaun Bailey said that he was sorry for his comments made in 2005 that included claims that teaching children about Muslim and Hindu festivals such as Diwali risked turning the UK into a 'crime-riddled cesspool'.
Mr Bailey was responding to audience questions about his remarks, which also involved claiming single women become pregnant in order to claim benefits, during the People's Question Time event on Tuesday.
He said: "The comments I made were very tough and I apologise, but let's be clear about context. They were wilfully taken out of context.
"I've always worked in diverse communities, I come from a diverse community, my parents are of Windrush ilk, so for me if I've caused anyone any offence, please don't take offence."
Mr Bailey said that the comments were a plea to career politicians on the behalf of the parents he met in his 26-year-long career as a youth worker.
"I value the diversity in London and I consider myself part of that diversity," he continued.
"The only reason I'm in politics is to make sure that the voiceless, the poorest, the communities facing the most violence and the most crime have their lived experiences heard by politicians."
The apology was made at the panel discussion hosted in Islington's Assembly Hall which was attended by the members of the London Assembly and mayor Sadiq Khan.
Mr Bailey, a former parliamentary candidate for Hammersmith and current member of the London Assembly, will stand against Mr Khan in 2020.
Mr Khan harshly criticised Mr Bailey's remarks and said that being poor is no excuse for making offensive comments.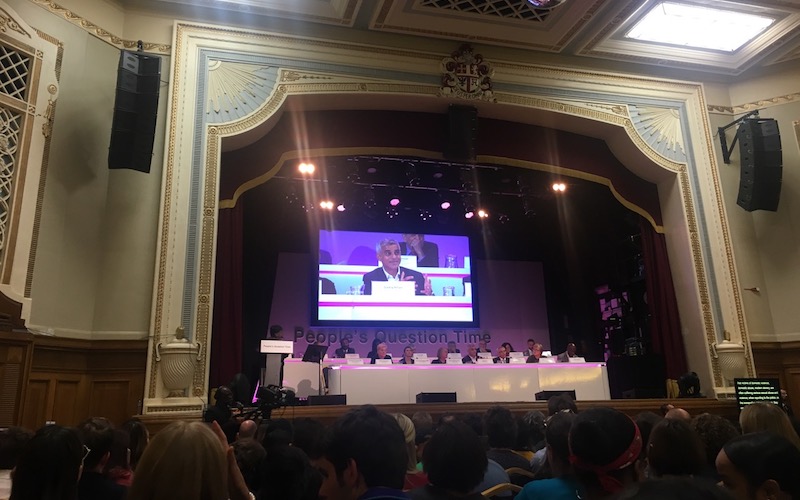 CRITICAL: Sadiq Khan was present at the People's Question Time event
While sitting three seats away from Mr Bailey on the panel, the mayor said: "Let's be clear, let's not blame poor people because of the offensive comments made by politicians who should know better.
"One of the things we've got to call out is politicians who play on people's fear to win votes, whether you're Donald Trump, whether you're Boris Johnson or whether you're Shaun Bailey.
"Diversity is a strength, we will not let anybody divide our city."
In 2005, Mr Bailey raised his concerns about the celebration of Muslim and Hindu festivals in a pamphlet for the Centre for Policy Studies thinktank.
He wrote: "You bring your children to school and they learn far more about Diwali than Christmas. I speak to the people who are from Brent and they've been having Muslim and Hindi days off.
"What it does is rob Britain of its community. Without our community, we slip into a crime-riddled cesspool."
Mr Bailey, who previously worked as a special advisor to David Cameron, reportedly also said to an event at the 2008 Conservative party conference that cases of young women becoming pregnant to get housing was a concern.
"Girls getting knocked up to get housing? It's a cottage industry where I come from," he said.
The 47-year-old faced staunch criticism from several groups including Labour MPs when the comments surfaced after he became the Conservative candidate for mayor in September.
Former electoral opponent Hammersmith MP Andy Slaughter said that Mr Bailey's remarks were divisive if not openly Islamophobic.