Croydon residents may be charged for £60 for green waste collection following the government slashing the council's budget by £4 million.
In light of the funding reduction, Croydon Labour party are considering scrapping it entirely or providing a paid-for green waste service that will be available for households willing to pay an extra £60 annual fee on top of their council tax.
Councillor Mark Watson, Labour cabinet member for safety and justice, said: "The cuts that local government are facing may mean a reduction in services, green waste collection is a non-essential service, those who want it should pay for it."
A petition was launched in September this year by Conservative councillor and GLA member, Steve O'Connell, to counter Labour's proposal.
Councillor O'Connell said: "People pay for the service in their council tax so they expect green waste collection. It a service that is valued by families across the borough, and it also helps behaviours."
The service has been free since 2006 when it was first introduced by the Croydon's conservative council that ran from 2006-2014.
In September this year Croydon was voted the 7th worst place in the UK for fly-tipping.
Some may argue that the fly-tipping rate will increase if the plans go ahead.
The council announced a crackdown on fly-tippers with on-the-spot fines being issued after they received a surge of complaints from residents.
Recent statistics provided by an FOI request to Croydon Council showed a significant rise in reported fly-tipping in the borough.
| | |
| --- | --- |
| Period by financial year | Reported Croydon fly tips |
| April 2011-March 2012 | 10 |
| April 2012-March 2013 | 22 |
| April 2013-March 2014 | 246 |
| April 2014-March 2015 | 271 |
A spokesperson from the Department for Communities and Local Government said: "Charges to collect garden rubbish inconvenience residents and risk harming the environment by encouraging fly-tipping. Councils are best placed to decide what is appropriate for the area in consultation with local people."
The statistics could be higher between the periods 2013-2015 because reporting fly-tips is easier than before consequently allowing the council to be more efficient at tackling the problem.
The MyCroydon app, in use since November 2013, has simplified the process for reporting fly-tips allowing users to provide details and photograph the incident before sending it on to the council.
Councillor Stuart Collins, Labour's Deputy Leader and Cabinet member for Clean Green Croydon launched the 'Don't mess with Croydon-take pride' campaign last summer.
Since the beginning of the campaign the council have issued around 800 fixed penalty notices and have prosecuted approximately 45 fly-tippers.
One offender was prosecuted for dumping 42 tons of building and trade-related waste in the Waddon area, receiving a prison sentence of six months in May.
Those prosecuted are named and shamed on the council's 'hall of shame'. Last year the council crushed a fly-tippers vehicle and displayed it on the back of a truck.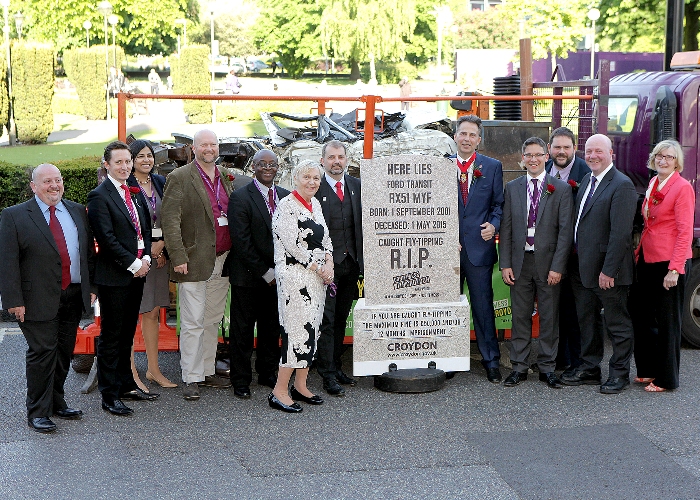 RIP: Labour councillors pose with a car that was crushed
Councilor Collins said: "The council has been working with the police for the past few weeks to stop and search any vehicle that openly display they are disposing of waste. If they fail to show a 'Trade Waste License' when stopped, then the council have the authority to shut them down.
"All conservative boroughs in London charge for green waste collection, we worked out that we can save £1.6 million per year if we charge for the service.
"A big campaign needs to be launched to educate people that it is wrong to fly-tip. We aim to launch a school program where children can enter competitions and have their artwork displayed on bins whilst educating them about the service."
However the extent of the reduction to funding runs far deeper than green waste collection and fly-tipping. Croydon council receives significantly less funding than any other London borough and in the last five years has incurred spending cuts of up to 40% in the last
Croydon Council commissioned an independent review, the Croydon Public Sector Funding Summary report in February 2014, which outlined that the borough has been unfairly penalised by the governments funding system.
The report shows that by 2015-16 the borough will be approximately £39.5 million below the target budget.