Crafty campaigners are staging 'stitch-ins' at Marks & Spencer branches across the UK urging retail chiefs to pay workers a living wage.
The Craftivist Collective is joining forces with charity ShareAction and co-ordinating a series of events in M&S branches where crafters can sew hand-made messages onto M&S handkerchiefs.
These will be delivered to the board, celebrity endorsers including Rita Ora, Emma Thompson and Annie Lennox and other major shareholders of the retail giant at its AGM at Wembley Stadium on July 7.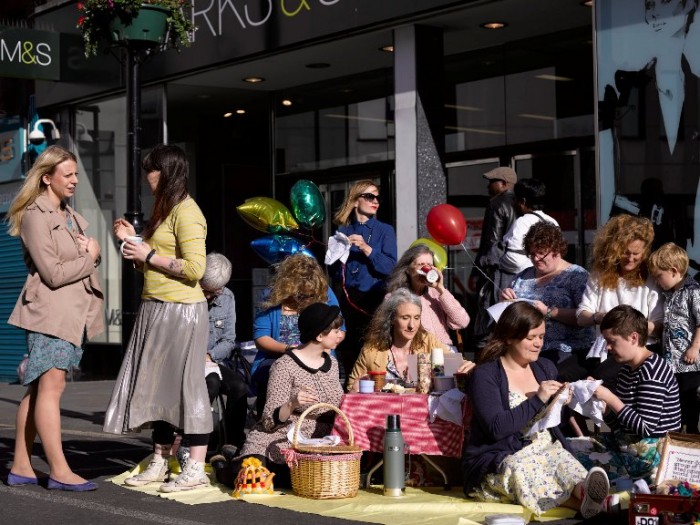 CRAFTY CAMPAIGNERS: Hosting a stitch-in outside the Islington branch
Craftivist Collective founder Sarah Corbett said: "Marks & Spencer is supposed to be a company with solid values threaded through all that they do, which include paying your workers fairly.
"We're sending the board and shareholders these carefully hand-stitched handkerchiefs to encourage the company not to 'blow' their chance to support life-changing decisions."
An online poll shows 17% of British shoppers would shop more often at Marks & Spencer if it paid staff a Living Wage.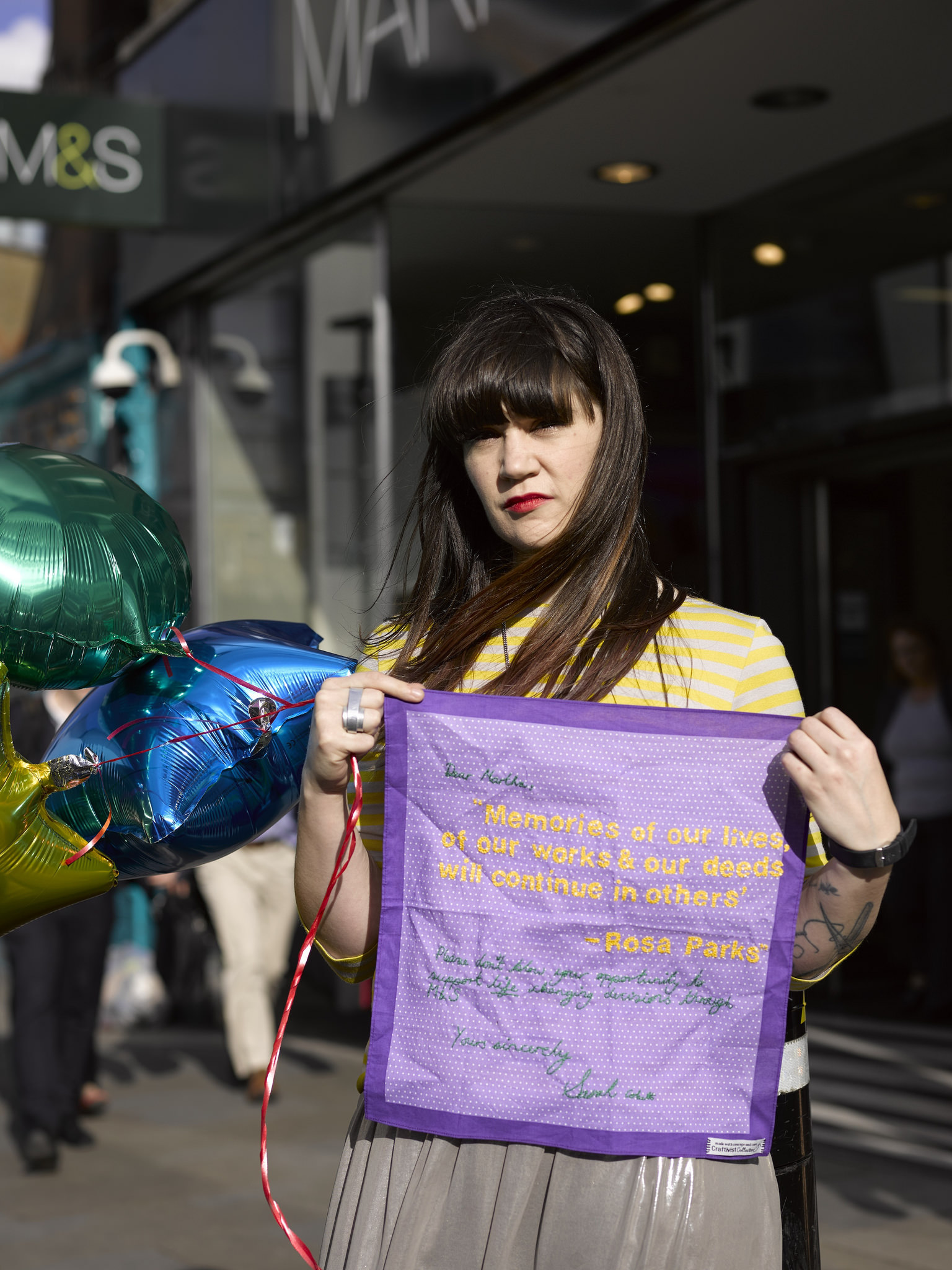 DON'T BLOW YOUR CHANCE: Craftivist Collective founder Sarah Corbett with her creation
The idea of the 'stitch-ins' is to show M&S that in addition to major shareholders its core customer base is also fully engaged and supportive on the issue of the Living Wage, and that they expect the company to show leadership on what they deem a 'basic fairness issue'.
Each unique hand-stitched hanky encourages board directors of M&S to commit to paying the Living Wage of £9.15 in London and £7.85 across the UK to all staff.
This is a part of ShareAction's campaign in partnership with Citizens UK to achieve the Living Wage across the FTSE 100 through shareholder activism.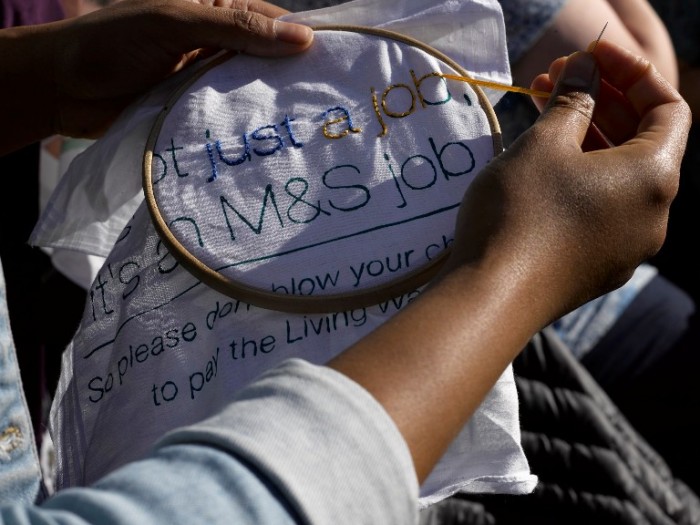 THIS ISN'T JUST ANY HANDKERCHIEF: Campaigners urge retail giant to pay living wage
Nearly a quarter of FTSE 100 companies have now accredited with the Living Wage Foundation, but no high street retailer has yet signed up.
Chief Executive of ShareAction Catherine Howarth said: "This craftivist initiative at the M&S AGM is nothing to 'sniff at'.
"Sarah and her amazing stitchers are devoting hours to creating gifts the M&S board we hope will treasure and remember forever.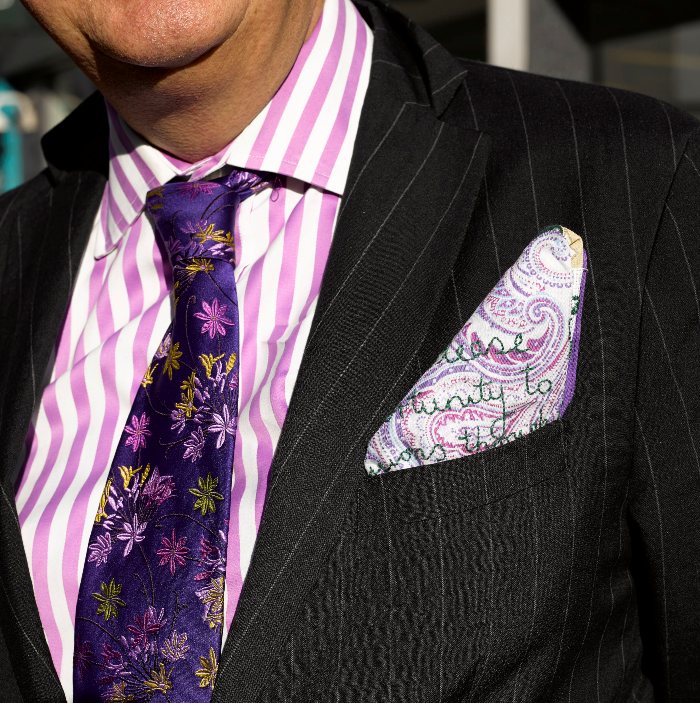 DAPPER CHAP: John Instance shows his support with a hand-stitched hanky

"People adore M&S but they want to see the company step up and become a Living Wage employer.
"The many big shareholders backing this call know it makes business sense as well as being the right thing to do."
They will also be handing out 250 special handkerchief craft kits with a Living Wage message printed on them to shareholders at the company's AGM, so that shareholders can stitch too, to encourage themselves to support the Living Wage.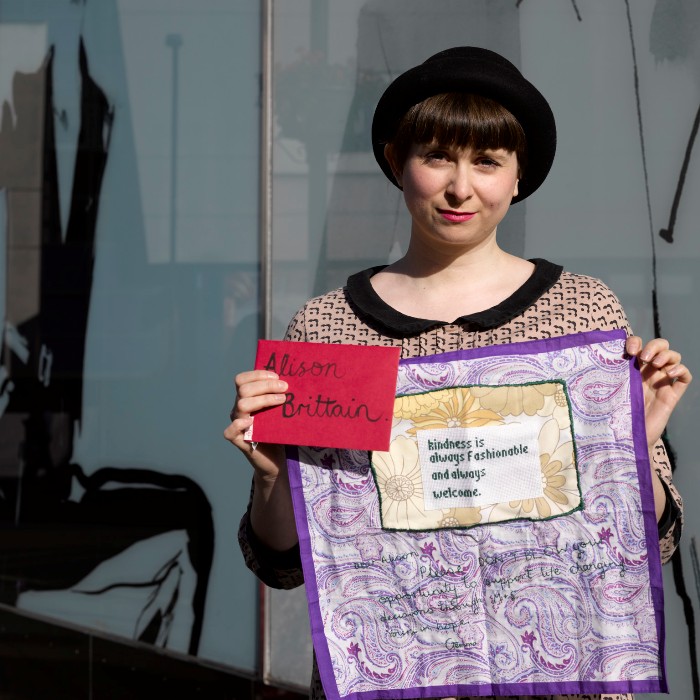 FASHIONABLE: Gemma Morrison poses with her letter for M&S board member Alison Brittain
These kits include an ethical hanky, needle and thread, instructions, and a briefing note on investment risk.
For more information about the stitch-ins, and the work Craftivist Collective do, visit https://craftivist-collective.com/ 
Pictures courtesy of Polly Braden, with thanks