Clapham's Royal Trinity Hospice, the oldest in the UK, marked the end of its 125th anniversary year with a service of thanksgiving at Southwark Cathedral on May 19.
Several speakers, including staff, trustees and a man whose wife had spent her last days at the Royal Trinity, gave moving speeches on their experiences with the hospice and the work it does.
The service also featured a performance by the London Hospices Choir, singing their version of The Living Years by Mike and the Mechanics, which was Christmas Number 1 in the physical singles chart in 2016.
Dallas Pounds, chief executive of the hospice, said: "We've had the most outstanding year.
"It started with the cabinet awarding us the title of 'Royal" in recognition of our long history and our long connection with the Royal Family — Buckingham Palace is actually in our catchment area," she added.
The 125th anniversary year also included a visit from the Duchess of Cornwall, who is the hospice's current patron.
"She's a wonderful lady who loves coming to the hospice and we love her visiting," Ms Pounds said.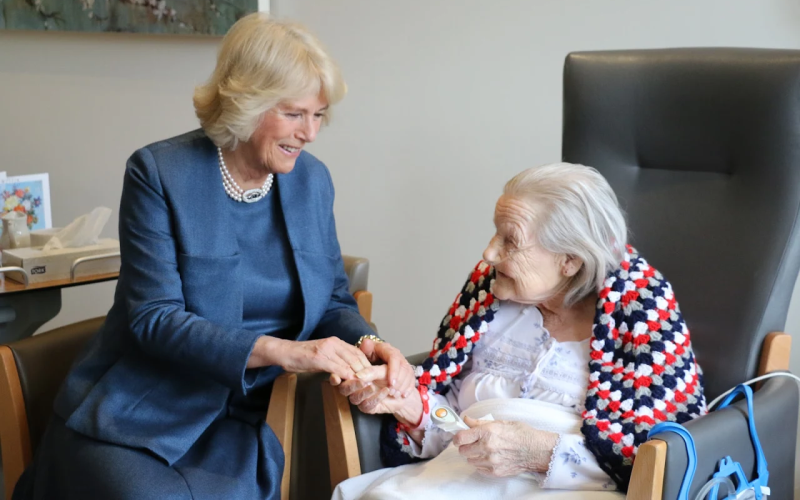 The anniversary celebrations included a visit from the Duchess of Cornwall
Speaking at Saturday's service, former MP and England rugby player Derek Wyatt, the hospice's chairman said: "Though Trinity is one of England's oldest hospices, it's also one of the most modern and creative."
He went on to describe how the hospice's pioneering work on virtual reality as a treatment for dementia sufferers has received interest from as far away as Singapore and South Korea.
Paul Oliver, whose wife died of ovarian cancer at the hospice four years ago, said at the service: "There are no rules when it comes to allowing patients' friends and families to make the most of those final days."
He went on to describe how the hospice had arranged for sleepovers so that he and his children could spend more time with their wife and mother, and had even allowed the family's pet rabbit to visit and sign the visitor's book.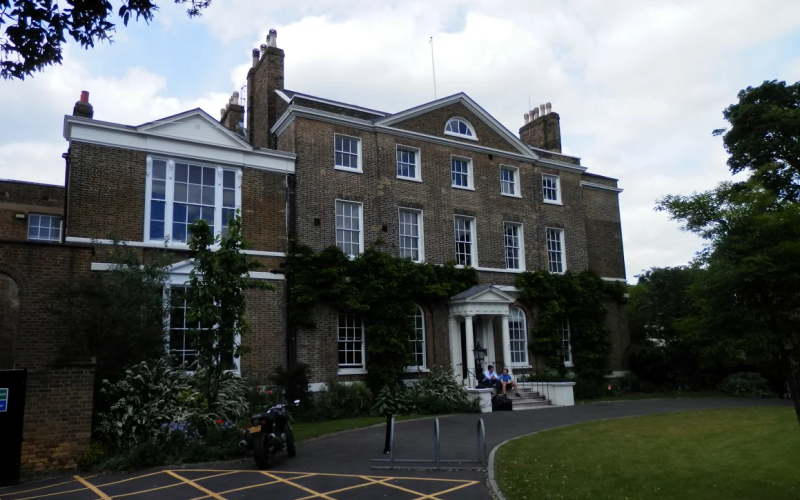 Royal Trinity moved to its current building on Clapham Common Northside in 1899
"We really made the most of those last days in a way that we could never have done without the help and support of Trinity," Mr Oliver added.
Ms Pounds said one of the biggest challenges she faces is the cost of keeping the hospice running.
It costs £12 million, or approximately £25,000 each day, and less than a third of this is paid for by the NHS, with the remainder coming from fundraising efforts and the hospice's network of 25 charity shops across southwest London.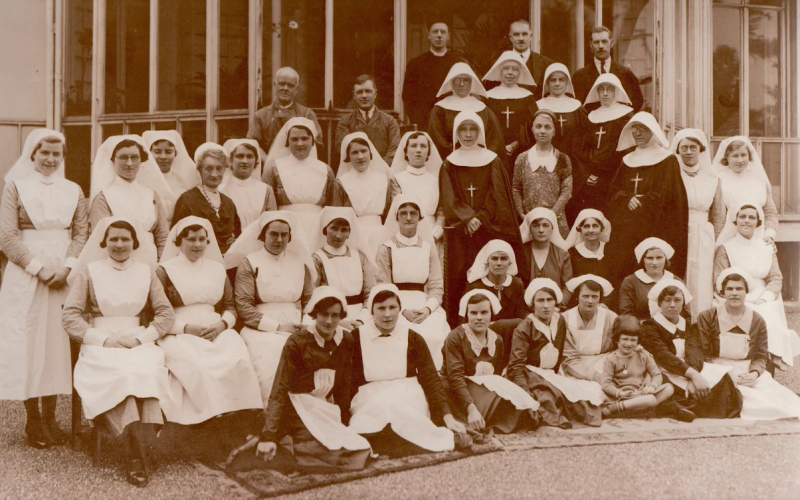 The original hospice staff outside the building
The hospice was founded in 1891 by William Hoare, of the Hoare banking family, who wanted to provide a home 'for the man who is neither curable nor incurable, but simply dying'.
For more information please visit the hospice's website.