South west London filmmakers have been making shorts around Herne Hill for the Free Film Festival's seventh 48-hour challenge to be judged this weekend.
Budding directors, writers and actors were tasked by organiser Tom Worth, 42, to produce and submit a three-minute film in under two days after being given a location, prop and line of dialogue.
The first Free Film Festival was hosted by Peckham and Nunhead in 2010 and has since grown into a large community of film fans and volunteers.
Mr Worth said: "You make short films sometimes and it can take six months or a year to actually get it finished.
"The lovely thing about 48 Hours is you go in on Saturday and by Monday you've got a film to your name."
As a champion of independent shorts and filmmaker himself, Mr Worth has entered a team for Sci-Fi-London's 48-hour film challenge for nine years running and was also a producer on the Virgin Media Shorts Winning film Sign Language.
Artists and friends Sorcha Edward and Peter Duggan used Brockwell Park to film an off-beat comedy.
Ms Edward said: "You have to just throw yourself into it and do it. It's amazing what you can achieve in 48 hours."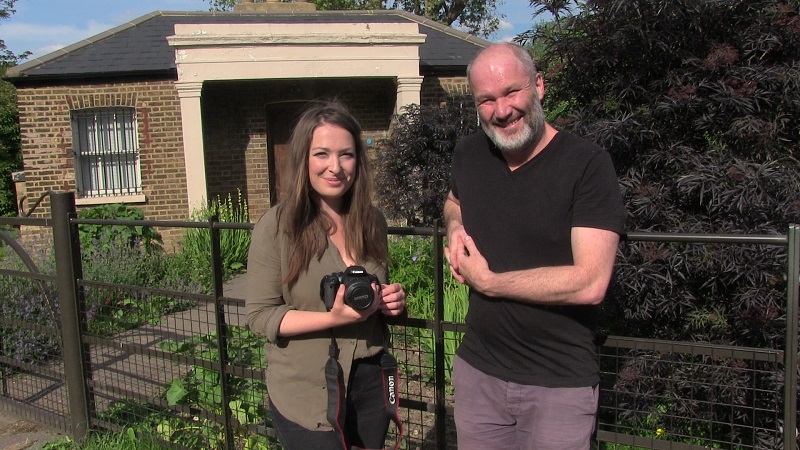 AMAZED: Sorcha Edward (left) and Peter Duggan threw themselves in to the challenge.
The festival welcomes amateur filmmakers from all demographics, including a category for Under 16s.
Louis (11) and Tommy (9) Eldridge, have been entering films for the last three years, and this year used green screen effects, forced perspective and their pet tortoise, Gordon, to produce a three minute science-fiction epic.
Tommy said: "It was tricky to film as passers-by kept getting into shot to come over to see the tortoise."
Louis said that using the green screen was surprisingly easy, but regarding a certain special effect said: "We're keeping it secret how we chopped the cyborg's head off."
Shop-owner of Herne Hill's The Society for the Protection of Unwanted Objects, James Castle, 66, helped filmmakers Palash Davé and Lauren Goldstein Crow film their satirical short set during the London riots of 2011.
Ms Goldstein Crow said: "The constraints can be helpful. If you had a blank slate it's too wide, whereas if you had to choose from the things here and you have to move quickly it helps focus the mind."
Mr Castle added: "I'd hire them! That's impressive, and I saw it within 36 hours."
Entrants will find out whether their short films have been successful at the awards night on Sunday 26 May, which is a free event taking place at Herne Hill's Station Hall from 6pm.
The Free Film Festival is partnered with Maudsley Charity, which promotes positive change for the treatment of mental health.
Feature image shows (left to right): Lauren Goldstein Crow, James Castle, Palash Davé.