Richmond's Marathon Man is set to lace up his trainers once again to embark on the next stage in his fundraising challenge – the London Marathon – having run a whopping 370 races in one year.
After 12 months of continuous running, donning his trademark kilt,  Rob Young will celebrate his mammoth achievement by taking part in the London Marathon this weekend, the race that inspired it all.
New WR of 370 Marathons / Ultras in 365 days! PLEASE DONATE to help kids charities via http://t.co/cIgnYDFMqN Rob x pic.twitter.com/mtUmQHD7gI

— Marathon Man UK (@MarathonMan_UK) April 18, 2015
Motivated by the emotional stories of last year's London Marathon, Rob embarked on his very first marathon the next day and hasn't stopped running since.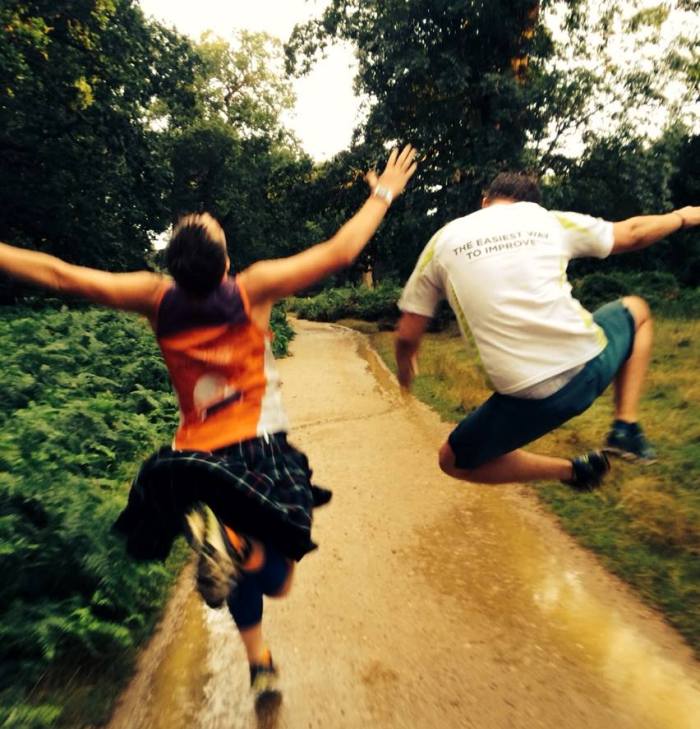 EPIC: Rob celebrates his running achievement with a pal

On April 13 Rob finished his 370th marathon on the dusty Alabaman highway – an astonishing victory in human endeavor that has earned Rob his place in the history books.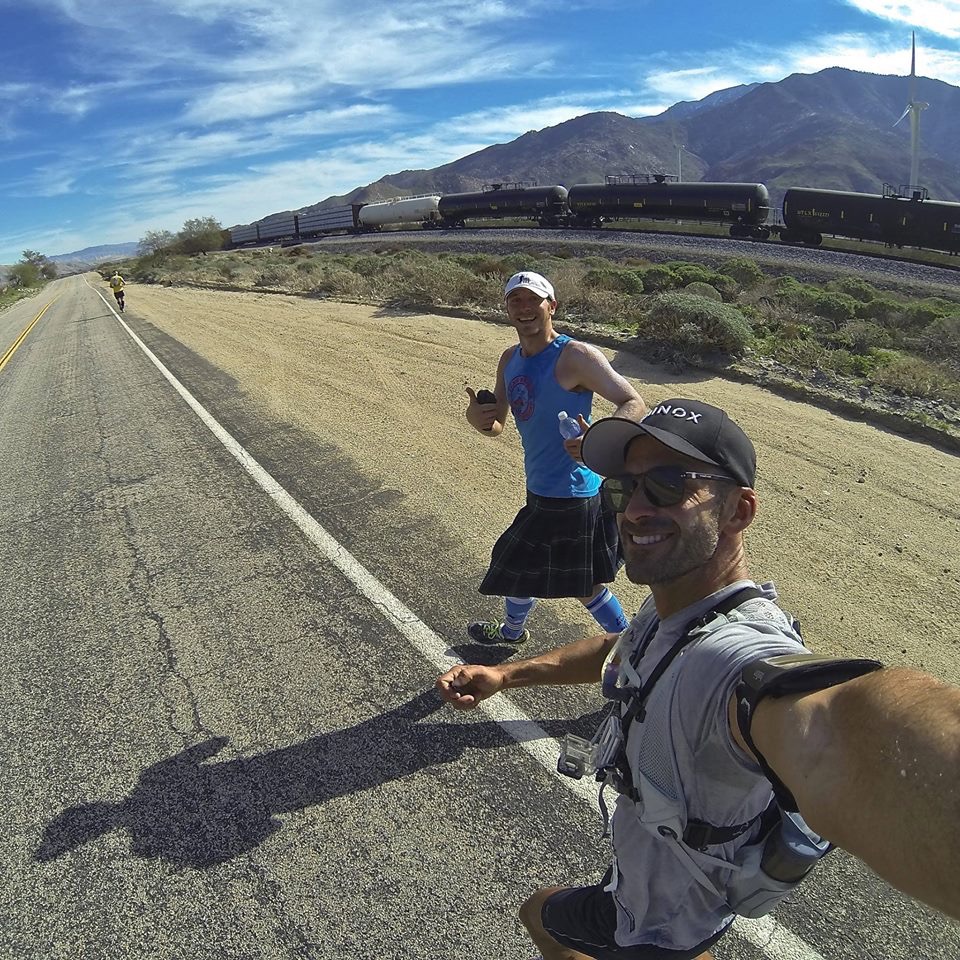 RUNNING ALL OVER THE WORLD! Rob during Race Across USA challenge
The challenge hasn't come easily.
The 370 marathons include 29 ultra marathons (more than 50km) and an incredible comeback from a reluctant but necessary short break to avoid a stress fracture to his lower legs – which would have threatened the whole challenge.
In the past year he has clocked up more than 10,170 miles and burnt more than 1.8 million calories.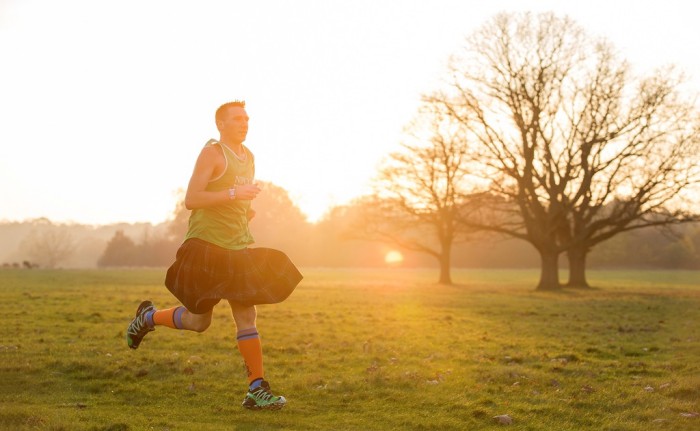 KEEP ON RUNNING! Rob training in Richmond Park wearing his trademark kilt (© Chris Winter)
Since the start of his challenge last April Rob has touched the lives of many with his positivity and commitment to overcome the odds.
Driven by his own difficult experiences of abuse as a child, Rob's primary goals are to inspire people and raise funds for the children's charities including Dreams Come True and NSPCC.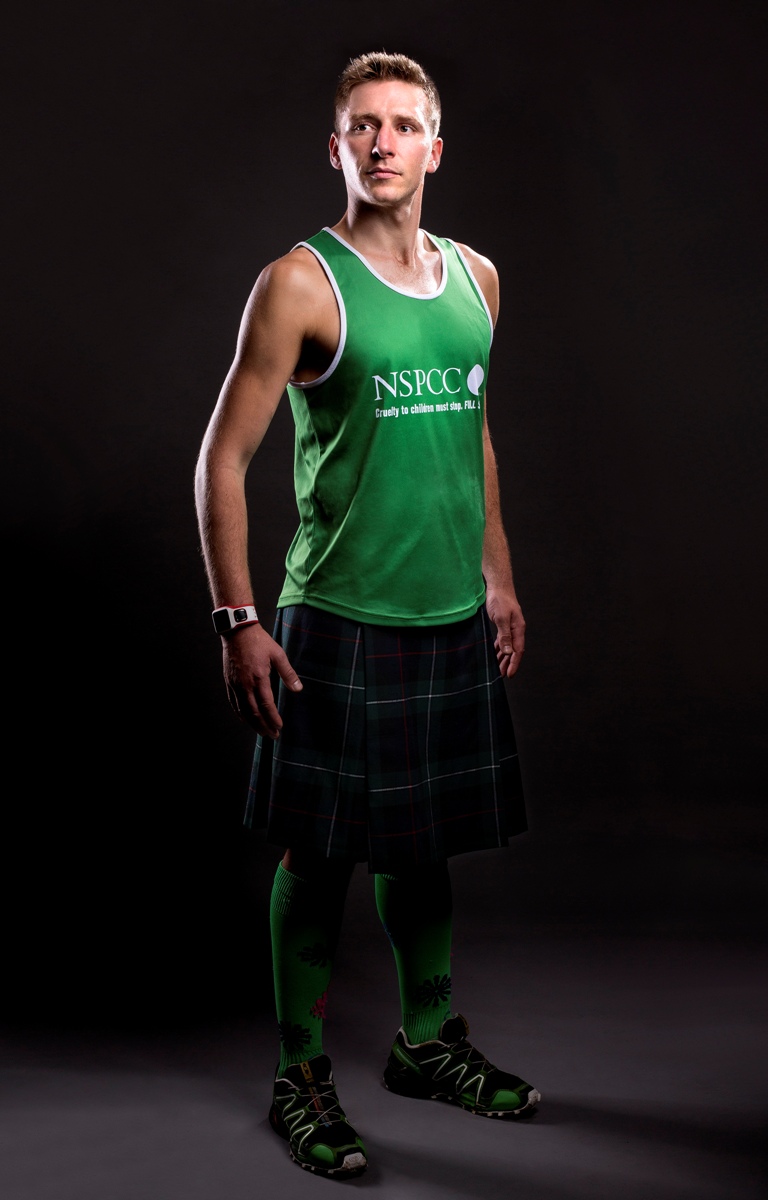 CHARITY HERO: Rob decked out in his NSPCC running vest (© Chris Winter)
In January Rob took his challenge across the pond to participate in Race Across USA, a series of 140 official marathons that will see Rob run 3,080 miles across the width of America, from Los Angeles to Virginia.
On completing the London Marathon, Rob will jet back to the USA to finish the race before returning home to reflect on an incredible year.
'EXTRAORDINARY': Rob has astounded medical experts with his running feats

Rob has astounded his team of marathon, triathlon and Olympic medical experts – Professor of Biological Sciences at Harvard University Daniel E Liberman referred to Rob as 'one of the most extraordinary athletes' he has ever measured.
Donations can be made via www.marathonmanuk.com
Featured picture courtesy of London Marathon.
Inset features courtesy of Chris Winter www.chriswinter.co.uk