Mental health charity Mind opened a wellbeing drop-in service for young people in Kingston this month.
The Youth Zone hub, a partnership between south west London CCG, Kingston Borough Council, Richmond Borough Mind and Mind in Kingston, welcomes young people aged between 12 – 25 to chat with support workers, chill out, or attend free workshops.
Marisca Ribeiro, Senior Support Worker on the hub, said organisations recognised the current lack of support for young people and children as there are only limited services in Richmond and almost none in Kingston.
The London Borough of Richmond Upon Thames Health and Care plan 2019-2021 had highlighted that the average mental wellbeing score for young people aged 15 in the borough was ranked London's fourth worst.
Ribeiro said: "What is important is that young people have the resilience and tools to live healthy lives and develop their potential.
"The Youth Zone hub seeks to be one way that young people in Richmond and Kingston can do that."
Marisca Ribeiro and her colleagues started to receive visitors at the beginning of February for what should be a six-month pilot.
"It's a chance to find out what young people in Kingston and Richmond want for their mental and emotional health," she explained.
She added that the hub was part of a larger pilot project, with plans to include NHS health services and the job centre in the building as well, aiming to offer young people a one stop service.
"If the pilot is successful and demonstrates a clear need and makes an impact, then hopefully funding will continue," she said.
Youth Zone works as a drop-in service where young people are invited to pop in and have a chat with Marisca Ribeiro or one of the other three support workers who work there, Billie, Ed and Hannah, charge their computer or phone and socialise.
The hub also launched classes and workshops such as Mindfulness with Clay and stress reduction, for which bookings are needed.
However Ribeiro shared they were counting on young people to bring their own ideas onboard.
"We don't really want to be the ones deciding what those activities are.
"We need young people to come forward to tell us what they want to happen," she said.
By welcoming visitors from a wide age range, the support worker explained they wanted to be as inclusive as possible, and the hub can offer activities and discussions suitable for each age, but also for people with different needs.
"It is as much about addressing social isolation and loneliness as it is supportive for people with low to medium anxiety and depression," she said.
Ribeiro encouraged those intimidated by a first visit or who are not sure if the service is suitable for them to call or email the hub.
She said: "It can be hard to go somewhere new, especially if you are on your own, but the team at the hub knows this and will do their best to help you feel welcome and safe."
When it comes to her hopes regarding the future of Youth Zone, she said: "That we get the word to more young people and that they come and shape the hub to what they need. It really is for them."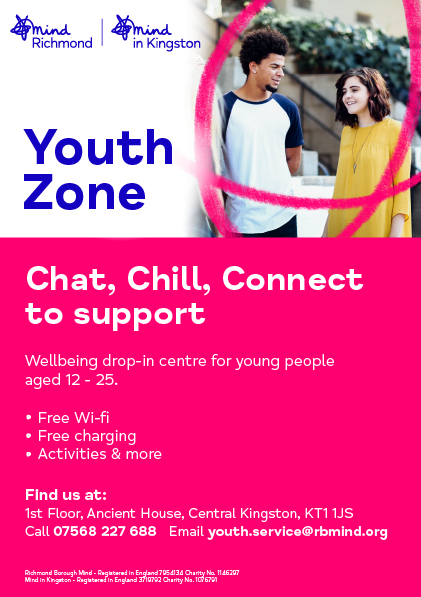 Youth Zone is open on Tuesdays, Wednesdays and Fridays from 3pm-7pm.
It is located on the 1st Floor of the Ancient House, Central Kingston, KT1 1JS.
To use the main service, young people are invited to just drop in.
Classes or activities are free but booking is needed.
Phone: 07568 227 688
Email: [email protected]
Websites: https://rbmind.org and www.mindinkingston.org.uk
People struggling with their mental health can call Mind helplines:
Richmond: 020 3137 9590
Kingston: 020 8255 3939
Richmond Borough Mind and Mind in Kingston are affiliated to National Mind.
They also work with schools, colleges, and universities to run workshops and raise awareness on mental health.