Putney MP Fleur Anderson has called on residents to join a protest on Wednesday in an attempt to prevent the closure of two bus routes through the area.
The demonstration will take place on 27th July at 11am outside the Green Man Pub, and aims to save the 14 and 74 bus routes through Putney.
Anderson claims opposition to plans to close bus routes across London is growing, and drivers from Putney garage and local campaigners will be joining residents in an accessible walk from The Green Man to Putney Bridge.
A previous protest took place on Saturday 16th July, where Anderson spoke on the need for the crucial bus routes to be protected.
Transport for London have plans to cut many key bus routes including the 14 and 74 which run through Putney.
These have already been cut back and will result in far longer routes requiring several bus changes, and more crowded buses on the remaining services.
TfL have announced that they plan to extend the consultation deadline on the routes to Sunday 7th August 2022, due to an already significant response from residents on the proposals.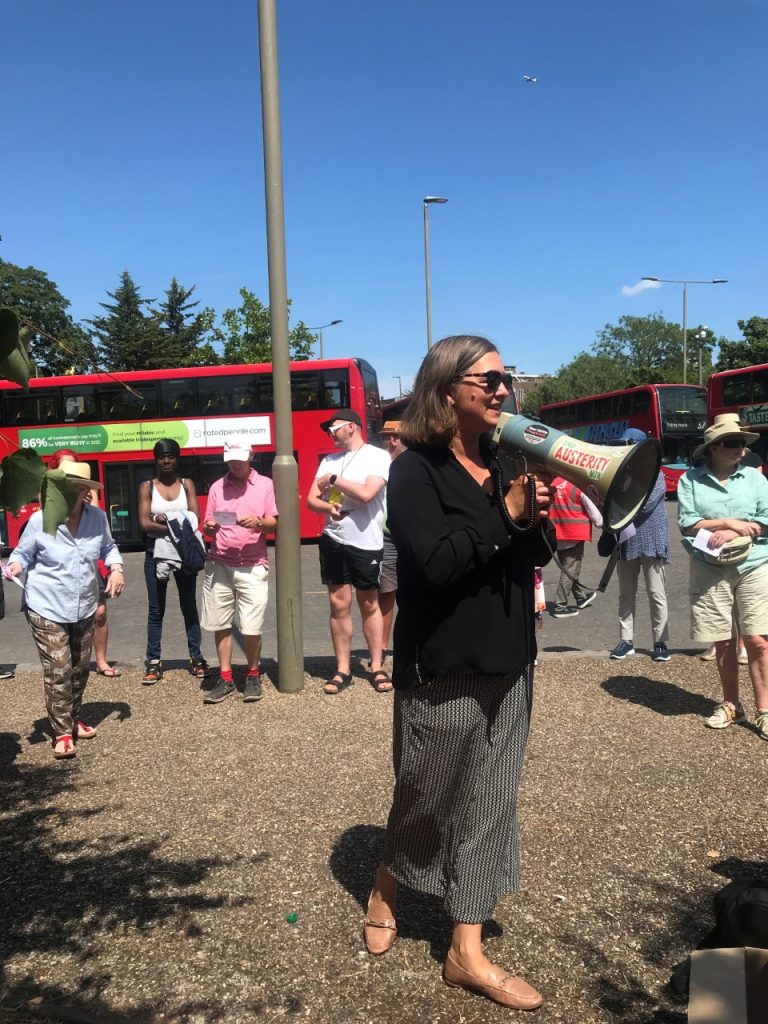 Anderson said: "Cutting the 14 and 74 routes won't just mean fewer buses, but also more over-crowded buses and much longer journeys with several changes. TfL need to listen to what bus users are saying and keep the bus routes. I encourage everyone to have their say in the consultation.
"I am deeply concerned at the potential closure of really important and well-used bus routes in Putney. I have met with local bus drivers in Parliament and at Putney Bus Garage to discuss these proposals.
"So many people have told me about the real problems that they will have getting to work, hospital appointments and visiting friends.
"These services are crucial for our most vulnerable residents. Travelling by bus is cheaper and given the steep stairs at East Putney and Putney Bridge tube stations, it is often the only option for residents with access needs or mobility difficulties.
"Given the climate crisis, pollution on our High Street and cost of living crisis, now is the worst possible time to be reducing our bus services.
"My main concern is ensuring that residents can still easily access the West End, Bloomsbury and Marylebone easily. Where provision is picked up by existing bus routes, it is essential that frequency is maintained to avoid overcrowding.
"I will be urging Transport Ministers to come forward with sustainable long-term funding agreement for TfL, just like other global cities receive.
"Private train companies across the UK have faced the same emergency funding issues as TfL but in every case, the Government bailed them out with long-term agreements with no strings attached. "
Putney bus driver Joanne Harris, who is campaigning to stop the closures, said: "We need as many people from Putney and Fulham as possible to get on board with this, get on to the consultation and have your say. It's not good enough: we need our buses.
"Losing the buses could leave the whole area of Putney and Fulham in disarray. There will be far fewer buses to choose and without those buses, how are disabled and elderly people going to get around?"
Putney bus driver Getaneh Tesfaye added: "Moving the 14 would create massive difficulties for passengers as well as drivers. The reason is that when you take the 14 from Fulham Broadway, you're given lots of options to travel to other places.
"Losing the 14 would impact those who are disabled, have access needs; those with prams and wheelchairs. The buses are supposed to be there to provide services to the community.
"We have got a campaign with Unite to ensure women can take buses safely in the evenings – with buses removed, women's safety could be impacted."
TfL announced an extension to the consultation on the future of the routes.
Responses to the consultation can be submitted via https://haveyoursay.tfl.gov.uk/busreview or by emailing [email protected].
You can reply via post to the address 'FREEPOST TFL HAVE YOUR SAY (CLBR)', or telephone TfL on 020 3054 6037 to leave your name and contact number, quoting 'Bus Review' when leaving your message.
The consultation will now close on Sunday 7th August 2022. 
Anderson's full statement on the TfL consultation can be found here.