Only seven minor parties will be on the ballot in south west London this general election, compared to a total of 20 in 2015.
Parties such as the Pirate Party UK, Women's Equality Party, Christian People's Alliance and the Alliance for Green Socialism are running the race for parliament this June.
Minor party candidates will try to shift voters by adopting specific policies based around issues they believe people should care about.
"The more votes we take off other parties the more they go 'Maybe this is something we should look at'," said Mark Chapman, Pirate Party UK candidate for Vauxhall.
"This is not the aim of a minor party – to force the other people to move in your direction – but that's the natural consequence of what could happen."
Mr Chapman cites the rise of UKIP, who gained 12.6% of the vote share in the 2015 general election on a platform calling to leave the European Union.
The Conservative manifesto eased voter movement by promising the referendum which has now resulted in the UK leaving the EU.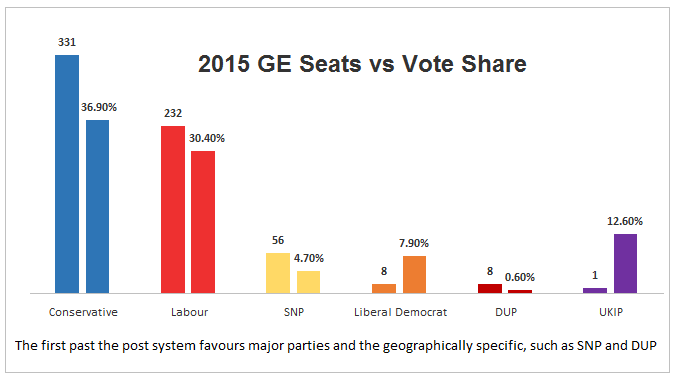 Minor parties will look to capitalise on this phenomenon, but they have been caught off guard by Theresa May's snap election, with ailing representation this year.
However the Women's Equality Party is gaining rapid support, with more than 65,000 members and registered supporters since setting up in July 2015.
They have courted voter interest with policies promising universal childcare, an equal system of nine months parental leave and ending violence against women and girls.
Women's Equality candidate for Vauxhall Harini Iyengar said: "The mainstream parties have become complacent, and they've never put women's rights at the top of the agenda."
Party leader Sophie Walker stood in the London mayoral elections in 2016, gaining the most ground of a minor party with a 5.2% total vote share.
Ms Iyengar believes that Sadiq Khan adopted some of their policies based on this opposition.
"As we say we want everyone to knick our policies, we were very happy with that," she said.
Women's Equality have played on this with a tongue-in-cheek delivery of their manifesto to the old party headquarters, coining the hashtag #KnickablePolicies.
The Christian People's Alliance, who have four candidates for constituencies in south west London, are running on a faith based platform.
Candidate for Croydon Central John Boadu believes that the major parties are not addressing Christian issues and that voters are being marginalised.
Mr Boadu said: "We talk about persecution of Christians in other countries, in this country it borders on emotional persecution."
He added: "I believe that in religion people believe in the holy book, in this nation I haven't seen any other party being asked about what the holy book says."
Campaigning for policies on social justice, alternatives to Trident and empowerment, they have also courted controversy for their anti-abortion policy.
The Alliance for Green Socialism have nominated just three candidates in the election, with John Lloyd standing in Kensington.
Their policies are centred on both environmental issues and socialism as a system of government.
AGS chair Mike Davies said:"We believe that you can't solve the environmental problem under capitalism, because capitalism is based on endless growth and a quick profit regardless.
"We also believe that there's no point in moving to a better more socially just society without addressing the environment."
Smaller parties have not fared well in south west London in the past, with only 1% of the vote going to minor parties in 2015.
With the focus of the election stretched between Brexit, immigration, welfare, terrorism and ailing funding for the NHS, the small contingent of minor parties are battling for attention.
But with three major referendums and elections held in as many years, voter fatigue is starting to set in and minor parties will look to take advantage of disillusionment with major parties.
Mr Chapman said: "Giving people reasons not to vote for the other guy isn't the same as giving people reasons to vote for you, and I think it has had an effect of the long term disengagement of people in politics.
"Vote for your heart and vote for the principal, because if there's a party you like that stands for a principal then surely they deserve that vote."