"White supremacy is the enemy."
"Nazi scum off our streets."
These were the cries heard from Portland Place to Downing Street as more than 15,000 people gathered to protest against Tommy Robinson and UKIP.
The 'say no to Tommy Robinson march' was led by a coalition of more than 20 groups including Momentum and Feminist anti-fascists.
It outnumbered the crowd of 3,000 at the Brexit Betrayal march taking place streets away led by Tommy Robinson and UKIP leader Gerard Batten.
UKIP has experienced a 15% increase in its membership following the announcement of Theresa May's Chequers deal and Robinson's appointment as UKIP's latest grooming gangs advisor under Mr Batten's leadership caused several high-profile members of UKIP to resign over concerns the party was  becoming too racially hostile.
Momentum spokesperson Becky Boumelha said: "Tommy Robinson is trying to position himself as the leader of the leave voters by pretending to care about Brexit.
"This is a lie and all he seeks to do is legitimise himself and a politics of fear and division which blames refugees, migrants and Muslims for the problems in our society."
Campaigns Officer for London Young Labour Abshir Weli said: "With the rise of the far right around the world I think it's really important to stand up for the principles of equality which they are so adamantly against.
"I think there's a real feeling of unity here today among a lot of the groups from the Feminist Anti-Fascist movement to London Young Labour and a lot of other groups who will be on the right side of history."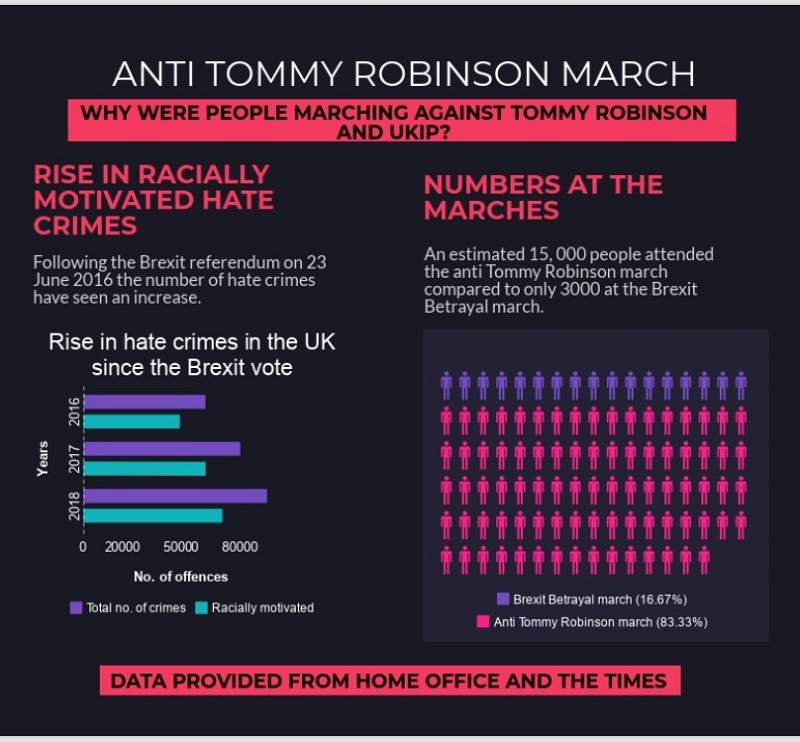 At times small groups of masked Robinson supporters snuck into the counter-protest but the heavy police presence meant they were quickly able to disperse them.
Officers lined Trafalgar Square and prevented any possibility of the two groups meeting as Robinson supporters walked towards Parliament.
They made three arrests  – all from the counter-protest.
There was a palpable sense of unity and determination within the crowd as people believed in the ability of direct action to combat what they perceived as a threat to the fabric of their multi-cultural society.
Guardian columnist Owen Jones said: "Whenever racists and fascists mobilise we will fight back and we won't allow immigrants or refugees or Muslims to be blamed or scapegoated for the injustices caused by the powerful."